1940's Wartime Entertainment for hire
1940's Wartime entertainment for hire, bring back the Forties War Years with our Winston Churchill Lookalike or perhaps a Vera Lynn Tribute perfect for World War II and Battle of Britain themed parties, pure 1940's NOSTALGIA!!
World War II Events : Reunions and Remembrance : Corporate and Private Functions : After-Dinner Speaking : Dinner-Dances
Meet and Greet : Opening Ceremonies : Commemorations : Charity Functions : Wartime Theme Nights : Award Ceremonies
WINSTON CHURCHILL LOOK-ALIKE
Bring an extra dimension to your event with the witty, amiable and larger-than-life presence of a Winston Churchill lookalike. Enthral your guests with some of Churchill's famous World War II speeches and celebrated quips, as he provides a captivating Talk on the Life of Churchill, culminating in the famous Battle of Britain speech in character. A MUST – PURE NOSTALGIA!! Otherwise, if you simply require a "meet & greet" or an amusing patriotic sing-along, this is your man!
His attention to detail in clothing and mannerisms makes his look-alike performance highly believable. His vocal mimicry complements his visual detail and his amiable personality, good humour, acting ability and admiration for Winston Churchill bring his character brilliantly to life, entertaining guests in any situation and is available for appearances
throughout the British Isles and internationally, and he is more than happy to tailor any speech or appearance to your specific requirements and to work alongside other entertainers and performers.
There are very few Winston Churchill look-alikes in the UK – This is one of the best. So if you're looking for a professional, highly sought-after Winston Churchill lookalike / sound-alike, whether for ice-breaking, meet and greet, witty repartee and after-dinner talks on the life of Churchill, media work or a host of other situations, this is your man!
Price From £550.00
Area: Cheshire – Nationwide – Internationally
1940's WARTIME SINGER & VERA LYNN TRIBUTE
This 1940's Wartime Singer and entertainer – Britain's no.1 Wartime WW2 1940s show mixed music for dancing to.
Sing along shows for theatre, 40s events, civic community centres and halls, army, navy and air force clubs and associations and reunion events.
Also mixed music for private parties, anniversaries, weddings and birthdays.
She also performs as a Vera Lynn tribute show.
Price From £550.00
Area: Midlands – Nationwide
VERA LYNN TRIBUTE & ARMED FORCES SINGER AS SOLO ARTIST OR FULL BAND
1940's Vera Lynn Tribute, Wartime Singer – Solo
Also with Big Band and Swing Bands for your Wartime nineteen forties themed event.
Price From £500.00
Area: Northants – Nationwide
1940s Variety Show, World War 2 Entertainment at its very best.
Set list for the full show
Vera Lynn
White Cliffs of Dover : Yours : You'll Never Know : Nightingale Sang in Berkeley Square
Bless em All Medley : Deep in the Heart of Texas : Always Be an England : We'll Meet Again
Marie Lloyd
Boy in the Gallery : My Old Man : When I Take My Morning Promenade
Harry Lauder
I love a Lassie : Keep Right On to the End of the Road : Roamin in the Gloamin
George Formby
Leaning on a Lampost : Chinese Laundry Blues : It's in the Air : When I'm cleaning windows
Grandads Flanalette Nightshirt : Little Stick of Blackpool Rock : In My Snapshot Album
Flanagan and Allen
Underneath the Arches : Strollin : Umbrella Man : Hometown : Run Rabbit run
Who do you think you are Kidding Mr Hitler
Price from £1300.00
Andrews Sisters – 1 hour set or 2 x 30 minute sets, they can also play some dance music in between.
Andrews sisters
Boogie Woogie Bugle Boy : Don't Sit Under the Apple Tree : Lullaby of Broadway :
Gracie Fields
Sing as we Go : Sally : Wish Me Luck as You Wave Me Goodbye
G.I Frank Sinatra
All of Me : Fly Me To the Moon : Come Fly With Me : Moonlight Serenade
Price from £1800.00
MALE ARMED FORCES SINGER AS SOLO ARTIST OR WITH FULL BAND
This 1940s Wartime Singer is available for hire for your Wartime nineteen forties themed event. Word War 2 Entertainment at its very best.
The leading Wartime male Solo Tribute Show and the ultimate in authenticity. Stunning visuals and amazing sounds.
To see is to believe, but to hear the Show is truly unbelievable. His immensely powerful & versatile voice sets him above the competition.
He has literally stunned crowds and amazed them to a point of standing still with just how powerful his vocals are. This can be seen here in the videos. A somewhat unrecognised entity on the wider 1940's event circuit, surprising as it is; he literally has people at gigs singing and cheering!
Songs include: Don't Dilly Dally, Maybe it's because I'm a Londoner, Show me the way to go Home, I do like to be beside the seaside, I'm forever blowing bubbles, leaning on a lamp post, Roll out the barrel, Smoke gets in your eyes, Have you met miss Jones, I've got the world on a string, You'll never walk alone, Requiem for a Solider, Down at the old Bull & Bush, On Mother Kelly's doorstep, Daisy Bell, Let's face the Music & Dance, Just a Gigolo, Mack the Knife, Beyond The Sea, Mr Bojangles, Straighten up 'n' Fly Right, Every time we say Goodbye, Danny Boy, Lily of Laguna, Knees up Mother Brown, Bless em All, We're Gonna hand out the washing (On the Siegfried Line), Kiss me goodnight Sergeant Major, Lambeth Walk, Pack up your Troubles, It's a long way to Tipperary, Yankee Doodle Dandy, Give my regards to Broadway, Anything Goes, It's De-Lovely, For me and my Gal, Wish me luck as you wave me goodbye, There'll be Bluebirds Over (The White Cliffs of Dover), There'll always be an England, God save the Queen, One For My Baby, Sing Sing Sing, L-O-V-E, When You're Smiling, Bring Me Sunshine (Jive Aces Version), Kalamazoo, On The Street Where You Live, I Do Like To Be Beside The Seaside and many more.
Performing 1940's music in the form of disco in between him singing if there is no DJ also working at the event. He can do his best to accommodate requests, but this is more of a set up the tracks & leave addition. He has a vast collection of tracks to fill out the gaps of a night or days event, but is not a dedicated 40's DJ.
Price From £475.00
Area: Northants – Nationwide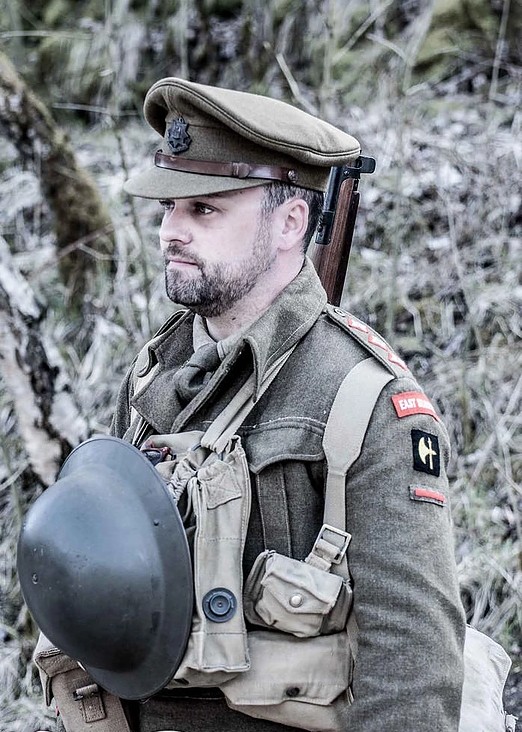 SCOTLAND BASED 1940's WARTIME SOLO SINGER
SCOTLAND BASED 1940s WARTIME SOLO SINGER
Scotland's no.1 wartime WW2 1940s Retro Singer. She will take you back in time with her fabulous 1940s tribute show.
This show pays homage to the wonderful music of the World War Two era, and features all your favourite 1940s wartime songs from The Andrews Sisters, Gracie Fields, Vera Lynn, plus many more. Set times: Her wartime show is generally around 45 – 60 minutes long. She can provide entertainment for the whole night by including a few different sets; for instance 1st set Wartime, 2nd set Swing, 3rd set 1950s Rock n Roll.
Set times: Her Wartime Show is generally around 45 – 60 minutes long. She can provide entertainment for the whole night by including a few different sets; for instance, 1st set Wartime, 2nd set Swing, 3rd set 1950s Rock n Roll.
Price From £500.00
Area: Scotland – Nationwide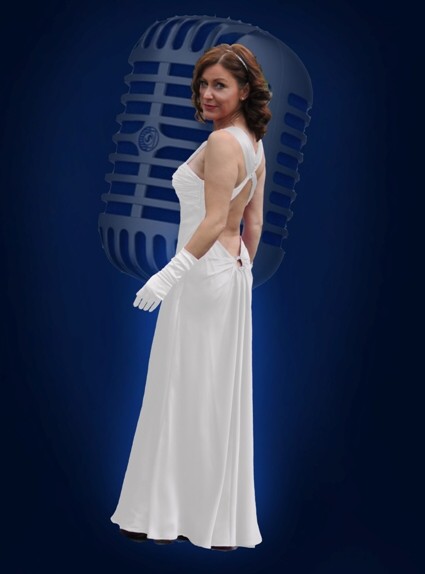 1940's Show
This is a lively fun show with lots of singing along. Features all the classics from Vera Lynn, The Andrews Sisters and Gracie Fields.
1940s Set List
All of me, Billie Holiday
Anniversary Waltz, Vera Lynn
Bei mir bist du shoen, The Andrews Sisters
Bless 'em all, George Formby
Blue skies, Al Jolson
Boogie Woogie Bugle Boy, The Andrews Sisters
Chatanooga Choo Choo, Glenn Miller
Come fly with me, Frank Sinatra
Don't sit under the apple tree, The Andrews Sisters
For me and my gal, Judy Garland
I'll Be Seeing You, Vera Lynn
It had to be you, Judy Garland / Harry Connick Jnr
Kiss me goodnight Sergeant Major, Vera Lynn
Lay down your arms, Anne Shelton
Lily Marlene, Vera Lynn
Now is the hour, Vera Lynn
Over the rainbow, Judy Garland
Pack up your troubles in your old kit bag
Paper moon, Ella Fitzgerald
Pennies from heaven, Frank Sinatra
Sentimental Journey, Doris Day
Side by side, Anita O'Day / Kay Starr
Sing as we go, Gracie Fields
Slow boat to China, Ella Fitzgerald
Sunday kind of love, Louis Prima
This is the army Mr Jones, Vera Lynn
We'll meet again, Vera Lynn
We're gonna hang out the washing on the Seigfried Line
When the lights go on again, Vera Lynn
When the saints go marching in, Louis Armstrong
When you're smiling, Louis Armstrong
White Christmas, Bing Crosby
White Cliffs of Dover, Vera Lynn
Wish me luck as you wave me goodbye, Gracie Fields
You belong to me, Jo Stafford
You do something to me, Cole Porter
You made me love you, Judy Garland
1940's & 1950's VINTAGE CLOSE HARMONY TRIO REF:1
Vintage Close Harmony Trio
Wartime 1940's singers for hire, this World War 2 tribute trio are available for 1940's themed events, Pure Nostalgia!!!
This is an absolutely fabulous retro/vintage female close part harmony group.
This Vintage Close Harmony Trio include 3 singers/dancers/actors Alto Singer, Soprano Singer and Bass Singer and offer 2 sets of 45 minutes or 1 set of 45 minutes.
Some of the songs they sing include…
In the mood
Boogie woogie bugle boy
Beat me daddy
Rum and coke
Beer barrel polka
Bei mist du schon
Alexander's ragtime band
Dont it under the apple tree with anyone else
I'll be with you in apple blossom time
Tico tico
Say si si
Mr Sandman
sisters
Sway
My guy
Chapel of love
Mambo Italiano
Do right
Goodnight sweetheart
Stupid Cupid
Button up your overcoat
We'll meet again
Price From £750.00
Area: Berks – Nationwide
1940's & 1950's VINTAGE CLOSE HARMONY TRIO REF:2
These are a vintage style vocal trio who bring glamour and perfect harmony to any event. Their experience ranges from performing in West End musicals, providing jingles for Jazz FM and singing live on BBC Radio. Their musical style is influenced by The Boswell and Andrews Sisters including 1920/30s Jazz, 40s wartime favourites, 50s Swing, 60s Motown and the occasional modern pop song.
Tailor made sets to suit any occasion and guarantee a good toe-tapping time is had by all. They come complete with their own PA system, retro microphones and vintage styling.
They recommend sets of between 20 to 45 minutes in length and can play appropriate music in between through their PA if desired and can provide selection of outfits, and if necessary can come dressed to suit a specific decade.
Price From £750.00
Area: Berks – Nationwide
1940's & 1950's VINTAGE HARMONY TRIO REF:3
Vintage Harmony Trio bringing you nostalgia and perfect harmony to your special occasion. These Vintage Harmony singers offer a wide range of services including a 1940's style LIVE performance normally consisting of up to 2 x 45 minute sets.
Tailor made nostalgic sets to suit any 1940's themed, they guarantee a good time had by all. They come complete with their own PA system, retro microphones and vintage styling and costumes.
Singers of 1940's nostalgia, including the music from Glen Miller, The Andrew Sisters, and Vera Lynn including a flag waving tribute to the most popular songs that won the war! ​
Vintage Harmony Trio are renowned for their beautiful harmonies and musical arrangements, alongside their stunning vocals.
​
Price From £850.00
Area: Berks – Nationwide