This fabulous Bollywood electric strings duo for hire with or without Bollywood dancer provide up to three 45 minute sets of attention-grabbing choreographed repertoire of all-time favourites such as Jai Ho, Kabhi Kabhi, Humko Humise Chura Lo and Joote Dedo Paise Lelo.
Asian Wedding String Quartets for hire, our Bollywood electric string quartets are also available as a duo or trio and are of
outstanding professional quality. A wide Bollywood repertoire is available.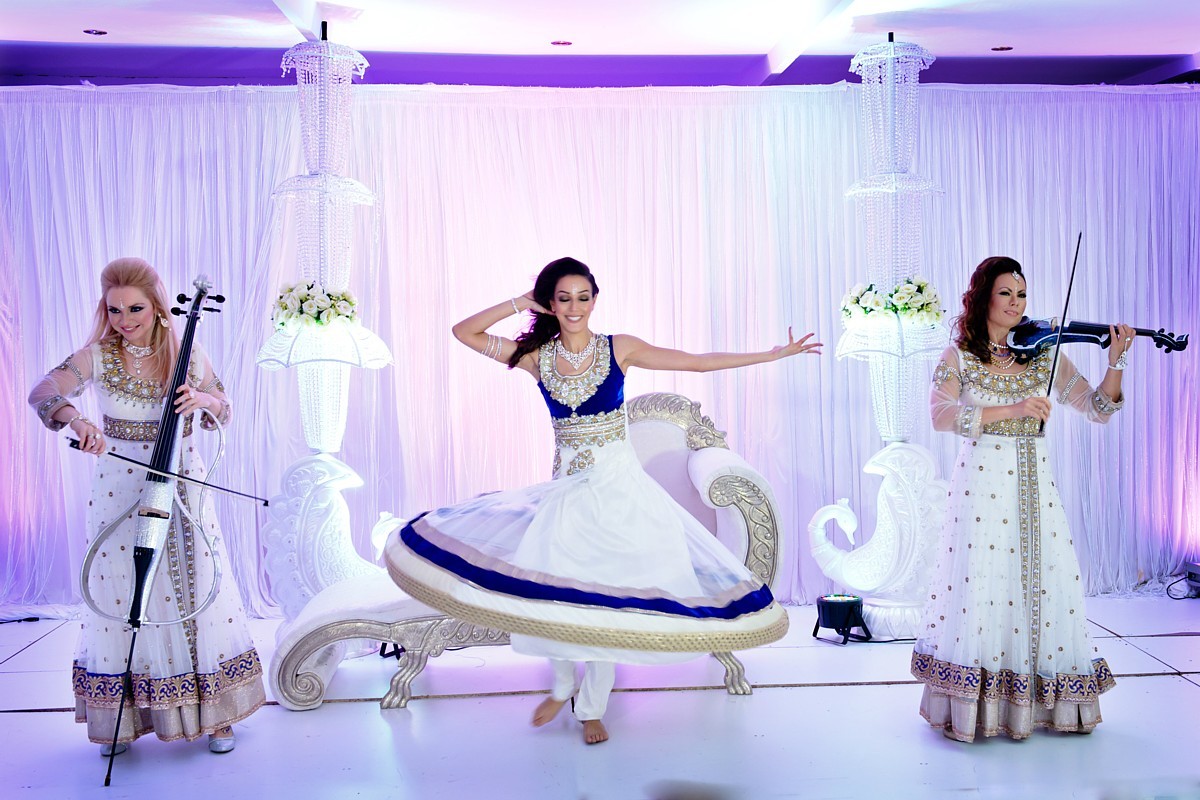 Bollywood Electric String duo are ideal entertainment for Asian weddings, drinks receptions, parties and corporate functions.
Sophisticated Electric Violinists and Cellists –  Trio & Quartet – Greater London and Midlands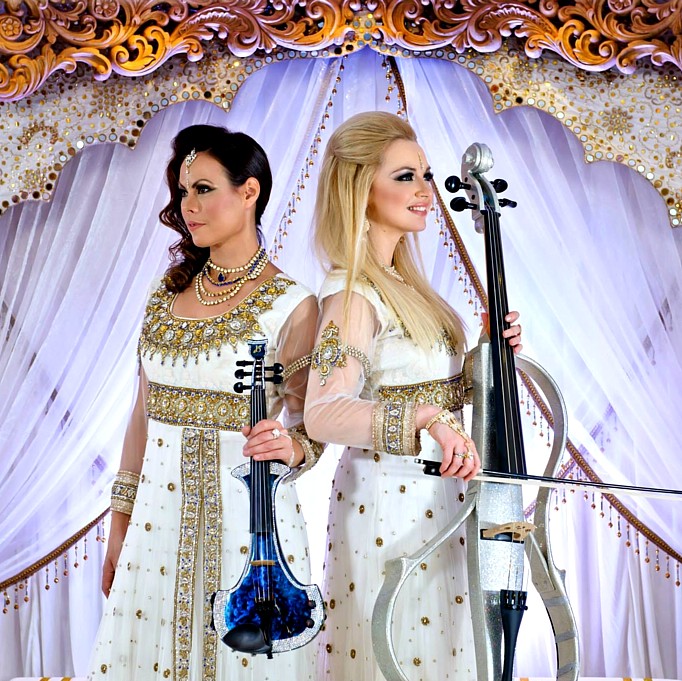 A popular format for the Bollywood show is to start with up to one hour of light popular classical music as background to a drinks reception or during dinner. This is followed by a dramatic change in both costume and tempo which immediately gets the audience's attention and the main high energy performance begins. The length of the main show is agreed with the client in advance but is typically 20-30 minutes.
Alternatively, they can play up to two 45-minute sets of upbeat Bollywood and classical-pop crossover music. This provides the perfect background accompaniment to a drinks
reception.
Also available with a Bollywood dancer or as a full electric string quartet.
Genres: Contemporary 'chill-out' music, stylish modern selections, pop hits and chart classics, fusion of classical crossover, pop hits and dramatic dance moves set to contemporary driving beats.
Price From £POA
Area: London : Midlands : Nationwide
Repertoire

Bollywood & Pop Fusion – The Electric Show
Joote Do Paise Lo – Bollywood
Dhoom Machale – Bollywood
Kabhi Kabhi – Bollywood
Mohabbatein (Humko Humise) – Bollywood
Jai Ho – Bollywood ('Slumdog Millionaire')
Chura Liya Hai – Bollywood
Baari Barsi – Bollywood
Babli Baad Maash Hai – Bollywood
Kirwani – East/West Fusion
Palladio – Jenkins/FrazierCanon – Pachelbel
Air on a G String – Bach
Toccata – Bach/May
Destiny – Vanessa Mae
Ride – Bond
Storm – Vivaldi
Kashmir – Led Zeppelin
Danny Boy – Traditional Irish
River Dance – Traditional Irish
Joy of Life – Traditional Irish
Drowsy Maggie – Traditional Irish
Toss the Feathers / Minstrel Boy – Traditional / The Corrs
Background Bollywood Music
Ali Maula
Chura Liya hai Tumne
Crazy Kiya Re
Chammak chalo
Chand sifarish
Dus bahane
Dil ne ye kaha hai dil se
Dance pe Chance
Desi girl
Dhoom machale
Ek Pyar Ka Nagma Hai
Fashion Ka jalwa
Fashion theme tune
Guzarish- ghajini
Haule Haule
Hum tou dilse haare
Humko Humise (Mohabbatein)
Jai ho
Jashn e Bahara
Joote do paise lo
Kal ho naa ho
Kuch Kuch hota hai
Kahin door jab din
Kirwani
Kabhi alvida na kehna
Kabhi Kabhi
Love mera hit hit
Madhosh dilke dhadkan
Maula mera lele mera jaan
Mere mehboob
O mere sona re
Pehli nazar mein
Pehla nasha
Papa kehte hain bada naam
Pee loon
Rab na kare
Suraj hua maddham
Sheila ki jawani
Teri meri
Tehra chehra
Tu muskura
Tujhe dekta to yeh jaana sanam
Teri mast mast do nain
Teri Ore
Teri liye- veer zaara
Tujh mein rab dikhta hai
Tum dil ki dhadkan mein
Tu jaane na
Tum paas aye
Uff Teri adaa
Why this kolaveri
Yeh jo mohabbat hai
Background Pop Music
At the River – Groove Armada
Ain't no Sunshine – Lighthouse Family
Air on a G String – Bach / Cafe Del Mar
Come Away with me – Norah Jones
Come Together – Beatles
Canon – Pachelbel / Cafe Del Mar
Clubbed to Death – from The Matrix
Don't Know Why – Norah Jones
Don't Dream it's Over – Crowded House
Edge Hill – Groove Armada
Every Breath You Take – Police / Puff Daddy
Fever – Peggy Lee
Fields of Gold – Sting
Give me a Reason – Pink (ft Nate Ruess)
Heaven – Emeli Sande
Home – Michael Buble
I Wanna Hold Your Hand – Beatles
I'm Yours – Jason Mraz
Imagine – John Lennon
Let there be Love – Nat King Cole
Moves Like Jagger – Maroon 5
New York – Paloma Faith
One Day Like This – Elbow
Paradise – Coldplay
Rolling in the Deep – Adele
Rule the World – Take That
Sex on Fire – Kings of Leon
Skyfall – James Bond Theme / Adele
Somebody that I Used to Know – Gotye
Something – Beatles
Tears in Heaven – Eric Clapton
Titanium – David Guetta
Warwick Avenue – DuffyWe are Young – Fun
With or Without You – U2
Wonderful Tonight – Eric Clapton
You do Something to Me – Paul Weller
You Give me Something – James Morrison
Background Classical Music
Handel – Hallelujah Chorus from The Messiah
Bach – Wachet Auf
Bach – Sheep May Safely Graze
Franck – Panis Angelicus
Traditional – Amazing Grace
Bach/Gounod – Ave Maria
Alibinoni – Adagio
Corelli – Allegro from Christmas Concerto
Vivaldi – The Four Seasons
Handel – Arrival of the Queen of Sheba
Pachelbel – Canon
Bach – Double Violin Concerto in D minor
Teleman – Les Plaisirs (from Recorder Suite in A minor)
Purcell – Rondo (from Abdelazer)
Bach – A Minor Violin Concerto
Bach – Toccata and Fugue in D minor
Bach – Air on the G string
Bach – Jesu Joy of Man's Desiring
Clarke – Trumpet Voluntary
Mozart – Eine Kleine Nacht Musik
Mozart – Adagio from Clarinet Concerto
Mozart – Queen of the Night from the Magic Flute
Mozart – Der Vogelfanger from the Magic Flute
Beethoven – Adagio (from Sonata 'Pathetique')
Beethoven – Ode to Joy
Beethoven – Symphony No 3 (Eroica)
Beethoven – Fur Elise
Haydn – Andante (from the Trumpet Concerto)
Gluck – Dance of the Blessed Spirits (from Orfeo and Euridice)
Boccherini – Minuet
Mendelssohn – Wedding March
Wagner – Wedding March
Schubert – Ave Maria
Rimsky Korsakov – Flight of the Bumble Bee
Brahms – Hungarian Dance No 5
Massenet – Meditation
Beethoven – Romance in F
Satie – Gymnopedie No 1
Debussy – Clair de Lune
Rubenstein – Melody in F
Liszt – Liebestraum
Brahms – Waltz No 15
Chopin – Nocturne No 11
Elgar – Pomp and Circumstance No1
Chopin – Prelude No 4
Tchaikovsky – Romeo and Juliet Overture
Schumann – Traumerei
Schubert – Themes from the 'Trout Quintet'
Background Jazz Music
Bernie's Tune – Bernire Miller
Desafinado – Mendonca/Jobim
Fever – Davenport/Cooley
Fly Me to the Moon – Howard
God Bless' the Child -Herzog/Billie Holiday
A Night in Tunisia – Gillespie/Paparelli
One Note Samba – Mendonca/ Jobim
Satin Doll – Duke Ellington
Stompin' at the Savoy – Goodman/Sampson/Webb
Woodchopper's Ball – Bishop/Herman
Take the A train – Strayhorn
Yardbird Suite – Charlie Parker
But Not For Me – Gershwin
I Got Rhythm – Gershwin
I'll Build a Stairway to Paradise – Gershwin
Love Walked in – Gershwin
The Man I love – Gershwin
Oh , Lady be Good – Gershwin
Someone to Watch over Me – Gershwin
Summertime – Gershwin
They Can't Take That Away From Me – Gershwin
Nice Work If You Can Get It – Gershwin