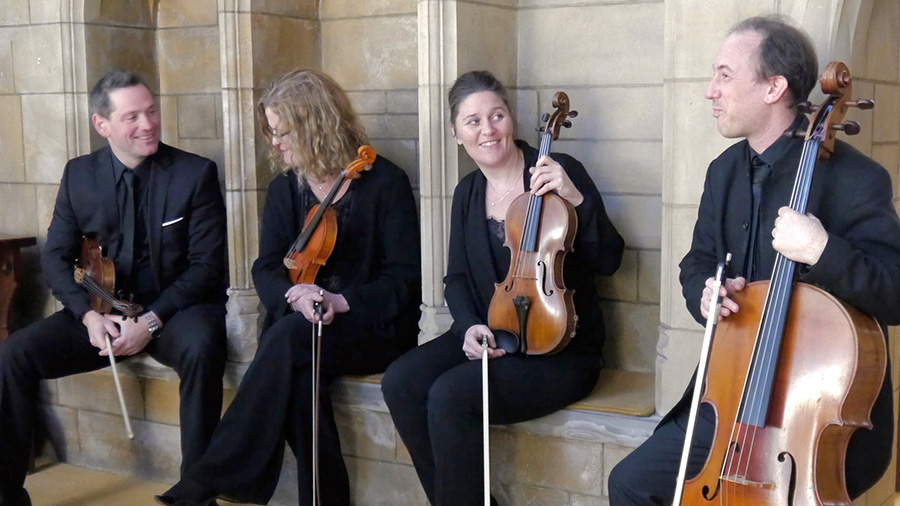 Great Escape

Don't Stop Believein

Beethoven Mix

Bollywood

Bridge Over Troubled Water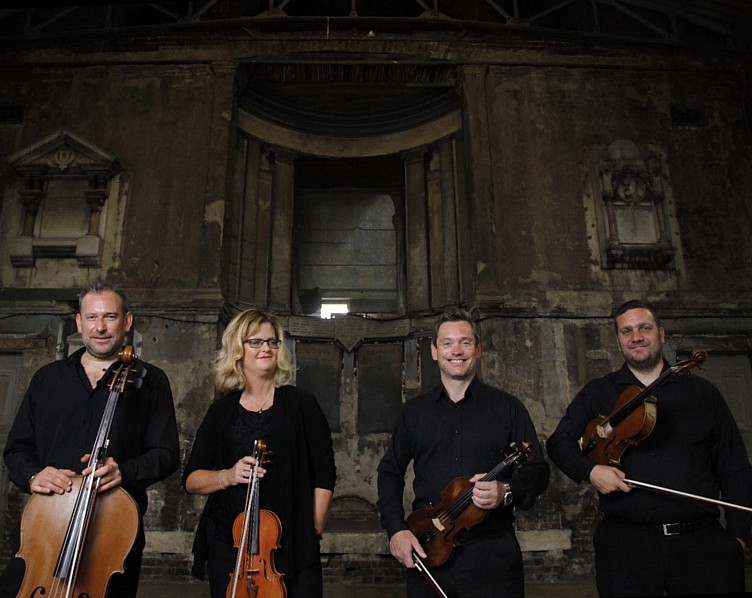 This is a Traditional Acoustic String Quartet for hire is a quartet with a difference.
As well as playing the works of the great composers for the medium, it has its own unique library of sparkling and witty arrangements of all kinds of popular music from Opera through Swing and Jazz to the great Musicals, Pop hits, Rock classics and Bollywood.
The idea of this most traditional classical line-up playing familiar modern tunes intrigues and delights audiences of all ages and walks of life. As a result, the schedule now embraces concerts, all kinds of function both corporate and private, together with entertaining in hotels and restaurants.
This Acoustic String Quartet are also able to provide a selection of Bollywood music themes for various types of events.
Genres: Classical, Light Classical, Evergreens & Standards, Wedding Favourites, Musicals, Film & TV, Rock & Pop, Bollywood, Christmas
Price From £POA
Area: London : Midlands : Nationwide
Repertoire
Rock and Pop
Pop & Rock Classics List
1/5 of Beethoven
All I Do the Whole Night Through
All Time High
All You Need Is Love
Angels
Another Brick in the Wall
Back in the USSR
Beautiful
Beautiful Day
Bitter Sweet Symphony
The Blue-Tail Fly
Bohemian Rhapsody
Both Sides Now
Bridge over Troubled Water
Candle in the Wind
Chanson d'Amour
Chariots of Fire
Clocks
Close to You
Common People
A Day in the Life
Eight Days a Week
Eleanor Rigby
Enjoy the Silence
Eternal Flame
Every Breath You Take
(Everything I Do) I Do It for You
Feelings
Fields of Gold
The Fool on the Hill
Go West
God Only Knows
Good Riddance (The Time of My Life)
Good Vibrations
Goodbye to Love
Got to Get You into My Life
Handbags & Gladrags
Hello
Scarborough Fair
Shiny Happy People
She'a a Diamond
She's Out of My Life
Smells Like Teen Spirit
Something
Somewhere Only We Know
Stairway to Heaven
Stand by Me
Strawberry Fields Forever
Summer Holiday
Superstar
Take a Chance on Me
Ten Storey Love Song
Those Were the Days

Evergreens
Standards & Jazz List
Alexander's Ragtime Band
All I Ask of You
All the Things You Are
Always True to You after My Fashion
Anything Goes
As Time Goes By
Autumn Leaves
Beer Barrel Polka
Bethena Walz (Joplin)
Black & White Rag
The Blue-Tail Fly
Bluesette
Can't Take My Eyes off of You
Caravan
Cascades Rag (Joplin)
Charleston
Cheek to Cheek
Chelsea Bridge
Chicken Reel
Chimes Blues
Chrysanthemum Rag (Joplin)
Cock Linnet
Dark Eyes
Dead Man Blues
Desafinado
Élite Syncopations (Joplin)
Every Time We Say Goodbye
Floral Dance
The Girl from Ipanema
Guantanamera
Home in Pasadena
Hungarian Rag
I Do Like to Be beside the Seaside
I Love Paris
If You Knew Suzie
In a Sentimental Mood
It Had to Be You
I'll Build a Stairway to Paradise
Jazz Me Blues
Jealousy
Repertoire List – continued
Sunshine
Swanee
Take 5
Take the 'A' Train
Tango 'Por Una Cabeza'
Tiger Rag
Top Hat
Turkey in the Straw
Two Guitars
Up a Lazy River
Film & TV List
The A-Team
All Creatures Great and Small
America! (West Side Story)
The Avengers
Black & White Rag (Pot Black)
Bond themes – most
Cagney & Lacey
Cavatina (The Deer Hunter)
Chi Mai (The Life and Times of Lloyd George)
Chitty- Chitty-Bang-Bang
Dragnet
Eye Level (Van der Valk)
Fiddler on the Roof (Medley)
The Godfather
The Great Escape
Green Leaves of Summer (The Alamo)
Harry Lime Theme (The Third Man)
Hawaii Five-O
High Noon
Hill Street Blues
I'm Walking in the Air (The Snowman)
Into the West (The Lord of the Rings)
Jeeves & Wooster
Lara's Theme (Dr Zhivago)
Man of La Mancha (Medley)
Maria (West Side Story)
Miss Marple
Mission: Impossible
My Fair Lady (Medley)
My Heart Will Go On (Titanic)
No Business Like Show Business (The Bandwagon)
Over the Rainbow (The Wizard of Oz)
Hello Goodbye
Here There and Everywhere
Heroes
I Do I Do I Do I Do I Do
I Feel Fine
I Get the Sweetest Feeling
I Heard It through the Grapevine
If I Fell
I'm a Believer
I'm into Something Good
Imagine
In the Navy
(Is This the Way to) Amarillo
It Had to Be You
It Must Be Love
It's Rock'n'Roll (Medley)
Jumpin' Jack Flash
Killing Me Softly with His Song
Lady Madonna
Let's Spend the Night Together
Love Is All Around
Lucy in the Sky with Diamonds
Made of Stone
Mandy
May It Be
Michelle
A Million Love Songs
Money Money Money
Move on Up
Nights in White Satin
No Surprises
Norwegian Wood
Out of Time
Paperback Writer
Penny Lane
Pictures of Lily
Pinball Wizard
Puppet on a String
Ride a White Swan
The Universal
Unfinished Sympathy
Waterloo
We Are the Champions
When I'm 64
White Wedding
A Whiter Shade of Pale
Wonderwall
Yesterday
Yesterday Once More
YMCA
You're Still the One
Kickin' the Dog
King Porter Stomp
La Paloma
La Vie en Rose
Leaning on a Lamppost
Let's Do It
Little Brown Jug
Love Is Here to Stay
Makin' Whoopee
The Man I Love
Misty
Moonlight and Roses
Moonlight in Vermont
Music to Watch Girls by
My Funny Valentine
Nice Work If You Can Get It
A Nightingale Sang in Berkeley Square
No Business Like Show Business
No Strings
Nuages
Oh! Dem Golden Slippers
The Old Music Master
Orange Blossom Special
Over the Rainbow
Paragon Rag (Joplin)
Pennies from Heaven
Pick Yourself Up
Pleasant Moments (Joplin)
Raggin' the Scale
Ragtime Dance (Joplin)
Roseleaf Rag (Joplin
Russian Rag
Satin Doll
September Song
Singin' in the Rain
Slap That Bass
Smoke Gets in Your Eyes
Solace (Joplin)
Somebody Loves Me
Someone to Watch over Me
Sometimes When We Touch
Spanish Eyes
St Louis Blues
Summertime
The Way You Look Tonight
What'll I Do
Without You
Wonderful World
Yiddischer Momma
Peter Gunn
Pinball Wizard (Tommy)
Pink Panther Theme
Poirot
The Rockford Files
Scarborough Fair (The Graduate)
Schindler's List
The Simpsons
Singin' in the Rain
Star Wars
Summer Holiday
Summer Nights (Grease)
The Sweeny
Thunderbirds
Those Magnificent Men in their Flying Machines
Top Hat
Musicals
Musicals List
1/5 of Beethoven
Alexander's Ragtime Band
All I Ask of You
All the Things You Are
Always True to You after My Fashion
America! (West Side Story)
Annie! (Overture)
Big Spender
Cheek to Cheek
Don't Cry for Me Argentina
Every Time We Say Goodbye
Fiddler on the Roof (Medley)
Finian's Rainbow (Medley)
I Dreamed a Dream
I Know Him So Well
I Love Paris
I'll Build a Stairway to Paradise
I'm Walking in the Air (The Snowman)
Let's Do It
Love Is Here to Stay
The Man I Love
Man of La Mancha (Medley)
Maria (from West Side Story)
Memory (Cats)
Money Money Money
My Fair Lady (Medley)
My Funny Valentine
Nice Work If You Can Get It
No Business Like Show Business
No Strings
Over the Rainbow
Pick Yourself Up
September Song
Singin' in the Rain
Slap That Bass
Smoke Gets in Your Eyes
Somebody Loves Me
Someone to Watch over Me
Sometimes When We Touch
Summer Holiday
Summer Nights (Grease)
Summertime
Swanee
Take a Chance on Me
Top Hat
Waterloo
The Way You Look Tonight
What'll I Do
Without You
Wedding Favourites
Arrival of the Queen of Sheba
Canon for 3 Violins & Ground Bass
Flower Duet (from Lakmé)
Pavane
Salut d'Amour
Sheep May Safely Graze
Summertime (from Porgy and Bess)
Wedding Day at Troldhaugen
Wedding March (from A Midsummer Night's Dream)
Wedding March (from Lohengrin)
Light Classical
ANDERSON Leroy
ARENSKY Anton
BACH Johann Sebastian
BEETHOVEN Ludwig van
BIZET Georges
BORODIN Alexander
BRIDGE Frank
CHOPIN Frederick
COATES Eric
DEBUSSY Claude
DELIBES Léo
DVORAK Antonin
ELGAR Edward
ELLIS Vivian
FAURÉ Gabriel
FIOCCO
FUCIK
GERSHWIN George
GRAINGER Percy
GRIEG Edward
GOUNOD Charles
FOSTER Stephen
HANDEL George Frederick
HASSE Johann Adolf
HAYDN Josef
KATCHACHURIAN Aram
KREIN Jascha
KREISLER Fritz
LISZT Franz
McDOWELL Edward
MALANDO
MASSENET Jules
MENDELSSOHN Felix
MONTI
MOZART Wolfgang Amadeus
OFFENBACH Jacques
SCHUBERT Franz
SCHUMANN Robert
SHOSTAKOVITCH Dmitri
SOUZA John Philip
STRAUß Johann I
STRAUß Johann II
STRAUß Johann II & Josef
SVENDSEN Johan S
SULLIVAN Sir Arthur
TCHAIKOVSKY Piotr Ilyich
Trad
VERDI Guiseppe
VIVALDI Antonio
WHITE Edward
WOLF Hugo
Classical
ARENSKY Anton
BARBER Samuel
BEETHOVEN Ludwig van
BORODIN Alexander
BRAHMS Johannes
BRIDGE Frank
DVOŘÁK Antonin
GADE Niels
GLINKA Mikhail
HAYDN Josef
MENDELSSOHN Felix
MOZART Wolfgang Amadeus
PURCELL Henry
RAFF Joachim
RESPIGHI Ottorino
SCHUBERT Franz
SCHUMANN Robert
SPOHR Ludwig
SVENDSEN Johan Severin
WANHAL Johann Baptiste
WOLF Hugo
BOLLYWOOD
Rafi Song
Ghar Aya
Ho Gaya Hai
Maine Tujhe
Tujhe Dekha To
Tum Dilki
Chand Mera Dil
Pardesi Pardesi
Aaj Mera Yaar Ki Shadi
Kuch Kuch Hota Hai
Humko Humise
Too Cheez Badi Hai
Teri Chuariya
Dil To Pagal Hai
Ek Ladki ko Dekha
Suraj Hua Maddham
Kabhi Khushi Khabie Gham
Kuchh Nah Kaho
Hum Tumhare Hain Sanam
Yeh Vaad Raha
Pehli Nazar Mein
Baazigar O Baazigar
Teri Ore
George Frederick Handel
Johann Pachelbel
Leo Delibes
Gabriel Fauré
Edward Elgar
J S Bach
George Gershwin
Edvard Grieg
Felix Mendelssohn
Richard Wagner
Belle of the Ball
Blue Tango
Fiddle-Faddle
Forgotten Dreams
Jazz Pizzicato
Penny Whistle
Plink Plank Plunk
Trumpeter's Lullaby
The Typewriter
Variations on a Theme of Tchaikovsky
Air (from Suite No 3 in D)
Brandenburg Concerto No 3
Chaconne (orig for Solo Violin)
Jesu, Joy of Man's Desiring
Sheep May Safely Graze
Toccata & Fugue in d minor
Adagio Cantabile (from the Pathétique Sonata)
Carmen Prelude
Nocturne
An Irish Melody (Londonderry Air)
Minute Waltz
Waltz Op 70 No 3
Dambusters March
Girl with the Flaxen Hair
Flower Duet
Humoreske
Serenade
Slavonic Dance No 8
Chanson de Matin
Chanson de Nuit
Nimrod
Salut d'Amour
Coronation Scott
Le Jardin de Dolly
Mi-a-ou
Pavane
Allegro
March: Entry of the Gladiators
Three Preludes
Summertime (from Porgy and Bess)
Country Gardens
Molly on the Shore
Shepherds' Hey
Norwegian Dances 1-4
Waltz (from Op 12)
Waltz (from Faust)
Jeannie with the Light Brown Hair
Old Black Joe
Largo
Canzona
Serenade
Waltz (from Masquerade)
Gypsy Carnival
Caprice Viennois
Liebesleid
Hungarian Rhapsody No 2
Hungarian Rhapsody No 14
To a Wild Rose
Tango: Noche de Estrellas
Tango: Olé Guapa!
Meditation (from Thaïs)
Canzonetta (String Quartet Op 12)
Czardas
Adagio and Fugue in c minor
Adagio in C K356
Divertimenti (3) for Strings K136-8
Eine Kleine Nachtmusik
Barcarolle (from The Tales of Hoffmann)
Can-Can (from Orpheus in the Underworld)
Waltz (from The Tales of Hoffmann)
Ave Maria
Moment Musicale
Scenes from Childhood
Träumerei
Romance (from The Gadfly)
El Capitan
High School Cadets
Semper Fidelis
Stars & Stripes Forever
Radetzky March
Blue Danube Waltz
Roses from the South Waltz
Seid Umschlungen Millionen Waltz
Thunder & Lightning Polka
Tritsch-Tratsch Polka
Voices of Spring Waltz
Wiener Blut
Pizzicato Polka
Serenade
Iolanthe (Medley)
Andante Cantabile
Danse des Mirlitons
Sleeping Beauty Waltz
Arkansas Traveller
Greensleeves
Londonderry Air
Negro Spirituals (Various)
Reel Fiddlin' (Medley of Scottish Reels)
Skip To My Lou
Song of the Volga Boatmen
Brindisi (from La Traviata) etc
Concerto Grosso in d minor
The Four Seasons
Runaway Rocking Horse
Italian Serenade
Quartet in A minor (Op 35a)
Adagio
Quartet in C minor (Op 18 No 4)
Quartet in C major (Op 59 No 3) "Rasumovsky"
Quartet in E flat Major (op 127)
Quartet No 2 in D major
Quartet No 1 in C minor (Op 51 No 1)
Quartet No 3 in B flat major (Op 67)
An Irish Melody
Quartet No 5 in F Minor (Op 9)
Quartet No 12 in F major (Op 96) "American"
Two Waltzes (Op 54)
Quartet in D major (Op 63)
Quartet in D major
Quartet in C major (Op 33 No 3) "The Bird"
Quartet in E major (Op 54 No 3)
Quartet in D major (Op 67 No 5) "The Lark"
Quartet in D minor (Op 76 No 2) "The Fifths"
Quartet No 2 in A minor (Op 13)
Adagio & Fugue in C minor (K 456)
Quartet in G major (K 387)
Quartet in B flat major (K 458) "The Hunt"
Quartet in C major (K 464) "The Dissonance"
Chaconne in G minor
Quartet in C minor (oOp 192 No 1) "Suite in the Old Style"
Quartet in D major
Quartet No 13 in A minor (D 804) "Rosamunde"
Quartettsatz in C minor (D 703)
Quartet No 2 in F major (Op 41 No 2)
Quartet in E minor (Op 45 No 2)
Quartet in A minor (Op 1)
Quartet in E flat Major (op 127)
Italian Serenade