Male Electric Violinist for hire. Our male electric violinist performs on his white electric violin, accompanied by high quality
backing tracks. He uses a wireless system with his electric violin that enables him to walk freely around the room.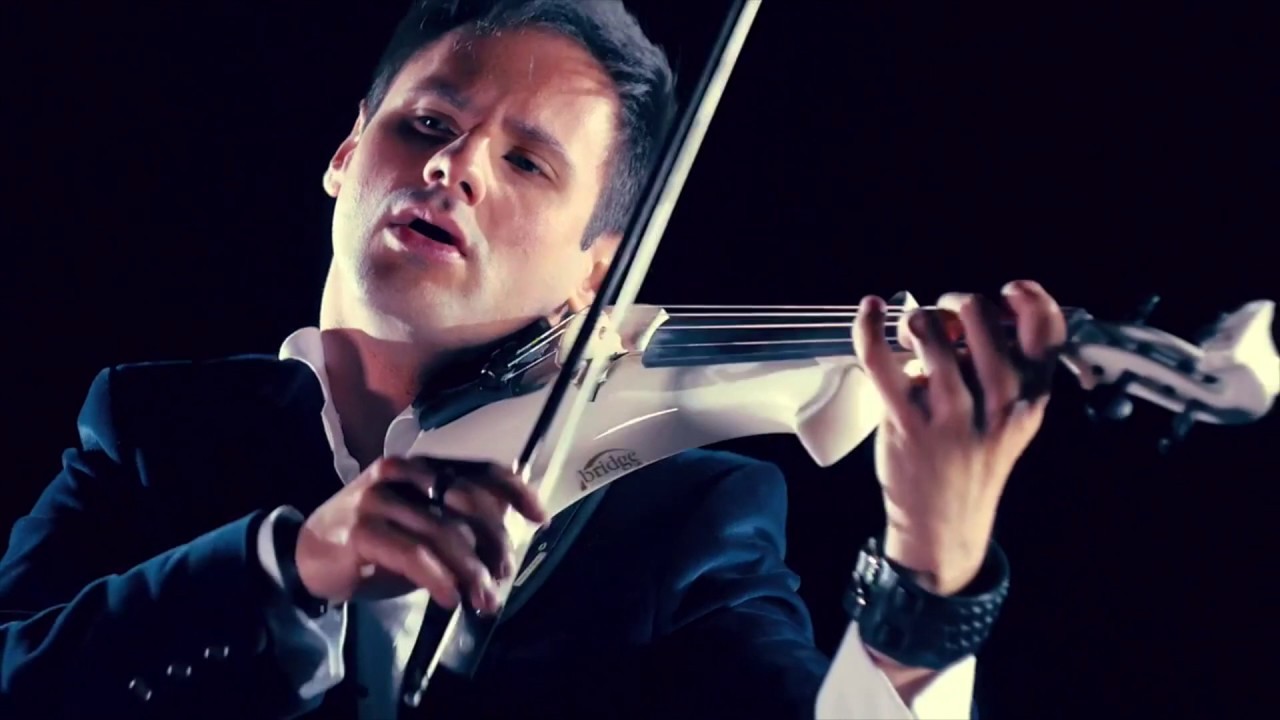 Male Electric Violinist for hire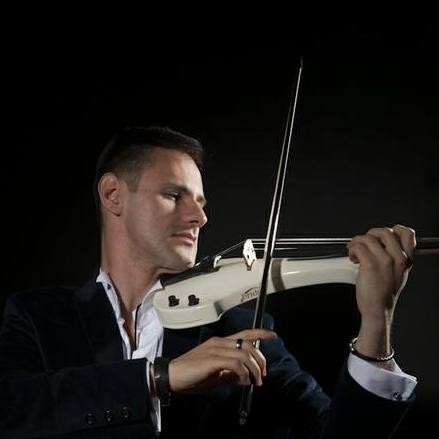 This amazing electric violinist is available for hire across the UK for Western weddings,
Asian weddings (Bollywood violin), corporate events, launches, private functions, charity events, private parties, award ceremonies, gala dinners, proposals, birthday parties, engagement parties, funerals and much more. He performs a variety of musical genres
(styles): pop, rock, classical, Bollywood, club, show pieces, musicals/film themes, jazz,
ballads, Latin, gypsy and Jewish music.
With an extensive song list, he is able to provide a bespoke musical
experience for his clients for your special occasion.
At weddings, for example, he can play whilst the guests are arriving, for the processional, during the signing of the register, for the recessional, during the drinks reception/canapés, as well as during the wedding
breakfast/meal.
He performs on his white custom made electric violin. For a more
intimate setting he can play on his fine acoustic violin.
He plays with high quality backing tracks adding a full and complete
sound.
He uses a top of the range wireless system with his electric violin that enables him to walk freely around the venue.
He has a full range of PA system (sound equipment) which can be adapted to any situation. He can cater for audiences of 20 – 2000 plus.
He can work in any environment, even if there is no power supply available.
He is also able to provide appropriate background music between his violin performance sets.
He can wear traditional Asian or Western attire according to the client's wishes.
Full Public Liability Insurance & Pat Certificate
Price From £450.00
Area: Nationwide
Repertoire includes…
BOLLYWOOD SONG LIST
Ah Mere Humsafar
Baazigar o baazigar
Banjaara
Badtameeza dil
Chand sifarish
Chaudvin Ka Chand Ho
Chura Liya
Desi girl
Deewana Ka raha hai
Dilwali girlfriend
Gerua
Haule Haule
Heer
High Heels (Honey Singh)
Humko Hamise Churalo
Janam Janam
Jai Ho
Jashn e Bahara
Jeena Laga Hoon
Khuda Bhi
Kabhi Alveda na kehna
Khabi Jo Badal Barse
Kabootar Ja Ja
Kal Ho Na Ho
Khabi Khabi
Kuch Kuch Hota Hai
Lat lag Gayee
Main Shayar Toh Nahin
Mehndi Laga Ke Rakannah
Mere Yaar Ki Shaadi Hai
Nagada sang
Nazar Se Nazar Mile
Pee Loon
Pehla Nasha
Pehli Nazar Mein
Sanam Re
Saans
Sawan Aaya Hai
Shine-Bond
Suraj Hua Maddam
Teri Galiyan
Tere Liye
Tere Mast Do Nain
Teri Meri
Teri Ore
Tujhe Dekha To
Tujhme Rab Dikhta Hai
Tum Hi Ho
Upbeat Medley-Mere Yaar Ki Shaadi Hai, Dhoom Machale, Mashallah, Titanium
Upbeat Medley 2-Palladio, Morni Punjabi MC, Rail Gaddi, Desi Girl
(Please give advanced notice if you would like the songs below)
Baharo Phool Barsao
Tenu Leke Salam E Ishq
Hookah Bar
Mere Haath Mein
Mubarak Ho Tumko
Guzarish
Mere Sapno Ki Rani
Ho Gaya Hai tujhko
Mere rang mein
Tere Mast Do Nain
Extra songs not on list – £10
(Please give advanced notice if you would like the songs below)
Baharo Phool Barsao
Tenu Leke Salam E Ishq
Hookah Bar
Mere Haath Mein
Mubarak Ho Tumko
Guzarish
Mere Sapno Ki Rani
Ho Gaya Hai tujhko
Mere rang mein
Tere Mast Do Nain
Extra songs not on list – £10
Other songs include…
CLASSICAL
Anon Greensleeves
Bach Air on the G String, Jesu Joy of Mans Desiring, A Minor Violin Concerto
Beethoven Ode to joyBizet Habanera from Carmen
Bocelli (as sung by) Con te partiro
Brahms Hungarian dance no.5
Capua O Sole Mio
Clarke Trumpet Tune
Debussy Claire de lune
Delibes Flower duet
Dinicu Hora Staccato, Hora Martisorului
Dvorak Humoresque, Largo From New World Symphony
Elgar Salut d'amour, Chanson de matin
Faure Pavane, Sicilienne
Fields Pie Jesu
Gounod Ave Maria
Grieg Morning
Handel Queen of Sheeba, Hornpipe, La rejouissance
Holst Jupiter
Kreisler Liebesleid, Schon Rosmarin
Mascagni Intermezzo from Cavaleria Rusticana
Massenet Thais Meditation
Mendelssohn Wedding March
Monti Czardas
Morricone Chi Mai, Gabriels oboe
Pachelbel Canon
Parry Jerusalem
Puccini Nessun dorma, O mio Babino Caro
Saint Saens The Swan
Satie Gymnopedie
Schumann Traumerie
Strauss Blue Danube
Vivaldi Allegro from Spring, Largo from Winter, Storm from Summer (electric/techno version)
Wagner Bridal Chorus
POP/ROCK
Adele Make you feel my love, Someone like you, Rolling in the deep, Set fire to the rain
Alexandra Burke Hallelujah
Andrea Bocelli Time to say goodbye/Con te partiro
Andy Williams Music to watch girls by
Avici I gotta good feeling, Hey Brother, Wake me up
Aznavour She
Beatles Eleanor rigby, Hey Jude, Here comes the sun, Yesterday, All you need is love
Bee Gees Stayin Alive
Berlin Take my breath away
Beyonce Halo, If I were a boy
Big Brovaz Baby Boy
Bill Medley Ive had the time of my life
Billy Joel Just the way you are, Shes always a woman to me
Bruno Mars Just the way you are, Marry you, Grenade
Bryan Adams Everything I do
Carly Rae Jepson Call me maybe
Carly Simons Nobody does it better
Carpenters Close to you
Celine Dion My heart will go on
Christina Perri A Thousand years
Clean bandit No place I'd rather be
Coldplay Clocks, Viva la vida, Fix you, Paradise
David Guetta Titanium, Dangerous
Dean Martin That's Amore
Desree Kissing you
Edith Piaf La vie en rose
Ed Sheeran Thinking Out Loud
Elbow One day like this
Ellie Goulding I need your love, how long will i love you, Love me like you do
Elton John Circle of life, Your song, Can you feel the love tonight
Elvis Can't help falling in love with you, Love me tender
Etta James At last
Eva Cassidy Fields of gold, Songbird
Franki Valli Cant Take my eyes off you
James Blunt Your beautiful
James Morrison Wont let you go
Jeff Buckley Hallelujah
Journey Don't stop believing
Justin Timberlake Mirrors
Katy Perry Firework
Kaoma Lambada
Kesha Timber
Killers Human , Mr Brightside
Lana del ray Young and beautiful
Led Zeppelin Kashmir
Leonard Cohen Halleluja
Louis Armstrong What a wonderful world
Madness It must be love
Mancini Moon river
Michael Jackson Medley
Oasis Wonderwall, Whatever, Live Forever, Masterplan
One Republic Secrets (piano guys), Counting Stars
Plain White T's Hey there Delilah
Rednex Cotton eyed joe
Righteous Brothers Unchained Melody
Rihanna Diamonds, We found love
Robbie Williams Something Stupid, Angels
Roy Orbison Pretty Woman
Sam Smith Stay with me
Savage Garden Truly Madly DeeplySeal Kiss from a rose
Simon and Garfunkel Bridge over troubled water
Snow Patrol Chasing cars, Run
Take That Greatest day, Rule the world
The Piano Guys Beethoven's 5 secrets
Turning page Sleeping at last
Verve Bittersweet symphony
Whitney houston I will always love you
Yiruma River flows in you
MODERN ELECTRIC SHOW TRACKS
Avici I gotta good feeling, Wake me up, Hey brother
Barber Adagio Willaim orbit
Bond Shine, Explosive, Fuego, Gypsy Rhapsody
Carmina Burana O fortuna remix
Clean bandit No Place I'd Rather be
David Guetta Titanium
Ellie Goulding I need your love
Karl Jenkins / Escala Palladio
Led Zeppelin Kashmir
Lyndsey Stirling Crystallize
Michael Jackson Medley
Morricone Chi Mai
Nicky Minage Starships
Pirates of the Carribean He's a pirate
Preludium (Kreisler) remix
Rihanna We found love
Riverdance medley
Vanessa Mae Contradanza, Destiny
Vivaldi Storm (Presto from summer)
MEDLEYS
Kalinka medley
Michael Jackson medley
Palladio/Kashmir medley
Riverdance medley
LATIN
Besame Mucho
Chan Chan
Girl from ipanema
Lambada
Libertango
Mas Que Nada
Sway
Tango Por Una Cabeza
Tico Tico No Fuba
GYPSY SHOW PIECES
Brahms Hungarian Dance no.5
Dinicu Hora staccato
Hora Martisorului
Kalinka medley
Monti Czardas
Folk/Trad/Bluegrass
Cotton eyed Joe (Country)
Auld lang syne (Scottish)
Danny boy (Irish)
Countess Kathleen (Irish)
Greensleeves (English)
Lord of the Dance from Riverdance
Sailors hornpipe (Irish)
Scarborough fair (English)
Riverdance medley (Irish)
Skye boat song (Scottish)
Toss the feathers (Irish)
Will ye go lassie go (Scottish)
Ye bank and braes (Scottish)
TV, MUSICALS & FILM
Aladdin A whole new world
Amelie Le Banquet/Valse des monstres
Andrew Lloyd Weber I dreamed a dream, Memory, All I ask of you
Band of brothers theme
Batman forever Kiss from a rose
Beauty and the beast Theme
Big Country Main theme
Bodyguard I will always love you
Born Free Born free
Braveheart Theme
Breakfast at Tiffany's Moon River
Captain Corelli's mandolin Pelagia's song
Crouching tiger hidden dragon The eternal vow
Dirty Dancing I've had the time of my life
Disney films various
Evita You must love me
Fiddler on the roof Sunrise Sunset
Forsyth Saga Irene's song
Four weddings and a funeral Love is all around
Frozen Let it go
Game of thrones Main theme
Godfather Main theme
Gladiator Now we are free
James Bond Nobody does it better, Skyfall, Diamonds are forever, Main theme, You only love twice, for your eyes only, live and let die
Jeeves and Wooster theme
Jurassic Park Theme
Last of the Mohicans Gael Theme
Lion King Can you feel the love tonight, Circle of Life
Love Story Where do I begin
Lord of the rings Themes (various)
Mancini Moon River
Miss Marple theme
Mission impossible theme
Morricone Chi Mai, Gabriel's Oboe
Moulin rouge Come what may, Roxanne tango
Out of Africa Theme
Phantom of the opera All I ask of you
Pirates of the Caribbean He's a pirate
Poirot Theme
Pride and prejudice theme
Ray Georgia on my mind
Rocky Eye of the tiger
Romeo and Juliet Kissing you
Scent of a woman Por Una Cabeza
Schindlers List Main theme
The odd couple Theme
The Persuaders Theme
Titanic My heart will go on
Top Gun Take my breath away
Walk the line Ring of fire
Wizard of OZ Somewhere over the rainbow
Vangelis Chariots of fire
JAZZ & LOUNGE
A string of pearls
Besame mucho
Beyond the sea
Birdland
Blue Moon
Chattanooga choo choo
Come Fly With Me
Desafinado
Fly Me to the Moon
Georgia on my mind
Girl from ipanema
In the mood
It don't mean a thing (if you ain't got that swing)
I got rhythm
Me and my shadow
Misty
My Funny Valentine
Pensylvania
Satin doll
Strangers in the night
Summertime
Sway
Take Five
Tango por una cabeza
Tuxedo junction
What a difference a day makes
CHRISTMAS SONGS
Hark The Herald Angels Sing
Away In A Manger
Once In Royal David's City
Good King Wencelas
In the Bleak Mid Winter
Good Christian Men Rejoicing
The First Nowell
Silent Night
God Rest Ye Merry Gentlemen
Coventry Carol
Deck The Halls
The Holly and The Ivy
Twinkle Twinkle Little Star
We Wish You A Merry Christmas
Christmas Tree
What Child Is This-Greensleaves
We Three Kings
Little Town Of Bethlemen
The Twelve Days of Christmas
I Saw Three Ships
Jingle Bells
While Shepherd Watched
Ding Dong Merrily On High
Winter Wonderland
Frosty The Snowman
Santa Claus Is Coming To Town
Rudolph
The Red Nose Reindeer
White Christmas
Let It Snow
Last Christmas
Have Yourself a Merry Little Christmas
Santa Baby
Christmas Song (Chestnuts roasting by the fire)Jingle Bell Rock
Jingle Bell Rag
The Christmas waltz
All i want for christmas is you
The little drummer boy
I'll be home for Christmas