Greek Bands for hire – Greek Dancers available for Greek themed parties. Traditional Greek songs such as 'Zorbra the Greek' are sung to entice you guests onto the dance floor. A plate smashing experience!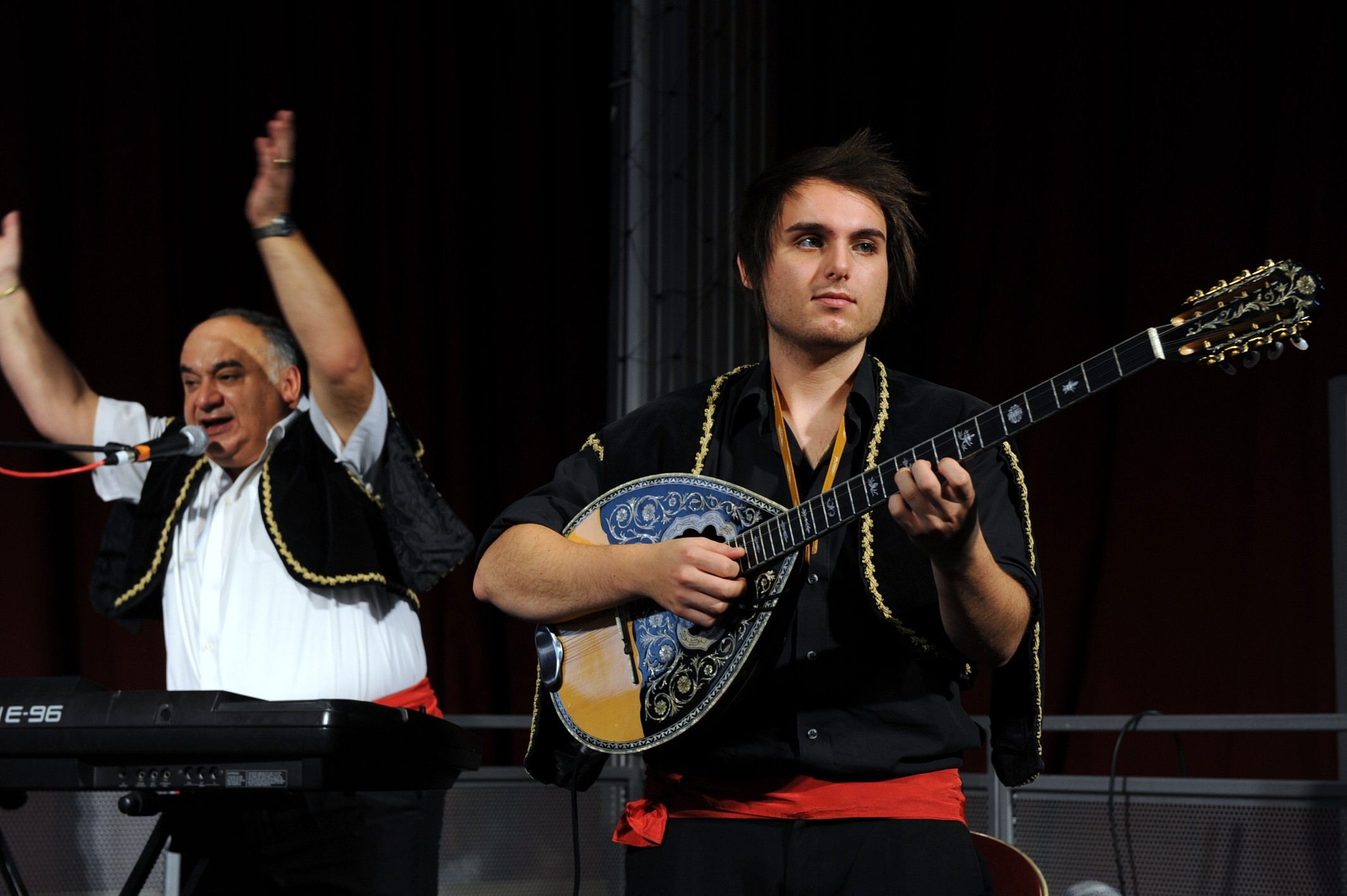 Greek Themed Parties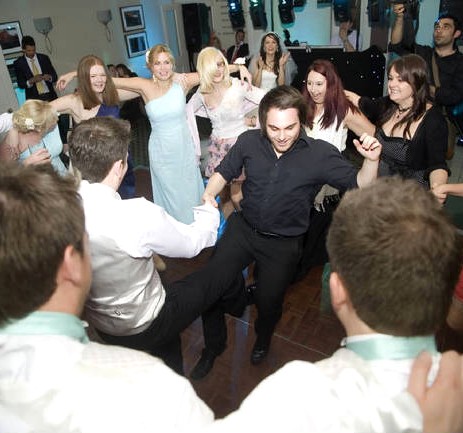 Greek Themed Parties
This traditional Greek Band is one of the few Greek bands to have a young Greek dancer as part of the band. The dancer will demonstrate some Greek dances and most importantly to also allow audience participation when required in order to ensure the night is amazing fun and full of entertainment – You will learn how to dance Zorba the Greek "OPA"!
They have shared stage and performed in several exclusive events with famous entertainers such as:
• David Penn
• Leona Lewis
• Stavros Flatley
• Ricky K
• Michael McIntyre
Their aim is to provide the client with amazing Greek and international entertainment for your special occasion. The Greek band will also provide background music while you enjoy your dinner or/and create a true Greek singing and dancing atmosphere in order to make your event one to remember.
They can tailor the program and size of the band to suit your requirements. The entertainment programme for your event could start from only a solo performer and could include Greek dancing, belly dancing and DJ Service for the intervals and/or the end.
Whether a Wedding Celebration, Dinner Party or Formal Dance, you need look no further…
Price From £500.00
Area: London – Nationwide
REPERTOIRE
KALAMATIANO
•Gerakina
•I Mana Mou Me Therni
•Oraia Aegiotissa
•Po Po Po Maria
•Samiotisa
•Se Ida Na Kladevis
•Skali Skali
•Taka Taka Ta Petalakia
•Talassaki Mou
•Mesa Sto Nero Tis Limnis
•Milo Mu Kokino
•Na Haries
NISIOTIKA/SYRTA
•Ama Thes Na Figis Fige
•Armenaki
•Ase Me Pia
•Chiculata
•Den Ksana Kano Filaki
•Diri Dah Dah
•Ekatomiria
•Ena Karavi Apo Ti Xio
•Ena Lepto Periptera
•Filakia
•Gia Tha Lefta
•Giati Thes Na Figis
•Girna Pali Girna
•Hilia Matia
•Hronia Tora Makria Su Liono
•Ise Izoi Mou
•I Trata Mas I Kourelou
•Kapetan Andrea Zepo
•Kali Tixi (Den se Krino)
•Kalyviotissa
•Karavia Xiotika
•Kerasma (Logia Klidomena)
•Maria Me Ta Kitrina
•Meine Agapi Mou Konta Mou
•Melahrinaki
•Mera Me Ti Mera
•Mes Tou Egeou
•Oti arhizi oreo
•Oso Axizei Esy
•Palamakia
•Pios Moro Mou Pios
•Psarovarka
•Psaropoula
•Siko horepse koukli mou
•Sirma Pano Katse Kato
•Ta Rialia
•Thi Allo Theleis Piopoly
•Ti Ti (Giorgos Alkaios)
•To Loloudaki Tou Baxe
•To Moro
WEDDINGS
•Matia San Ke Ta Dika Su
•Money Dance
•Simera Gamos Yinete
•Sagapo Giati se Orea
TSIFTETELLIA
•Aneva Sto Trapezi
•Eida Kai Epatha Kira Mou
•Exo Dertia
•Hariklaki
•Eheis Kormi Arapiko
•Ekso Dertia Ke Kaimi
•Filedem
•Fousta Klaroti
•Garifallo Stafti
•Glike Mou Tirane
•Katse Ston Kanape Mou
•Misirlou
•Moustafa
•Otan Horevis Matia Mou
•Pote Voudas Pote Koudas
•Ta Mavra Matia Sou
•Tetia Koukla Ke Tsahpina
TSIFTETELLIA
•Aetos
•Agalma
•Aliti mu ipes mia vradia
•Apalahtika
•Ayta Ta Xeria
•Dahtilidia
•Den Pao Pouthena
•Den Tha Ksanagapiso
•Ego Den Imouna Alitis
•Evdokia
•Genethlia
•Nikta Xelogiastra
•Sinefiasmeni Kiriaki
•Soma Mou
•Stin Elefsina Mia Fora
•Svise Me Kira Mou
•Opou Giorgos Ke Malama
•O Alitis (Mitsias)
•O Paliatzis
•O Salonikos
•O Taxitzis
•O Kir Thanos
•Oi Ntalikes
•Sinefies
•Sinefiasmeni Kiriaki
•Then Pao Puthena
•Then Thelo Tetious Filous
•To Dihti
•To Telefteo Vradi Mou
•Ti Imouna Gia Senane
•Vadizo Ke Paramilo
•Vrehi Fotia Stin Strata Mou
HASAPO-SERVIKO
•Apo Vradi Se Kinisa
•Apopse Stis Akrogiales
•Aspra Kokkina Kitrina Mple
•Balanta Tou Andrikou
•Baxe Tsifliki (Pame Tsarka)
•Choli Nihta
•Deka Palikaria
•Dirladada
•Doxa To Theo
•Gialo Gialo
•Gorgona
•Imaste Alania
•Ksimeroni Ke Vradiazi
•Milise Mou
•O Pio Kalos O Mathitis
•Pame Tsarka
•Pendozali
•Sousta
•Tin Kardoula Sou
•Varka Sto Gialo
ENGLISH & INTERNATIONAL MUSIC, ROCK, POP & BALLADS
•A Groovy Kind of Love
•Always On My mind
•A Million Love Songs
•Angels
•Blueberry Hill
•Bridge Over Troubled water
•Can't Help Falling in Love
•Delilah
•Fernando
•Feelings
•Fly Me to the Moon
•Country Roads
•Green Grass of Home
•Hello
•Hey Jude
•I Can't Stop Loving You
•If Tomorrow Never Comes
•I Just Called to Say I Love You
•Imagine
•Killing Me Softly
•Lady in Red
•Let it be
•Love Me Tender
•Love Story
•Moon River
•My Love
•My Way
•New York
•Nikita
•Only You
•Power of Love
•Que Sera Sera
•Release Me
•Sailing
•Sealed With a Kiss
•She Is the One
•Show Me The Way to Go Home
•Something Stupid
•Spanish Eyes
•Stuck on You
•Sweet Caroline
•The Last Waltz
•Three Times a Lady
•To All The Girls I've Loved Before
•Unchained Melody
•What a Wonderful world
•When I fall in Love
•When I Need You
•Wonderful Tonight
•Wonder of You
•Yesterday
•You Needed Me
PARTY SONGS
•Amarillo
•Blue Suède Shoes
•Brown eyed girl
•Build Me Up Butter Cup
•Bye, Bye love
•Can't Buy Me Love
•Dance The Night Away
•Hello Mary Lou
•Hi-Ho Silver Lining
•I saw her standing there
•Johnny B. Goode
•La Bamba
•Let's Dance
•Let's Twist Again
•Livin La Vida Loca
•Living Next Door To Alice
•Old Time Rock n Roll
•Proud Mary
•Rock Around the Clock
•Rockin' All Over The World
•Rocking Around The Christmas Tree
•Roll Over Beethoven
•Saw Her Standing There
•Sweet Caroline
•Come on over babe
•The Twist
•La Vida Loca
•Walk of Life
DISCO DANCE
•Chapel of Love
•Conga
•Dancing Queen
•D.I.S.C.O
•Espana
•Hot Hot Hot
•Mamma mia
•Music Man
•Locomotion
•Obladi oblada
•The Hokey Cokey Song
•Sex Bomb
•Sugar Pie Honey
•YMCA
LATIN – ITALIAN
•Amor
•Baila Me
•Bamboleo
•Bessa me Moucho
•Guantanamera
•Lambada
•La Shante mi Cantare
•Marina
•Porompompero
•Quando Quando
•Quanta La Mera
•Volare
OTHER INFORMATION
BAND EXTRA INFORMATION
•Top quality compact Dynacord Stereo Powered Mixer with EV speakers system which will cover any function from 4 to 600 people.
•It is OK for clients to use our PA for speeches.
LIGHTING
•Disco effects lighting to cover the dance floor will be provided if requested to end the night with our DJ service and if space is available.
BAND REQUIREMENTS
•Electricity – At least 1 standard 13A socket within short distance to the performance area.
•Parking
•Food & refreshments for the musicians would be appreciated as on most occasions we have to travel long distances. (No sandwiches please!!!)
DRESS CODE
•The band can be dressed in either matching Greek waistcoats and red belts or of a smart casual style.
PERFORMANCE TIMES
•We find that 3 hours of live music is the best format. However, the timings can be totally flexible to fit in with any plans you may have.
•If you need a Greek Entertainment for your wedding and you do not want (or could not afford) to have Live Greek Band for the entire night, we could perform for 1 hour only and give your wedding a Greek flavour. After this the DJ could take over (This option is very popular with our clients).
•During this hour you could have Greek background music and singing, Greek Dancer to get your audience going and plates to smash (optional).
•Background music could be provided during the band breaks and if requested, the night could be brought to an end with DJ Music for a small supplementary fee.
INSURANCE AND EQUIPMENT
•The Greek Band has performed in the most desired places so it has all the necessary paperwork for Public Liability Insurance – £5.000.000, PAT Certificate and Risk Assessment.
PREVIOUS CLIENTS
•Highclere Castle (Downton Abbey was filmed here)
•Marriot Hotels
•Mint Casino
•Boxmoor Lodge Hotel
•Russell Square Casino
•Aspers Casino
•Hilton Hotels
•CH4 – TV
•Olive Garden
•Conservative Party
•David Lloyd Leisure
•Weymouth Bay
•Liverpool Festival
•Moor Mala Hotel
•Forest Pines Hotel & Golf Resort
•Hampton Manor
•RAF
•Ivory Rooms Essex
•Canterbury Market Festival
•Mecca Bingo
•Cottrell Park Golf Resort
•The Vale Resort Glamorgan
•The New Country House Hotel
•Larkstone Tearooms
•Müller UK
•Hollins Hall Marriott Hotel & Co Club
•Olympic Airways
•Pavilion – Broadstairs
•Yacht Club, Surrey
•Powys Rotary Club
•Theatre Performance – Hornchurch
•Golf Club, Worcestershire
•Whittlebury Hall Hotel
•Watford Hilton Hotel
•Menzies Prince Regent, Loughton
•Britain's Got Talent
•Greek Nights,
•Weddings,
•Christenings,
•Birthday Parties,
•Greek Community Parties,
•Hotels, Team Building Events, Schools, Colleges, Universities,
•Parks, Outdoor Events, River Cruises,
•Holiday Parks, Markets, Pavilions,
•Clubs, Squares, Shopping Centres etc
•Casinos, Restaurants, Bars, Pubs etc