Ceilidh bands for hire. Book a Barn Dance band or Ceilidh band for hire with caller performing Irish, Scottish, Celtic and even some Pop songs old and new, European songs and traditional music for Ceilidh dancing. Irish musicians for hire, instruments include Harp, Fiddle, Guitar, Mandola and of course no Ceilidh band would be complete without a Bodhran. Ceilidh Barn dances are great entertainment fun at Weddings, Private parties or Corporate event.
We have a range of Ceilidh bands for hire, as well as Barn Dance bands our Ceilidh Band Callers will create fun, laughter and great entertainment for your guests at Wedding Receptions, Private Parties, St Patrick's themed parties, at Restaurants, Hotels, and Village Halls.
HEREFORD CEILIDH BAND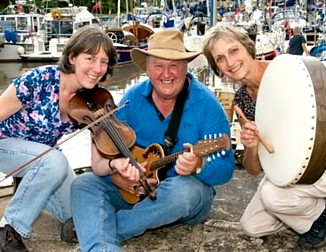 Ceilidh band for hire Hereford Ceilidh Band plays a mixture of songs from Ireland, Scotland and England.
Ceilidh Band with Caller – How it's done…
Fancy trying a bit of Ceilidh dancing but don't have a clue?
Then let our Caller talk you through the steps until you'll end up a professional..well almost!
This Ceilidh band encourages all generations to participate and perform the dance steps being instructed by the caller.
They arrange traditional and contemporary songs for the audiences enjoyment. They will also take requests at a moments notice and due to their vast knowledge of music attempt to play and sing whatever is requested from the floor! Well, almost anything!
They're a hard working trio of experienced musicians who have performed Nationwide across the UK. They utilize some 10 instruments including traditional instruments such as fiddles, banjo, mandolin, bouzouki, button accordion, bodhran, whistle, guitar and bass with superb voices and the musicianship to match they will bring the spirit of Dublins Temple Bar to your event.
They have appeared on TV and Radio as well as at the Millenium Stadium and some major music Festivals. They pride themselves on their Corporate Hospitality events with reputable clients such as AXA insurance, ACPO Vice Conference, Hertford University, University of London, Coca Cola and Taylor Woodrow Builders.
Wedding and party Ceilidh Barn dances are their speciality. The Callers calling with clear simple instructions will get even the most in-experienced dancers on their feet.
With many satisfied customers and each performance is full of fine music, friendly banter, and good humour. So whether you sit down and listen or get up and hooley you'll have a "wail" of time with this trio.
Full PLI insurance and all equiment is PAT tested. All have Enhanced CRB
Price From £550.00
Area: Hereford – Nationwide
Looking for Irish dancers? IRISH DANCERS PAGE