Male Electric Bollywood Violinist for hire. Our male electric Bollywood violinist performs on his acoustic or electric violin, accompanied by high quality backing tracks. He uses a wireless system with his electric violin that enables him to walk freely around the room.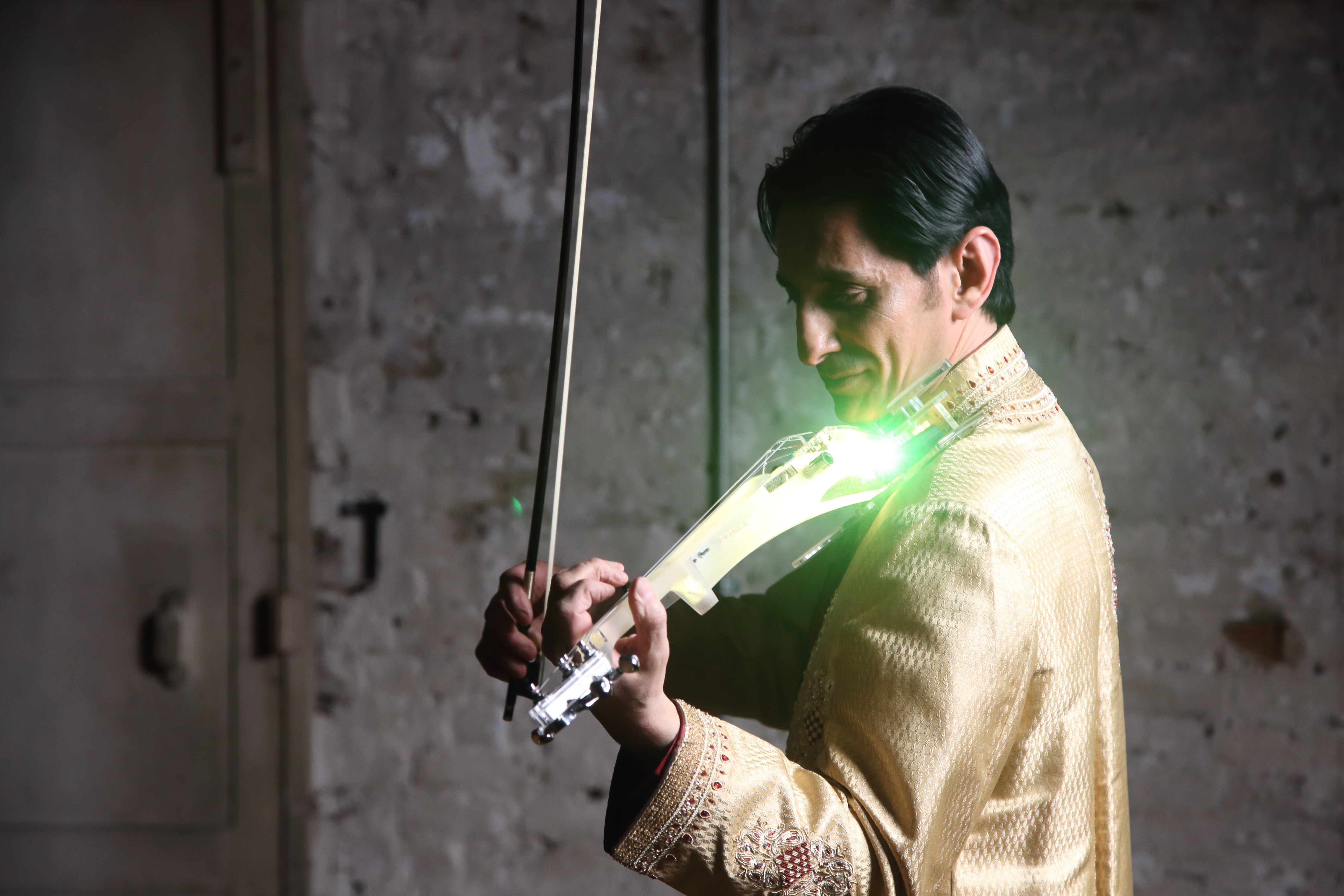 Male Electric Bollywood Violinist for hire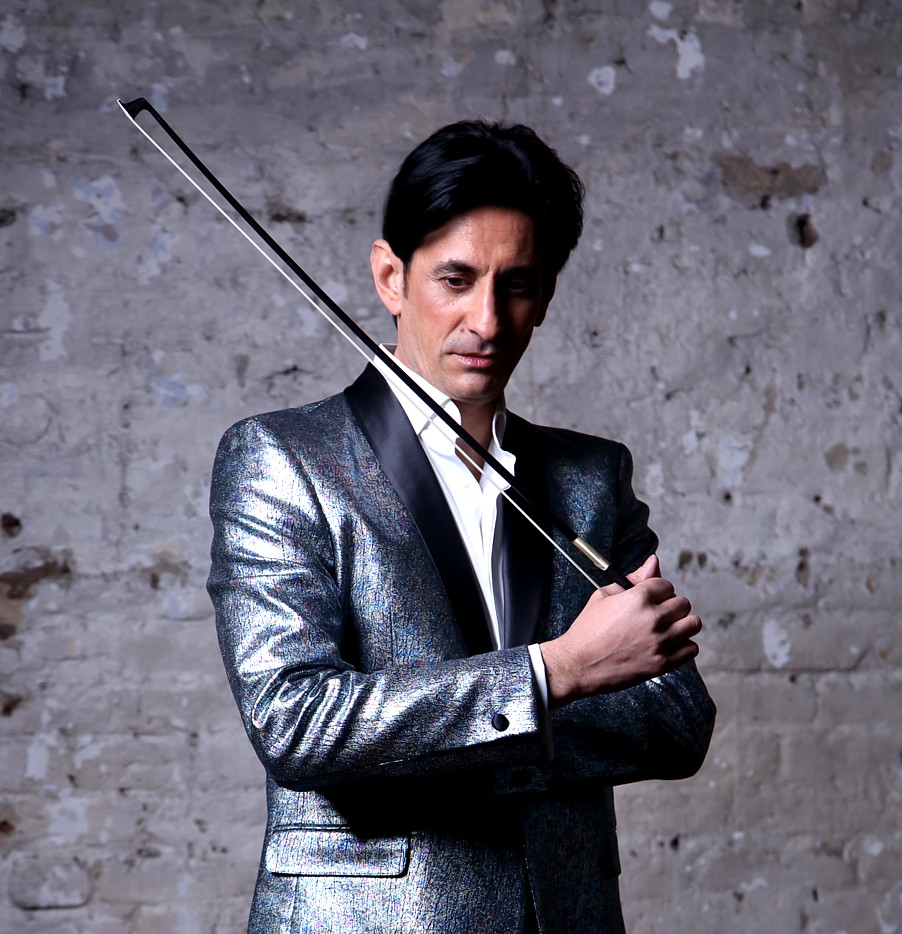 Male Bollywood Electric Violinist for hire
This Male Bollywood Violinist studied under Italy's leading violinist Riccardo Brengola at the Accademia Chigiana in Siena.
He has extensive professional experience and his credits include Rome Opera House, London Concert Orchestra, Birmingham Royal Ballet, London Soloists, Cunard Cruise Liners and he is also a session musician for the BBC.
He performs at ALL kinds of events and plays many genres of music:
Featured upbeat dance sets to make your guests get up and dance!
Bar mitzvah sets featuring upbeat and joyous music
Bollywood latest hits and timeless classics from the 60s, 70s, 80s, 90s
Background music for receptions
Songs by request (pop, dance, rock, classical, jazz)
Classical or contemporary ceremony music.
WEDDINGS, PROPOSALS, JEWISH EVENTS, CORPORATE EVENTS, BOLLYWOOD MUSIC, POP & ROCK UNIQUE ARRANGEMENTS.
Also available to perform with a DJ.
Full Public Liability Insurance & Pat Certificate
Price From £450.00
Area: Nationwide
Repertoire
Just a selection of some of the pieces performed
Bollywood
Bollywood
Tracks
Panjabi MC- Morni
Tum Hi Ho – Arjjit Singh
Kal Ho Na Ho – Heartbeat – Beautiful Romantic piece
Mohabbatein Love themes
Heer – Jab takk Hai Jaan 2012
Humko Humise Chura Lo – Mohabbatein
Suraj Hua Maddham
Kuch Kuch hota Hai – ajay Sinha and Amar – Somu Seal
Pehli Nazar Mein Rishi Rich
PeeLoon – Rajesh Thaker
Indian Princess – Romantic
Tera Hi Bas Hona Chaahoon – Najam Sheeraz and Jo Jo
Bollywood funk – show piece
Teri Ore
Teri Meri from The Bodyguard
Jai Ho
Bollywood – Shawn Lee Orchestra
It can only be love Streets of Bollywood
Jeeta Hoon Jiske Liye – Alka Yagnik and Kumar Sanu
Dheere Dheere – Alisha Chinai
Kahaani – Vidya Balan
Moko Kahaan – Bina and Pranav
Mitwa – Naveen Kumar – Love themes
Latika Theme – Slumdog
The love Legend theme
Do Pal – By My good friend singer Najam Sheeraz
Ore Piya Rahat Fateh Ali Khan
Aap Ki Khata
Silsile Mulaqton
Didi
Hadi Bakai
Karthik
Raza Theme
Fais Moi
Bebe theme
Chalte chalet
Ehsan Tera Hogan – Bollywood Sensation
Bombay Chill Out – Paris Bollywood
Chura Ke Dil Mera -Alka Yagnik & Kumar Sanu Love songs
Atif – Lamhe
Woh Humse Khafa Hain – Udit Narayan
Tujhe Dekha Tu Ye Jana Sanam
Chura Liya Hai Tumne – Romantic love song
Bollywood Medley – Medley produced in studio including some of the most popular pieces Surj Hua Maddham-Teri Ore- Teri Meri – Theme from Mohabbatein
(Kal Ho na Ho) – Humok Humise – Bollywood (Shawn Lee Orhcestra) – Najam Sheeraz (a good friend) – Tera Hi Bas Hona Chaahoon from Movie Haunted – Mitwa (Naveen Kumar). Mundian To Bach Ke- when performing with Dhol Players
Showpieces
Catharis
Monti Czardes-Gypsy/classical
Children- Miles- Escala
Celtic Roc (as seen on DVD)
Countess Kathleen- Riverdance
Picante – Conga – Vanessa Mae
Classical Gas – Vanessa Mae
Palladio – Karl Jenkins
Fiddle Loca – Irish show piece
Washer Woman X3 …getting faster
Dark Eyes
Countess Kathleen (Riverdance)
Jai Ho – Slumdog Millionaire
Hava Nagila
The Music of the Night – Phantom of the Opera
Zorba dance
The Devil went down to Georgia
Tico tico
La Cumparista
Medleys
Evocare
Tango from Moulin Rouge – Requiem of a dream – Insomina (optional) – Adagio – Pirates of the Caribbean.
Medley 
Circus March of the Gladiators – Eve of the War (War of the worlds) – Bring me to Life Katherine Jenkins – Irish Showpiece – Battle without Honour (Kill Bill) – Salt Water
Medley – Classical Crossover 5mins
Viva (Bond) – Picante (Vanessa Mae) – Explosive Bond- Clear Ice ( V Mae) – Palladio (Escala) – Kashmir ( Escala)
Medley – Greek-Jewish – Featuring Hava naglila – Monti Czardes
Medley – Solo 6 minutes includes cadenza – Palladio – Achilles Heel – crazy- corrs – riverdance- washer woman -thriller – fiddle loca – Barbers adagio –
Medley – 10 minutes – Salsa- flamenco- Fever – Abba- Irish jigs- Zorba Dance – Somewhere over the rainbow – Brown eyed girl – Everybody needs somebody (Blues Bro) –  Palladio – Kashmir
Medley – Rock – 5 mins – Addicted to Love (Palmer) – Lets dance ( Bowie) – I love rock and roll – Explosive (Bond) -Beat it (MJ) – I like the way you move (Body rockers)
Medley – Irish  Drowsy Maggie – Devil Amongst The Tailors/Soldiers  Joy
Medley – Hip-Hop  Crazy-The next episode-Get Back
Hip-hop One More Chance
Medley – Latin  I need to know (Marc Anthony) – Hero (E Iglesias)- She Bangs (R Martin)
Medley – Latin  Showpiece Tico Tico / Taka Taka
Medley – Russian/Cossack Kalinka Medley (Incuding Midnight In Moscow)
Wedding Medley – Handels' water music Hornpipe- Ave Maria – Air on a G String
Popular
And I Love Her -Beatles
Braveheart Theme
Cavatina
Could you be Loved – Bob Marley
Bedshaped – Keane
Born Again
Bridge Over Troubled Water
Brown eyed girl
Cavatina
Chi Mae
Circle of life – lion king
Chasing Pavemets
Danny Boy
Easy like Sunday Morning
Eleanor Rigby
Eyes like your – Shakira
Everything I do for you
Empire State of Mind – Alicia Keys
Georgia
Here Comes the Sun- Beatles
If I were a rich man – Fiddler on the roof
I'll be There
I've got you under my Skin
Just the Two of Us
Lady Madonna – Beatles
Laughter in the Rain
Let It Be – Beatles
Like a Star – Corrine Bailey rae
Just the Way you are
Mama Mia – Abba
Meditation
Misty
Moonriver
Moon dance
My heart will go on
Runaway (Corrs)
Somewhere Over the Rainbow
Sunrise sunset
I Shot the Sheriff
Sweet child of mine
Got to get you into my life
Here Comes the Sun-Beatles
Hey Jude -Beatles
Crazy- Gnarls Barkley
Calling (Geri Haliwell)
Killing me Softly
The Nearness of you
Love Today-Freemasons
Pack it up-funk
Rule the World – Take That
Paparazzi – Lady Gaga
Penny Lane
Numb
Sailing – Rod Stewart
Sunrise Sunset
This is It – Micheal Jackson
There's nothing like This (Omar)
Titanic – My heart will go on
Runaway (Corrs)
Walk away – Matt Munroe
Classical
Pachelbels Canon
Adagio – Barbers
Air on a G String
Ava Maria (Bach)
Ave Maria (Shubert)
Aria – Acker Bilk.
Bach D Minor concerto
Bring me to Life – Katherine Jenkins
Clubbed to Death – Matrix
Gymnopedies 1
Godfather Theme
Sicilienne (Faure)
I dreamed a dream
Halleluja – Katherine Jenkins
Flashing Lights – Kanye west – string quartet backing
Furious Angles – String quartet version
Libre Tango
Nessun Dorma
Pavane-Faure
Palladio – classical version
Pie Jesu
Mediation – Thias
Mr Brightside – String quartet
Schindler's List Theme
Sicilienne (Faure)
Water Music -Handel
Salut de Amour Elgar (no backing)
The Queen of Sheeba
Time to Say Goodbye – Bocielli
The Flower Duet
Chanson de Matin
Viva la Vida
Vivaldi four seasons
Jazz 
Autumn Leaves – Jazz Ballad
A Night in Tunisia
Ain't no sunshine
All of me
Annies Song
At Last – Etta James
Favela
Fly me to the Moon
Fever
Gentle Rain
I`ve got you under my skin
I've got Rhythm
Just the 2 of Us
Misty
Moon River
Moondance
Someone to watch over me
The Girl from Ipainma
The Shadow of your Smile
Summertime
Birdland
Body and Soul
Nature Boy
Night and Day
Sunny
So What
Someone to watch over me
Take the A Train
Latin
Ahora Quien – Marc Anthony
Besame Mucho
Chan Chan -Buena vista social club
Mas Que Nada
El Cuarto de  Tula
Son de la Loma
Bilongo
Cachita
Guantanamera
Manicero
One Note Samba
Oye Como Va
Sway -Dean Martin
Wave
Dance
All around the World
Aint Nobody
American Dream – Jakatta
Accaplella – Kellis
Beat It – MJ
Black and gold – sam sparro
Everybody needs somebody to love- Blues brothers
It Feels So good
Fantasy – earth wind and fire
Saltwater- funky house
Now we are free – gladiator (Chill out and dance versions)
Make a move
Gladiator -Theme
Gitana – Shakira
Glorious
Dead Already
Feel Like Making Love
Thriller – MJ
Release Me
Saltwater – Chicane
Shoot the Dog
Got To Get You Into My Life – beatles
Summer Breeze – from the 70s Isleys brothers
Popular – Urban
Apologise – One republic – Timbaland
Crazy – Gnarls Barkley
Feva Las vegas – N Dubz
City of god
Irish
Loca
Celtic rock
Masons Apron
Countess Kathleen – Riverdance
Washerwoman
Drowsy Maggie
Danny Boy
Romance
And I Love Her – Beatles
All My Life – k-ci Jojo
Born again
Calling – Geri Haliwell
Careless whisper – G Micheal
Can't take my eyes of you – andy williams
Chi Mai
Cry me a river
Desperado
Endless Love
Everything I do I do  it for you – B Adams
Feel like making love
Forever Autumn
Georgia
Have I told you Lately – Rod Stewart
I`ll Be There – Mariah Carey
If I fell
Its Too Late
Just the Two of Us
Just the way you are
Kissing You – Deseree
Lately
Laughter in the rain
Love changes everything
Everything I do I do It for you
Every time I say goodbye
Eleanor Ribgy- Beatles
My funny Valentine
My Heart will go on – Celine Dion
Over the Rainbow
Rainy night in Georgia
Save the best till last
Song Bird – Eva Cassidy
Stairway to Heaven
Time after Time – Eva Cassidy
The way we were
The look of love
Where Is Love
When I fall in love
Other
Sunrise sunset
Greensleaves
Scarborough Fayre
Let me Fall – Josh Groban
Happy Birthday
New Year – Count Down
For his a Jolly Good Fellow
James Bond
Diamonds are Forever
From Russia with Love
The Name is Bond
Die Another Day
The World is not Enough
Another way to Die – Alicia Keys
Live and let Die
Christmas
Silent Night
Walking in the Air
White Christmas – Jingle Bells – reggae
Once in Royal david City
Sleighride
Rudolf the Red nose reindeer
Christmas Song
Lieutenant Kjie
Away in a manger