Funfair Rides for hire. Enjoy the fun of the fair with our fairground rides. Our Children's Funfair Rides for hire are ideal for children's parties, corporate events or street entertainment.
White knuckle rides as well as old time fair with Carousel, Helter Skelter, Dodgems, Chair-o-planes, Tea Cups and Saucers, Mini Ferris Wheels etc.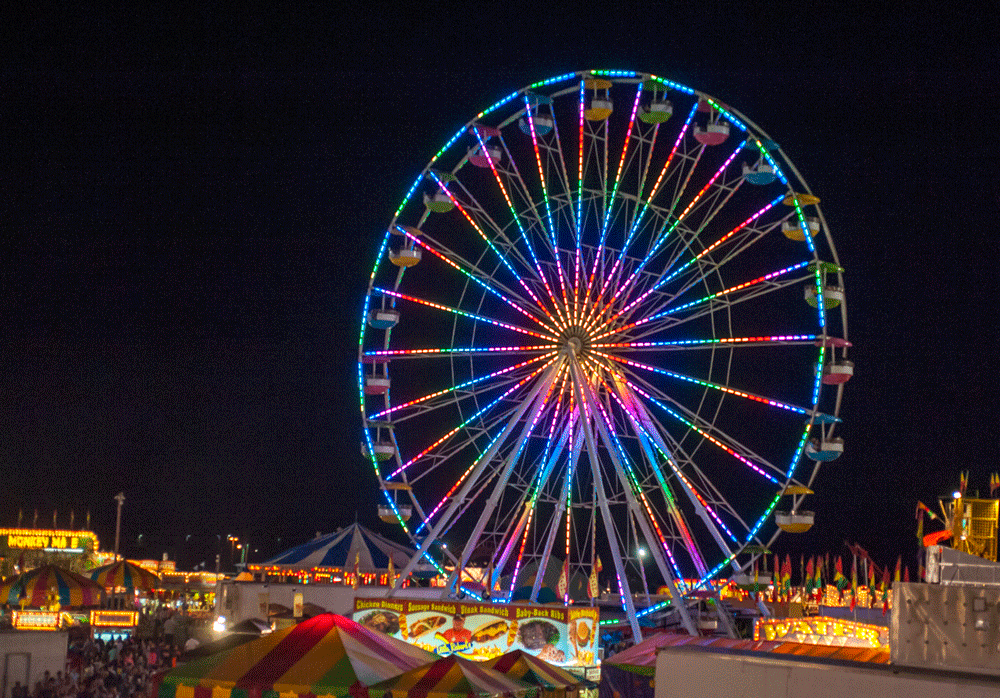 Just some of the modern and traditional attractions we supply are:
Freakout, Lighthouse Slip, Carousel, Waterballs, Ferris Wheel, Bomber, Big Wheel, Cakewalk, Waveswinger, Runaway Train, Wild Mouse, Apple Coaster, Traditional Dodgem, Drop Tower, Sea Storm, Frisbee, Super Spin, Star Gate, Ski Jump, Fun House, Cup and Saucer, Train Ride, Swing Boats, Toy Set, Ghost Train, Helter-Skelter, Jump and Smile, Matterhorn, Formula 1, Formula 3000, Children's Chairs, Mirror Maze, Superstar, Extreme, Tango, Tri-star, Twister, Orbiter, Take Off, Bumper Boats, Superbowl, Waltzer, Rock-O-Plane, Reverse Bungee, Top Scan, Star Shape, Simulators, Modern Dodgem, High Roller.
Full insurance cover for all aspects of the rides operation.
CAROUSEL – MERRY-GO-ROUND
Without doubt the most iconic fairground ride of all time; the Carousel, or Merry-go-round as it is often called, is a true family favourite enjoyed and remembered by young and old. Always an eye-catching attraction, the Carousel with its galloping horses has entertained crowds at fairgrounds since the reign of Queen Victoria, and the history of this wonderful ride goes back even further when person power or mules turned the rides as the public enjoyed their fun.
We supply a range of Carousel horses and merry-go-rounds for corporate hire, weddings, family fun days and private hire.
Not all carousels are the same and often lower prices can mean less security. We have a range of Carousels and Merry-Go-Round horses for hire all fully insured. Our prices vary for each type of carousel and the size required, so you can only get a truly representative idea of cost once you've given us your requirements.
CHAOS RIDE – TORNADO RIDE
Probably one of the favourite white-knuckle rides seen at any good funfair event. The Tornado also known as The Chaos is not for the faint-hearted!
DODGEMS – BUMPER CARS
Everyone knows and loves the dodgems. Commonly known as Bumper Cars the dodgems have been entertaining children and adults alike since the 1920's and have only got better over the years. We provide a full range of dodgem cars from classic old-time dodgems for period events to high-octane modern dodgems, complete with lights and sounds to create the ultimate funfair dodgems experience. With a full range of track sizes and quantity of cars available we are sure to have the right dodgem set for your requirements.
Track sizes start at 54 feet by 40 feet and go up to 100 feet by 50 feet, with lots of different sizes in between, prices are dependent on track size, amount of cars and type of dodgems required so it is important to call us and discuss your needs to ensure you get the right bumper cars for the right price.
TWISTER RIDE
Suitable for both adults and children the twister has been a favourite at fairgrounds since 1959 when the first 'Grasscutter' twist was built by Edwin Hall under licence from the US company Eli Bridge. Today it is faster, safer and more importantly… even more fun!
OTHER ADULT AND WHITE KNUCKLE RIDES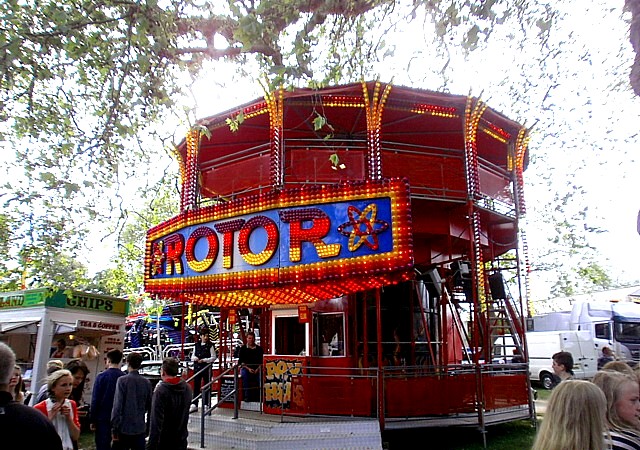 The Rotor Ride
Defies the mathematicians and philosophers who grappled with gravity through the ages, because you should not stick to the side of this spinning wheel but should gently slide to the floor!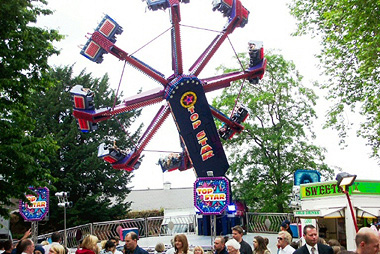 The Superstar Ride
A fabulous white knuckle thrill ride that stands out at any event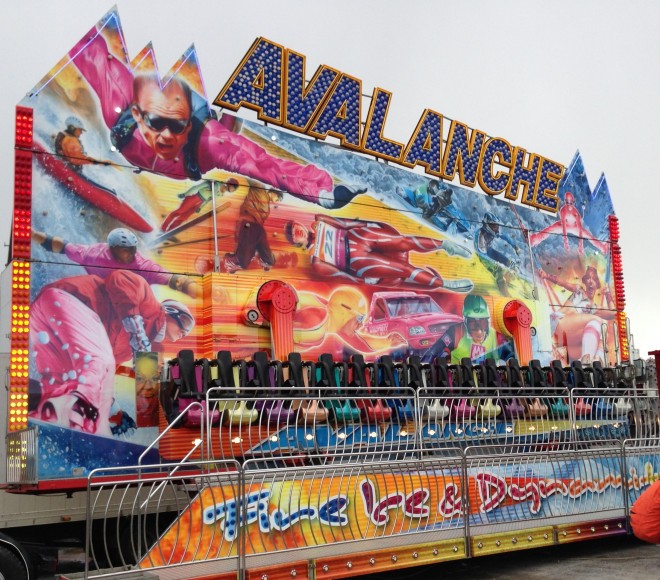 The Avalanche Ride
Great new attraction, first in the country, and ideal for most sizes and levels of bravery!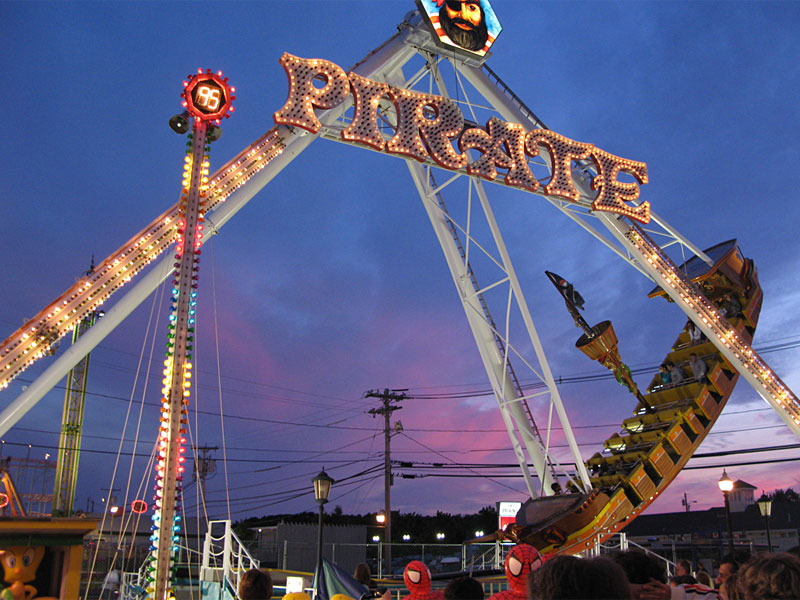 The Pirate Ship Ride
Superb and unique Pirate Ship, rocks back and forwards through 240 degrees. Thrilling!!!!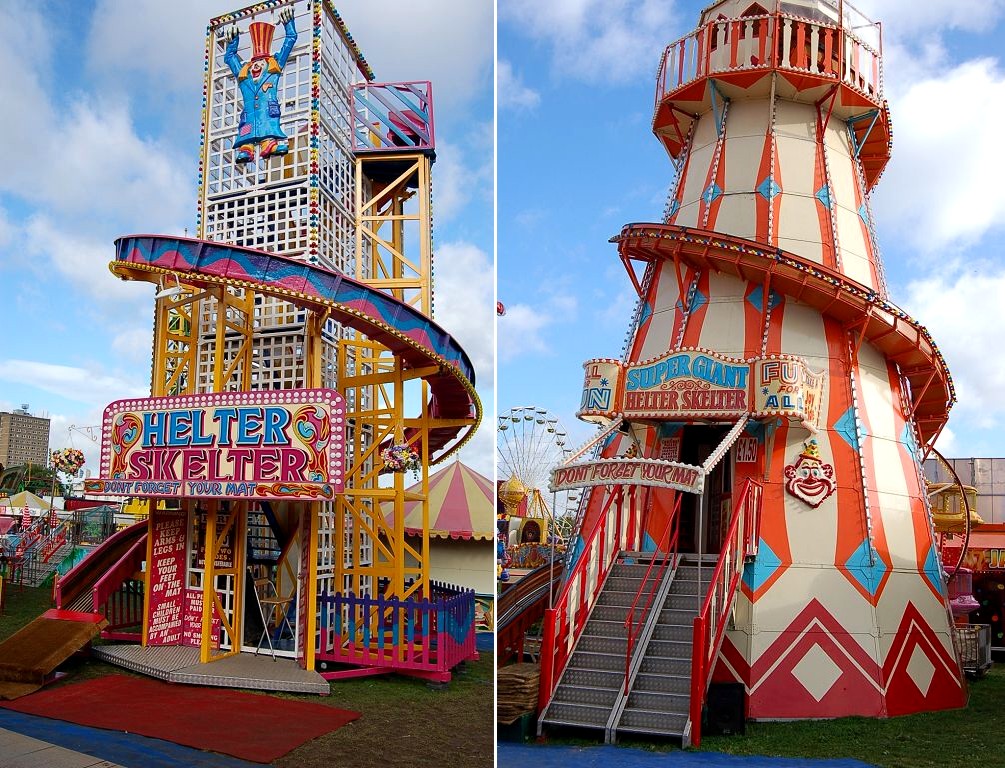 The Helter Skelter
There are different types of Helter Skelter we provide, the traditional Lighthouse Helter Skelter style that were designed to stand at the end of the pier, and the square shaped lattice design.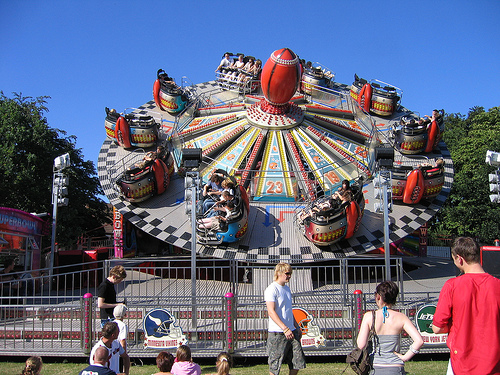 The Superbowl Ride
Fantastic fun for all the family on this ride, which spins and lifts you at the same time to a vertical plane. Feeling brave? Try the Superbowl.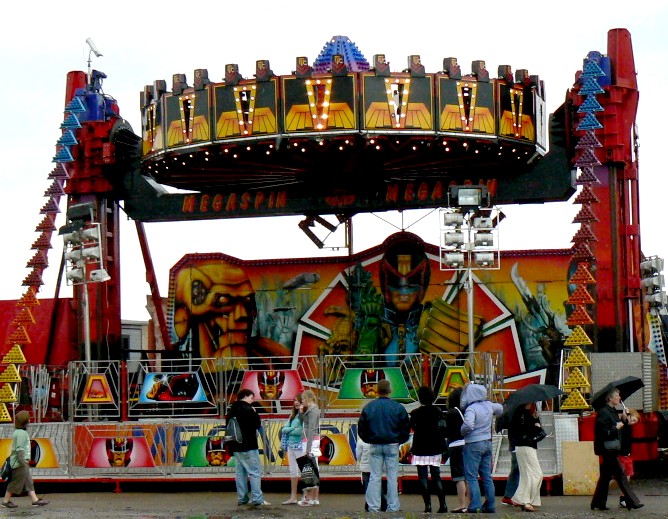 The Megaspin Ride
Are you brave? Or mad? Or preferably both! Then this is an ideal ride for you! It will twist you, spin you and shake you up whilst giving you the best time you can have with your clothes on.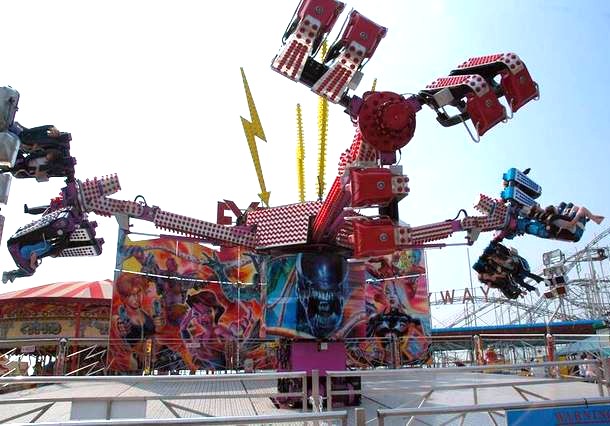 The Extreme Oribitor Ride
No need to say more, the name tells you everything. This is the ultimate in orbiting with superb special lighting effects as well as music and thrills.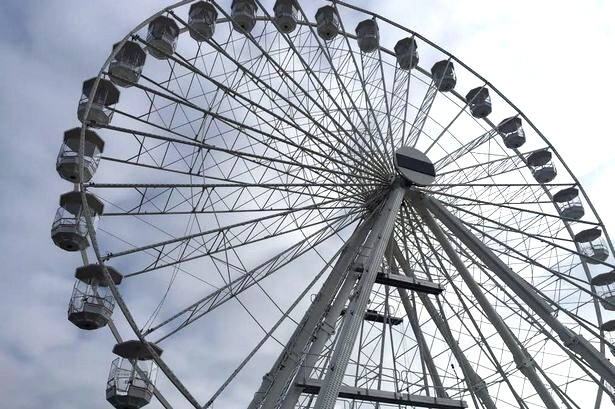 The Giant Wheel
Also known as the Big Wheel A superb addition to any event is this magnificent Giant Wheel. No need to visit the Millennium Eye, this will come to you!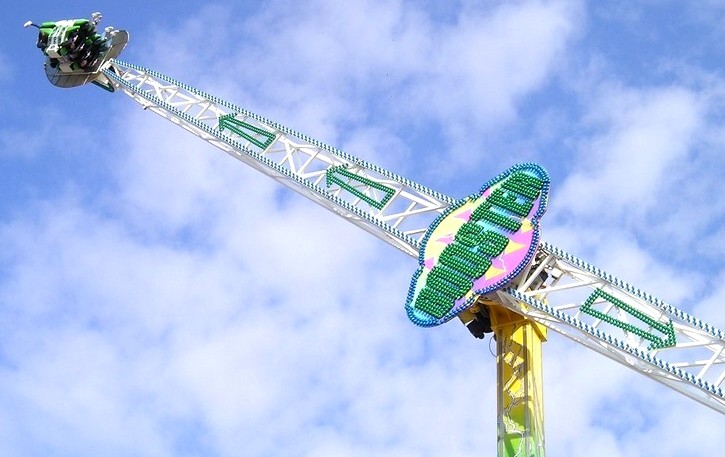 The Booster Ride
This is only for the brave! Over 100 feet high with lights and music the Booster generates 3.5G force and is based on NASA astronaut training equipment.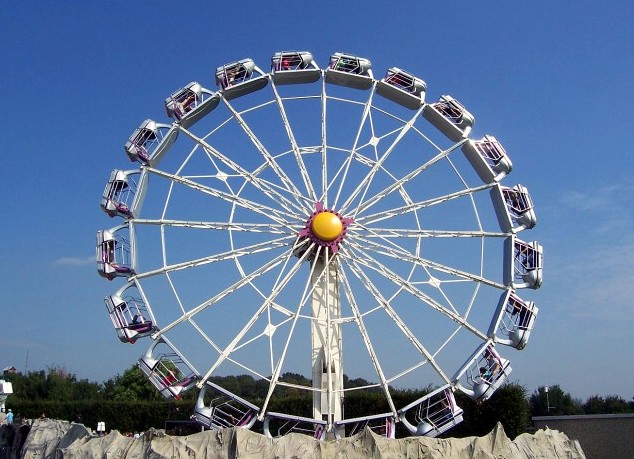 The Enterprise Ride
Another of our white knuckle attractions, the Enterprise will give you the spin of your life. Possibly the most fun you can have with your clothes on!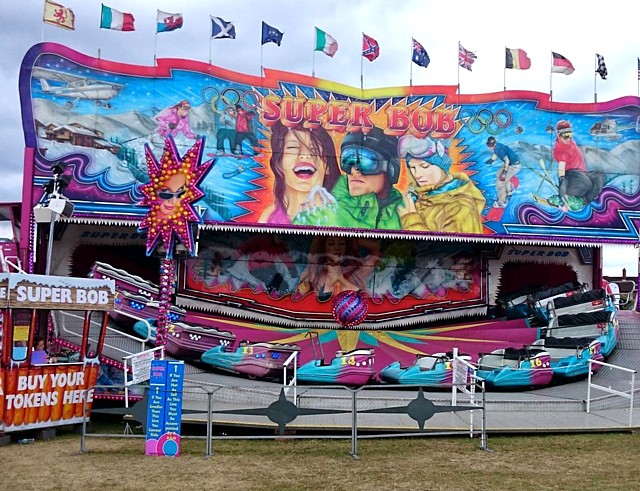 The Superbob Ride
This is a super fun, high speed, one directional fun fair ride comprising 22 individual cars which ferry passengers on an undulating circular journey into and out of a tunnel.
CHILDREN'S RIDES
Mini Ferris wheel is a scaled down version of the iconic Ferris wheel, this mini wheel is an ideal alternative for those with limited space, or smaller children. It provides the fun and the view you associate with the Ferris wheel at a fraction of the cost and space!
The Ferris wheel can be used at any type of event such as car boot sales, corporate events, birthdays or any other type of event for families.
The mini wheel comes complete with a fully trained operative.
The Ferris Wheel got its name from the great inventor and engineer George Washington Gale Ferris Jr. and is often known as the observation wheel, big wheel or Giant wheel, although earlier versions of the Ferris wheel were around as early as the 17th Century, thought to have come from Eastern Europe. The first Ferris wheel was built in Chicago, and was intended to rival the Eiffel tower as a tourist attraction.
OTHER CHILDREN'S RIDES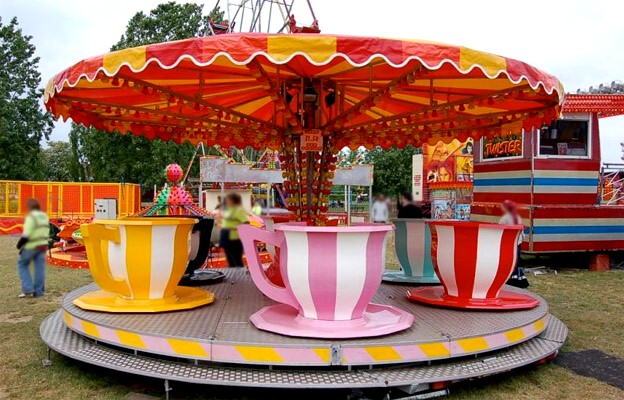 Teacups and Saucers Ride
This ride was manufactured in 1990, it can seat 24 children and adults.
The cups and saucers platform rotates and the cups spin, giving the ride a fantastic motion for children to have plenty of fun.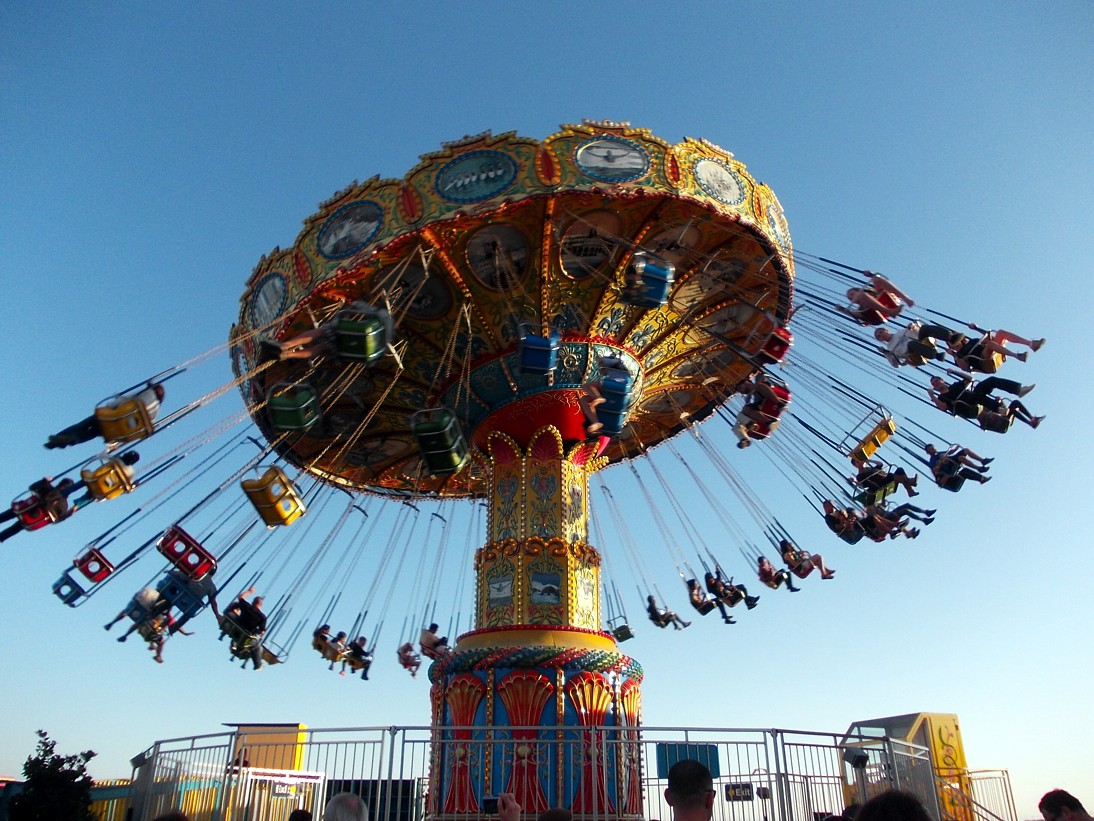 Chair-o-Plane Ride
This swing ride or chair swing ride (sometimes called a swing carousel, wave swinger, yo-yo, or swinger) is a fairground ride that is a variation on the carousel in which the chairs are suspended from the rotating top of the carousel.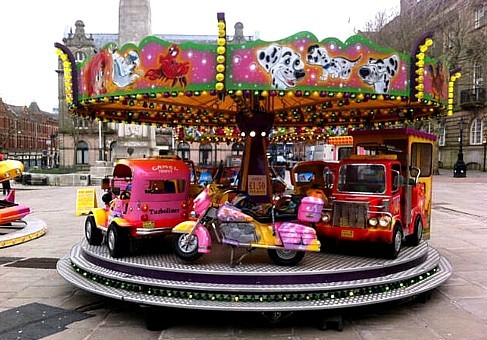 Toyset Ride
This ride will seat 24 children aged from 2 years and upwards, Adults may accompany small children
It has a selection of Lorries, Jeeps and Motor Bikes for children to sit on with sound effects such as sirens.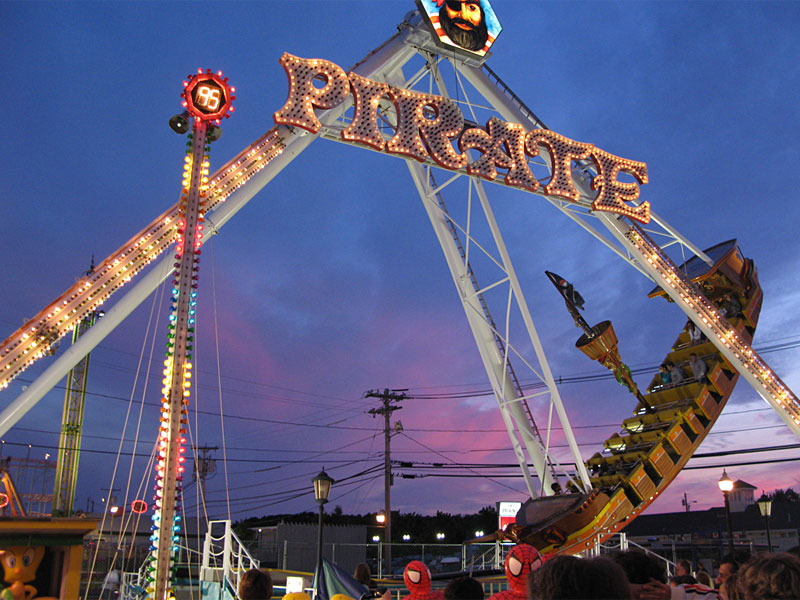 The Pirate Ship
Superb and unique Pirate Ship, rocks back and forwards through 240 degrees. Thrilling!!!!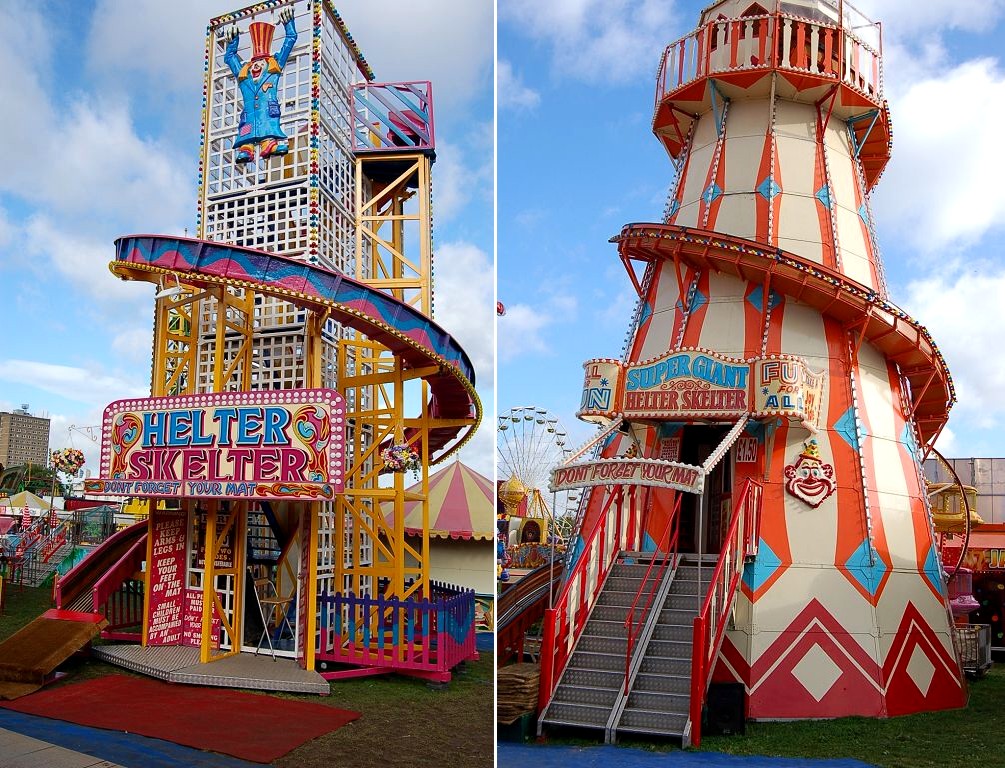 The Helter Skelter
There are different types of Helter Skelter we provide, the traditional Lighthouse Helter Skelter style that were designed to stand at the end of the pier, and the square shaped lattice design.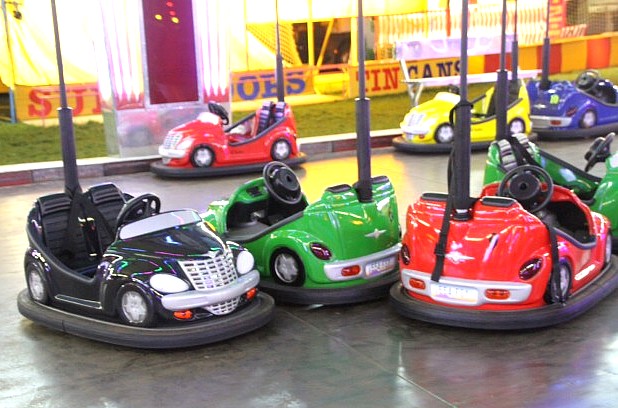 Mini Dodgems
The most popular ride at any fair is the good old bumper cars, allowing everyone to emulate Lewis Hamilton and chase their friends round and round the track. Now the children can enjoy the thrill on our brand new and unique Mini Dodgem track.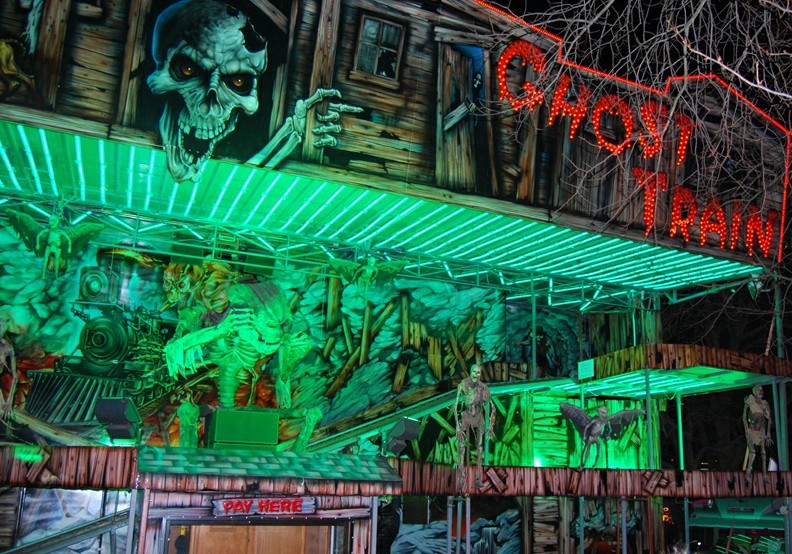 The Ghost Train
This ride is loved by children and adults alike!
The Ghost Trains we have come to know evolved from the 'dark rides of the 19th Century. 'Dark Rides' with a horror theme became known as Ghost Trains, and quickly gained popularity within the travelling funfairs.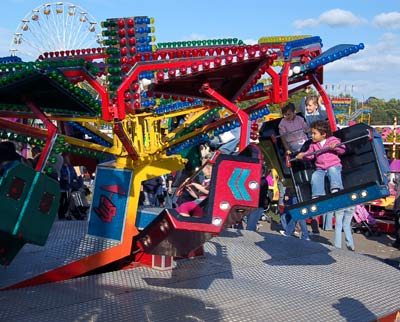 The Paratrooper Ride
This ride is a bit like a Ferris wheel at an angle. As the ride picks up speed, it repeatedly gives riders butterflies as they experience the feeling of parachuting.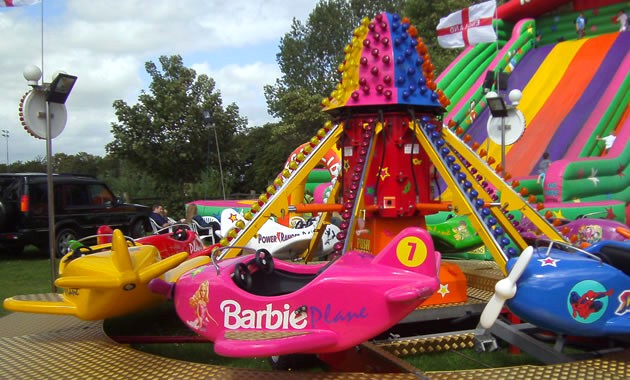 Jet Planes
This is a new ride which has proved extremely popular with all children as they can experience the thrill of flying their own plane, of which they are in control, even if only up and down!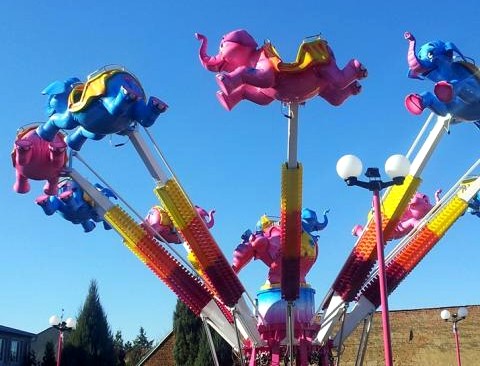 Flying Jumbo Ride
Fantastic, fun, frantic and funny The Jumbo elephants spin around the central spine and lift gently into the air as they spin, giving your kids a great view of the fairground!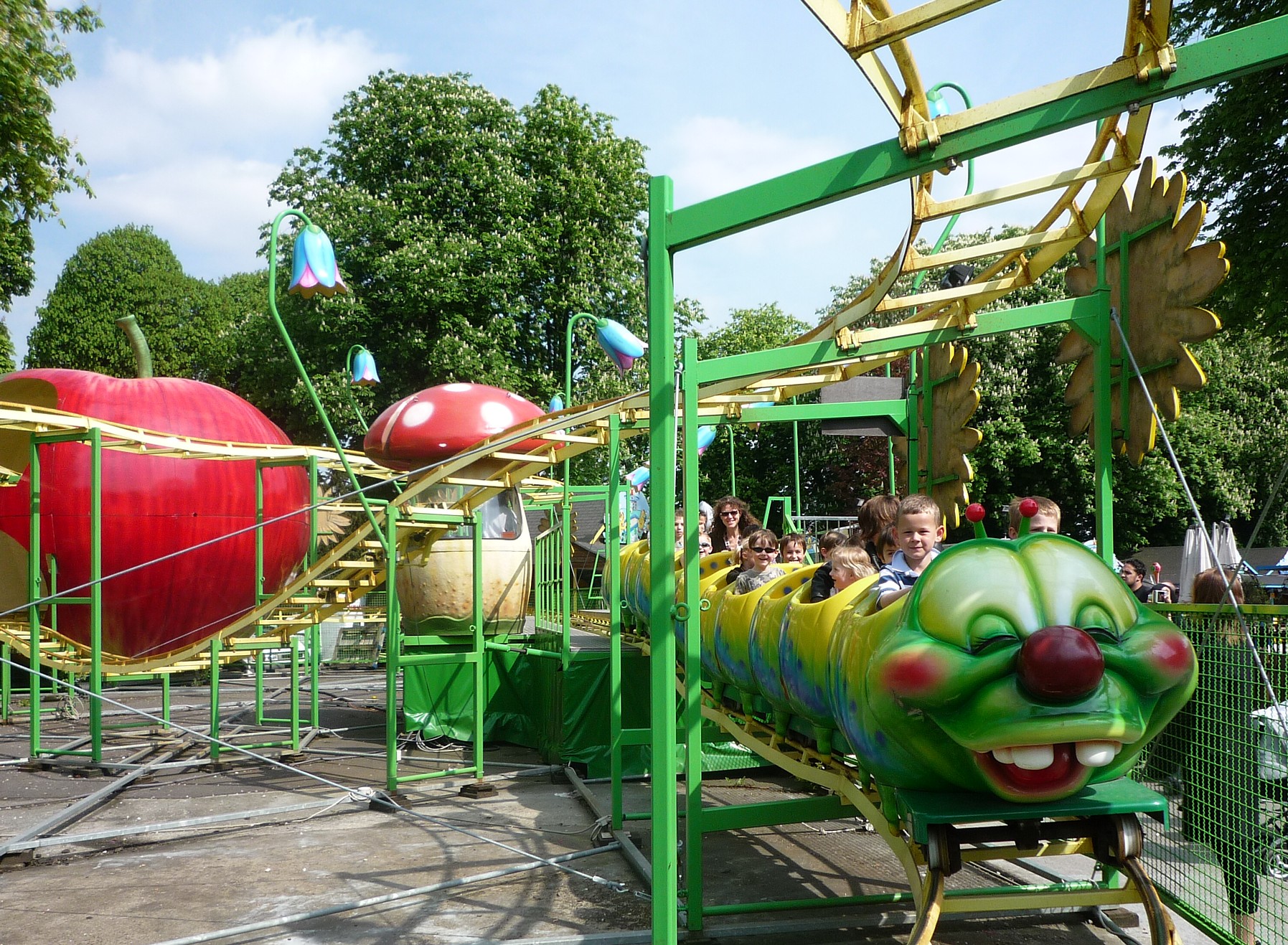 Big Apple Coaster Ride
Fun for all the family this roller coaster gives you the thrills of the Big Dipper with a much lower cost! Super value, great fun for all.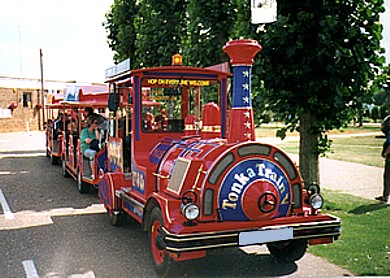 Land Trains
There are 2 Land trains available for hire on a variety of terms, for a complete summer season, just one day or for a number of consecutive days at shows. They're frequently used as people carriers ferrying visitors from car parks to the main event area. Santa's Grotto events are also very popular in November and December
Swing Boats
The Swingboats are another Victorian classic fairground attraction. Riders pull the ropes to sway through the air in a gentle (or not so gentle depending on the rider!) manner. They are un-powered so are suitable for areas with no access to electricity, they are powered by the Swingboat riders!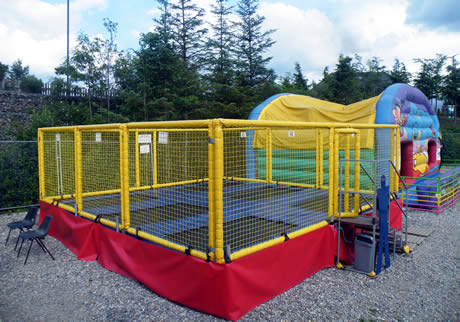 Trampolines
Bounce away the day with trampoline hire for your event, party or funfair. Trampolines are great entertainment for children and once they've experienced the trampoline they won't want to stop. Trampolines are perfect for all type of functions, including funfairs, carnivals, firework displays, music concerts and corporate events.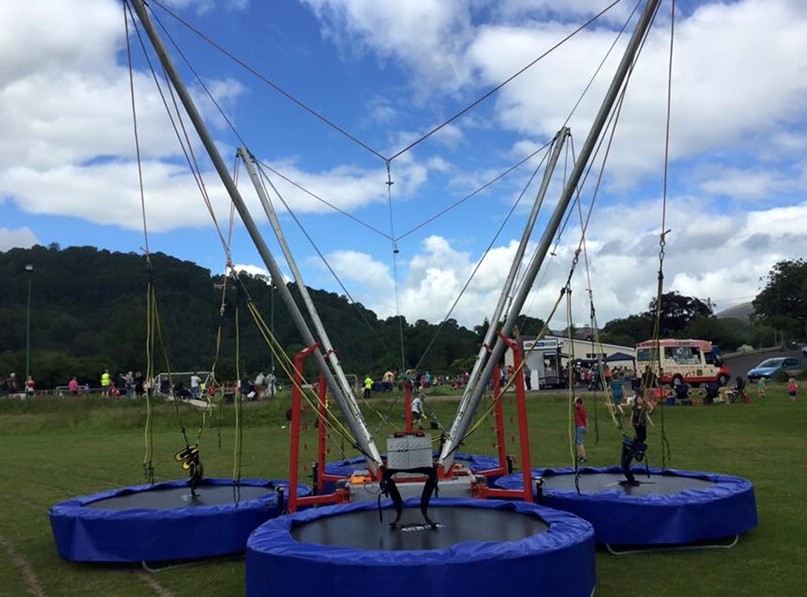 Bungee Trampolines
Keep the children entertained with this exciting bungee trampoline attraction, it combines a bungee jump along with a trampoline, kids can now bungee jump risk free with 100% adrenaline rush! The bungee trampoline is not just for kids though, adults can have just as much fun (from 20 to 90 kg) as well as people with certain disabilities can try the bungee trampoline too!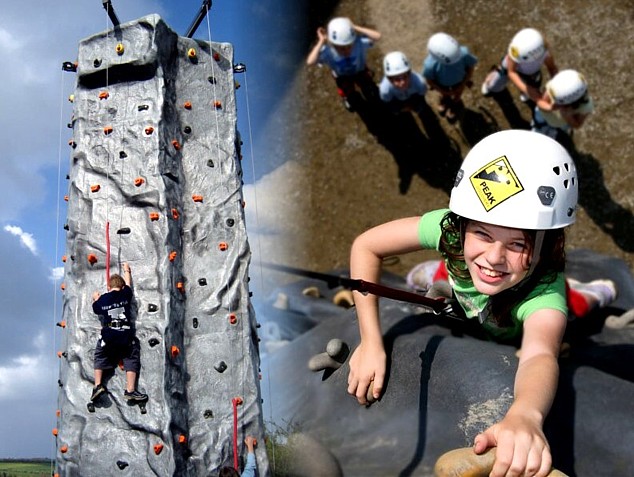 Climbing Tower
Let us drive you up the wall, or at least let you climb it! If you want strenuous exercise to work off the tension of a hard day in the office, or at home, or both, hire our climbing wall for a great day of fun and effort without the need to travel to the country to have a good work out! Complete with trained staff to help and advise. The tower is 24 feet high and has automatic Belay devices to ensure total safety. 8 people can climb at one time and this is suitable for all ages and abilities.