Bollywood Harpist Melodie for hire, perfect for Asian Weddings, Drinks Receptions and Canapes, Hotel Functions and Restaurants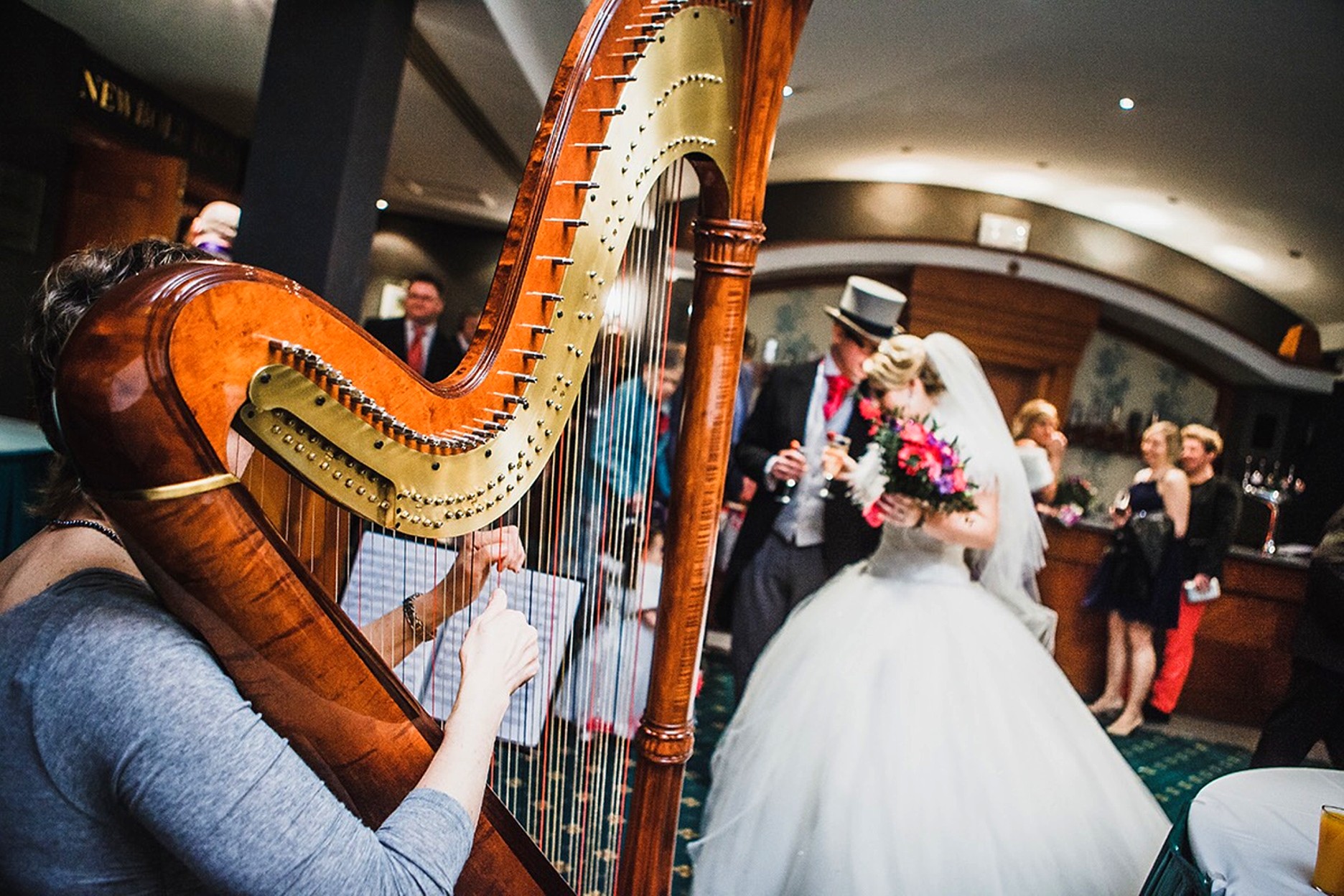 Hire our Bollywood Harpist for your Asian Wedding or Drinks Reception You can also hire Bollywood Harpist Melodie
for Entrances, Walk ins, Restuarants, Hotels and Private Parties.
Bollywood Harpists Melodie
Hey Shona from Ta Ra Rum Pum

Tere Liye

Raat Ki Hatheli Par

Hai Guzarish

Man I Love Moon River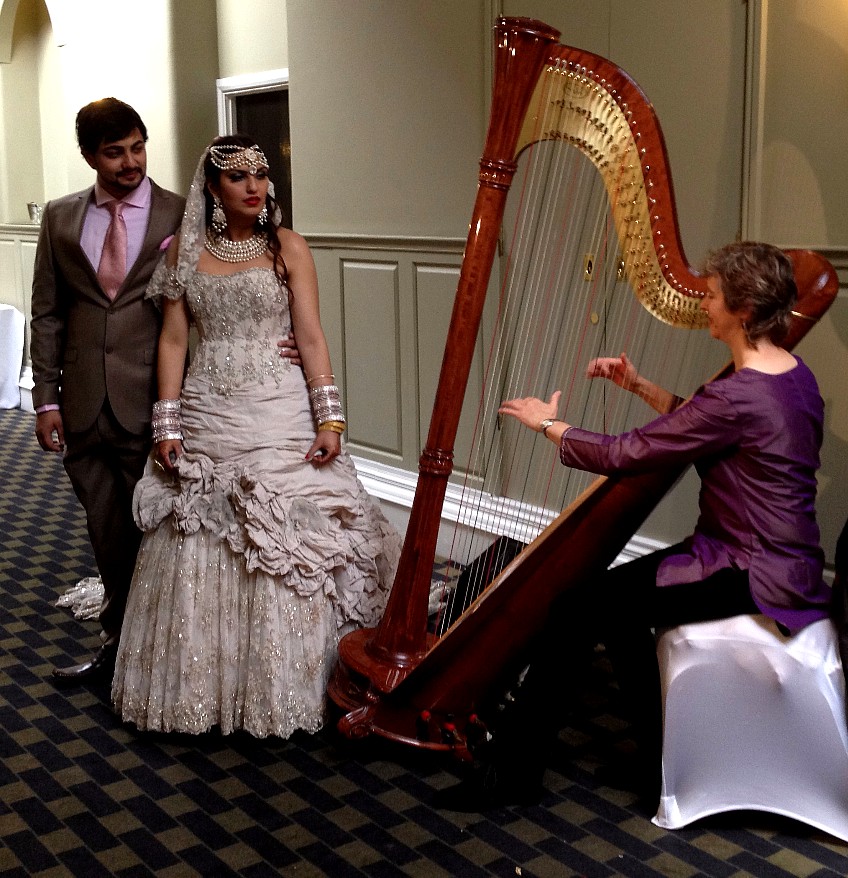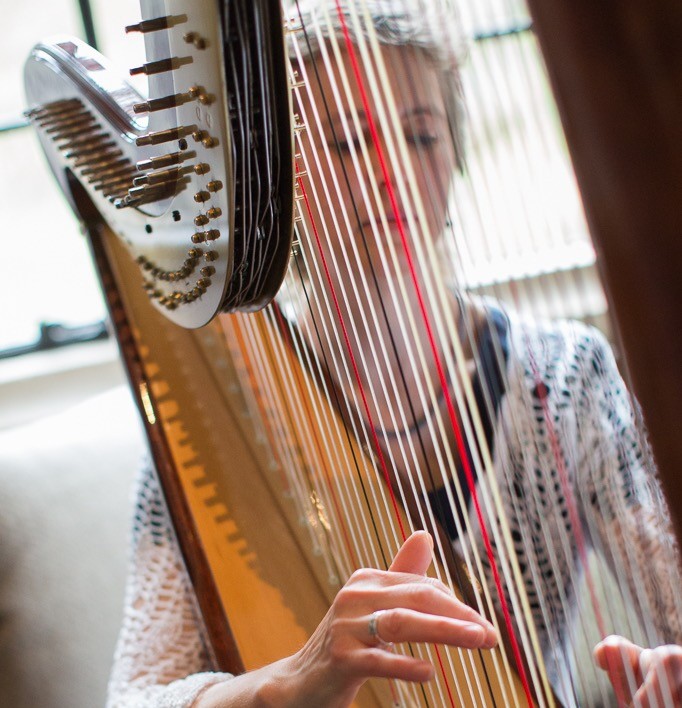 Bollywood Harpist for hire
This Bollywood harpist graduated from the Royal Scottish Academy of Music and Drama with a BA in Music Performance and was immediately invited to join the orchestra of Scottish Ballet as principal harpist in 1985.
She is already very much in demand for Asian Weddings, Drinks Receptions, Canapes, Hotel Functions, Restaurants and Corporate Events.
You too, could captivate and delight your guests with a touch of subtle sophistication; the beautiful enchanting quality of the harp. From Bach to Bollywood, the harp is acoustically designed to add a distinctive style. She can tailor her extensive repertoire to suit the client's requirements to bring that individual touch to your special day.
Price From £320.00 Ceremony : £400.00 Ceremony + Drinks Reception : £495.00 Ceremony + Drinks Reception + Dinner
Area: South Central – Nationwide
This Harpist has enjoyed playing her harp for guests, from such prestigious venues as Gleneagles Hotel in Scotland to the Hilton in Hong Kong, and is now very much in demand as harpist for Asian weddings, corporate events, private parties and other celebrations.
She usually declines requests to play out of doors. Weather conditions, rain or shine, adversely affect her valuable instruments and outdoor acoustics are also less than favourable! However, inside a marquee would be ideal, as long as it is properly floored and has appropriate access.
To be sure everyone is happy, please consider these 4 points:
Audience Size / Space & Access
• Melodie offers her solo harp to a maximum of 250 guests, as it's not practical to amplify the harp with as many speakers as you would for a band.
• She needs a performance space of approximately 2 x 2 metres, breathing space for your guests and venue staff to circulate and an armless dining chair please.
• Positioning is also important, so think about the best place for the harp, and if you'd like her to relocate (say between a ceremony and reception), she'll need to make time.
• Finally, she usually manages to move the harp and gear herself, but stairs are a harpist's nightmare.
Moving the harp up or down a staircase or steps is definitely a two-man job, she will need to park and unload very close to the venue please, even if the car has to be moved later.
Testimonials
Wedding
What I would love to add was that we heard your music and we knew you were the one we wanted to play…… you are amazing and we are so
glad you were part of our day.
Ema Curtis.
Thank you so much. Having you there playing, absolutely made it for us. It was so classy and lovely and far better than any CD! The whole day was perfect and we could not have asked for anything more. You were most definitely worth every penny.
Rob and Natalie Lees
Asian Wedding
We would like to thank you for playing so beautifully at our wedding. Our guests were particularly taken by how well you played the Veer Zara piece that we had requested. We really enjoyed your performance and would like to thank you for contributing to making our day so special.
Navjoat and Sangeeta Sahota
Civil Partnership
Thank you ever so much for the lovely, and greatly complimented, music you performed for our Civil Partnership. You provided exactly what we had hoped for and made our ceremony so memorable.
Neil and Chris
Marriage Proposal
Thanks again for Saturday, it was amazing. Reena is telling everyone about your playing.
Thanks also for staying longer than you we're supposed to and for learning that song from scratch too. (Hey Shona, from Ta Ra Rum Pum).
I can't thank you enough.
Shuaib Moulavi
Corporate
How wonderfully you played at Phoenix's presentation evening recently…they've got to get you to come again next year!
Fiona Walter
Repertoire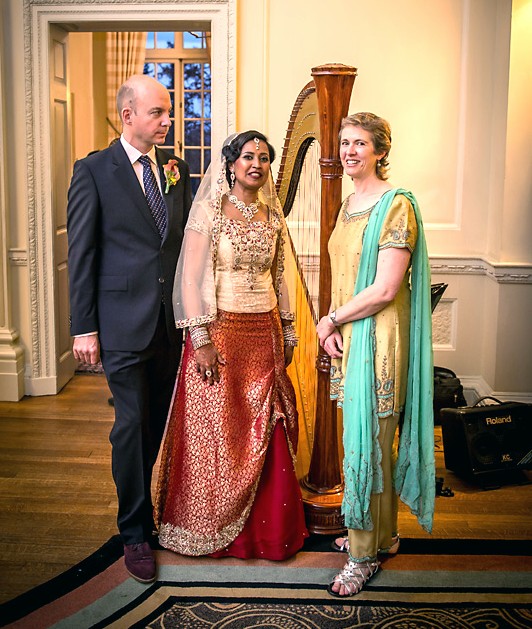 Bollywood Music for Harp
Medley of Hai Guzarish / Khuda Jaane / Singh is Kinng
Tu Hi Meri Shab Hai (You Are My Night, My Dawn)
Chand Sitare Phool Aur Khushboo (Moon, Stars, Flowers and Fragrance)
Tere Bina Jiya Jaaye Na (I Can't Live Without You)
Chadni O Meri Chadni (My Moonlight)
Tumko Hi Chahenge Hum (Only Pine For You)
Chalo Tumko Lekar Chale (Come, Let Me Take You Away)
Ek Ladki Ko Dekha (I Saw A Girl)
Mere Mehboob Mere Sanam (My Beloved, My Darling)
Mehndi Laga Ke Rakhna (Keep Your Henna Applied)
Main Hoon Khushrang Henna (I am the Colourful Henna)
Tere Liye from Veer Zara
Ringa Ringa
Tum Aa Gaye Ho Noor Aa Gaya Hai (Your Arrival has Brought with it the Light)
Raat Ki Hatheli Par (On the Palm of the Night, Moon Glitters)
Kaho Naa . . . Pyaar Hai (Say it's Love)
Hey Shona – Ta Ra Rum Pum
Weddings and Civil Partnerships
Bach Arioso
Bach Air on the G String
Bach Jesu, Joy of Man's Desiring
Beatles I Will
Beethoven Ode to Joy
Charpentier Prelude (Te Deum Laudamus)
Franck Panis Angelicus
Handel March from Scipio
Handel Air from The Water Music
Handel Hornpipe from The Water Music
Handel The Arrival of the Queen of Sheba
MacKay Highland Wedding
Henry Mancini Love Theme from Romeo and Juliet
Mendelssohn Wedding March from A Midsummer Night's Dream
Pachelbel Canon in D
Purcell Trumpet Tune
Purcell Trumpet Voluntary
Schubert Ave Maria
Stanley Trumpet Voluntary
Wagner Wedding March (Here Comes the Bride)
Christenings and Naming Ceremonies
Brahms Lullaby
Debussy Maid with the Flaxen Hair
Franck Panis Angelicus
Heyman/Young When I Fall in Love
John Lennon Beautiful Boy
Myers Cavatina (She was Oh, So, Beautiful)
Williams Theme from Harry Potter
Funerals
Albert Hay Malotte The Lord's Prayer
Bach Jesu, Joy of Man's Desiring
Celine Dion My Heart Will Go On from The Titanic
Delmas Priere
Dvorak Largo (Going Home) from The New World Symphony
Franck Panis Angelicus
Handel Theme and Variations
Hasselmans Serenade Melancolique
Henry Francis Lyte Abide With Me
Led Zeppelin Stairway to Heaven
John Newton Amazing Grace
Pachelbel Canon in D
Rodgers & Hammerstein You'll Never Walk Alone (from Carousel)
Schmidt Try to Remember
Schubert Ave Maria
Sibelius Be Still My Soul from Finlandia
Sondheim Send in the Clowns
Webster/Brodszky I'll Walk With God
Westlife Flying Without Wings
Classical Music
Beethoven Fur Elise
R. Binge Elizabethan Serenade
Chopin Moderato from Fantasie-Impromptu
Chopin Nocturne
Clarke/Purcell Trumpet Voluntary
Debussy Arabesque
Debussy Clair de Lune
Debussy Maid with the Flaxen Hair
Elgar Salut d'Amour
Giordani Caro Mio Ben
Glinka Nocturne
Handel The Harmonious Blacksmith
Handel Theme and Variations
Handel Air and Hornpipe from The Water Music
Hasselmans Serenade Melancolique
Hasselmans Trois Petites Bluettes
Hasselmans Trois Petites Pieces
Liszt Liebestraum
Mozart Romance from Eine Kleine Nachtmusik
Naderman Selection of Pieces
Parry Sonata in D
Renie Three Pieces
J. Strauss The Blue Danube Waltz
Vivaldi Allegretto (Spring) from The Four Seasons
Vivaldi Largo (Winter) from The Four Seasons
Opera Favourites
Bizet Habenera from Carmen
Delibes Flower Duet
Lehar Waltz from the Merry Widow
Lehar Vilja from the Merry Widow
Massenet Meditation from Thais
Offenbach Barcarolle from The Tales of Hoffman
Puccini Nessun Dorma (from Turandot)
Puccini O Mio Babbino Caro from Gianni Schicchi
Puccini Musetta's Waltz from La Boheme
Popular
Aerosmith I Don't Want to Miss a Thing
Bryan Adams Everything I Do
Bryan Adams Heaven
Harold Arlen Somewhere over the Rainbow
Burt Bacharach I Say a Little Prayer
Burt Bacharach This Guy's in Love With You
Beatles I Will
A. Bilk Stranger on the Shore
David Bowie China Girl
Michael Buble Everything
Michael Buble Wonderful Tonight
Eva Cassidy Songbird
K-Ci & JoJo All My Life
S. Ciani Andalusian Dream
Coldplay Clocks
Nat King Cole When I Fall in Love
Elvis Costello She
Des'ree Kissing You (from Romeo and Juliet)
Celine Dion Immortality
Celine Dion My Heart Will Go On from The Titanic
Dix What Child is This (Greensleeves)
Dolly Parton and Kenny Rogers Islands in the Stream
Dylan/Adele Make You Feel My Love
Gershwin The Man I Love
Gershwin Summertime
Gilbert & Sullivan Frederick's Aria (from the Pirates of Penzance)
Gilbert & Sullivan Tit Willow (from the Mikado)
Marvin Hamlish Theme from Ice Castles
P. Hanseroth The Story
George Harrison Here Comes the Sun
J. Horner For the Love of a Princess (from Braveheart)
Irving Berlin Always
Michael Jackson Got to be There
Michael Jackson The Lady in my Life
Elton John Your Song
Norah Jones Come Away with Me
Kahn It Had to be You
Kamen Theme from Band of Brothers
Kings of Leon Use Somebody
Lai Theme from Love Story
Led Zeppelin Stairway to Heaven
Mancini Moon River from Breakfast at Tiffany's
Mancini Love Theme From Romeo and Juliet
Myers Cavatina from the Deer Hunter
A. North Unchained Melody
M. Nyman The Heart Asks Pleasure First (from The Piano)
Cole Porter I Get a Kick out of You
Cole Porter Night and Day
Elvis Presley Can't Help Falling in Love
Rodgers and Hammerstein Edelweiss (from The Sound of Music)
Rodgers and Hammerstein I Could Have Danced All Night (from The King and I)
Rodgers and Hammerstein You'll Never Walk Alone (from Carousel)
S. Romberg Serenade from The Student Prince
Rota Love Theme from the Godfather
Rota Love Said Goodbye from the Godfather part 2
Satie Gymnopedie No. 1
Savage Garden I Knew I Loved You
Simon and Garfunkel Scarborough Fair
Schmidt Try to Remember
Sondheim Send in the Clowns
Sting Fields of Gold
Take That Rule the World
Shania Twain From This Moment On
Van Morrison Have I told you Lately
N. Westlake When You Taught me How to Dance (from Miss Potter)
Webber All I Ask of You from Phantom of the Opera
Webber Music of the Night from Phantom of the Opera
Webber Think of Me from Phantom of the Opera
Westlife Flying Without Wings
John Williams Theme from Harry Potter
Robbie Williams Angels
Robbie Williams She's the One
Wilson 'til There Was You
Stevie Wonder Isn't She Lovely
Traditional Music Scottish
Iain of Glen Cuaich The Eight Men of Miodart
The Royal Lament Tay Mouth
Ballachulish Glen Strathspey and Reel
Princess Augusta General Monroe's Lamentation
The Marquis of Tullibardine The East Neuk of Fife
The Earl of Lauderdale Teviot Bridge
My Home (Mo Dhachaidh) Blind Mary
Ben Dorain Kitty Tyrell
The Cockle Gatherer The Mingulay Boat Song
Lady Sutherland's Reel Auld Lang Syne
The Corn Riggs are Bonny My Love is Like a Red, Red Rose
The Misty Island (Eilean a'Cheo)
Irish
Fields of Athenry Donald
Strathspey Jig and Reel Lament for Owen Roe
The Londonderry Air (Danny Boy) The Little and the Great Mountain
Caitlin Triall Planxty Irwin
Heman Dubh The Minstrel Boy
Mrs Maxwell The Rose of Tralee
Welsh
Megan's Daughter All Through the Night
The Minstrel's Farewell to his Native Land Lady Owen's Delight
Watching the Wheat The Men of Harlech
David of the White Rock The Ash Grove
Christmas
Away in a Manger
Deck the Halls
Have Yourself a Merry Little Christmas
Jingle Bells
Oh, Christmas Tree
Rudolph the Red-Nosed Reindeer
Silent Night
We Wish You a Merry Christmas
White Christmas
BOLLYWOOD VIOLINISTS FOR HIRE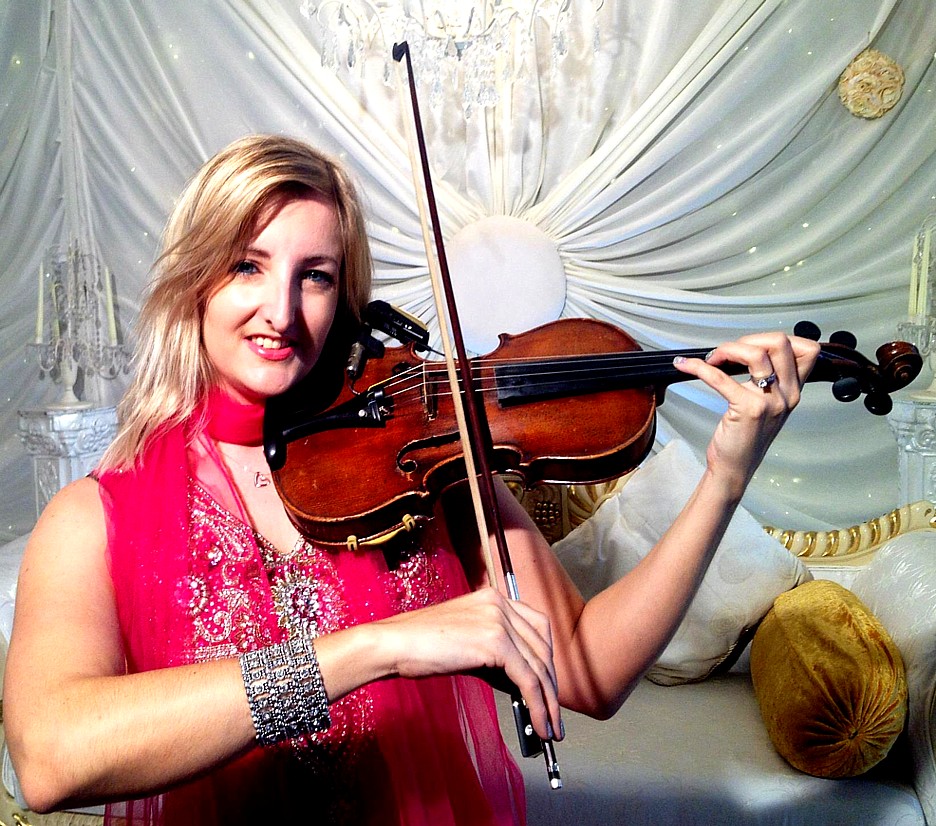 Prices From £350.00
We have a wide range of Bollywood Violinists and Cellists for hire.
Whatever your style of music, be it classical songs, romantic songs or Bollywood songs, our Bollywood Violinists can add a wonderful accompaniment to your special day. Beautifully played violin melodies will add a personal and very memorable touch to your wedding day.
For example: By creating an ideal atmosphere as guests arrive at your wedding reception. During the signing of the register and as photographs are taken. Accompanying the bride or couple as they walk into their wedding venue. By providing a pleasant ambiance during the drinks reception.
More information>>> Bollywood Violinists
BOLLYWOOD EVENT COMPANY