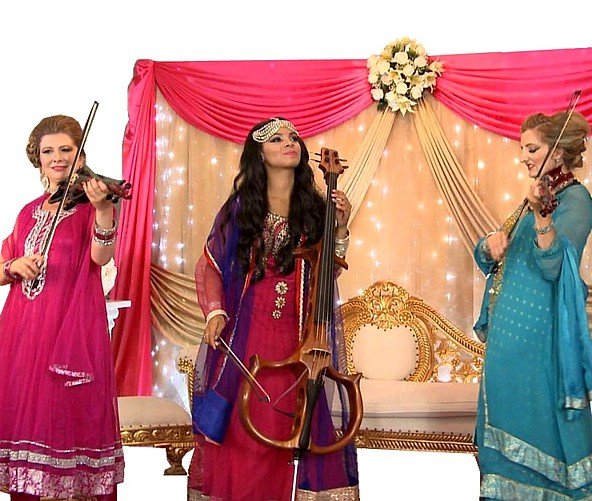 Bollywood Electric String Trio and String Quartet. Four sparkling musicians. In elegant gowns Or traditional Indian costumes moving in
synchronicity with waves of amazing sounds. Not one, but three stellar, classically trained violinists and one classically trained cellist. It all adds up to glorious entertainment galore. This fabulous group of four can be booked to embellish special
occasions such as Asian weddings, Bollywood events or make corporate functions more extravagant. They can consult with you and adjust their performance to fit perfectly with your venue and occasion. Whether it is to be indoors or under the moonlight, subtle or
fast, intimate or vast.
Also available as a duo or trio.
Price From £POA
Area: Nationwide
Repertoire
Just a selection of some of the pieces performed
Bollywood
Panjabi MC- Morni
Tum Hi Ho – Arjjit Singh
Kal Ho Na Ho – Heartbeat – Beautiful Romantic piece
Mohabbatein Love themes
Heer – Jab takk Hai Jaan 2012
Humko Humise Chura Lo – Mohabbatein
Suraj Hua Maddham
Kuch Kuch hota Hai – ajay Sinha and Amar – Somu Seal
Pehli Nazar Mein Rishi Rich
PeeLoon – Rajesh Thaker
Indian Princess – Romantic
Tera Hi Bas Hona Chaahoon – Najam Sheeraz and Jo Jo
Bollywood funk – show piece
Teri Ore
Teri Meri from The Bodyguard
Jai Ho
Bollywood – Shawn Lee Orchestra
It can only be love Streets of Bollywood
Jeeta Hoon Jiske Liye – Alka Yagnik and Kumar Sanu
Dheere Dheere – Alisha Chinai
Kahaani – Vidya Balan
Moko Kahaan – Bina and Pranav
Mitwa – Naveen Kumar – Love themes
Latika Theme – Slumdog
The love Legend theme
Do Pal – By My good friend singer Najam Sheeraz
Ore Piya Rahat Fateh Ali Khan
Aap Ki Khata
Silsile Mulaqton
Didi
Hadi Bakai
Karthik
Raza Theme
Fais Moi
Bebe theme
Chalte chalet
Ehsan Tera Hogan – Bollywood Sensation
Bombay Chill Out – Paris Bollywood
Chura Ke Dil Mera -Alka Yagnik & Kumar Sanu Love songs
Atif – Lamhe
Woh Humse Khafa Hain – Udit Narayan
Tujhe Dekha Tu Ye Jana Sanam
Chura Liya Hai Tumne – Romantic love song
Bollywood Medley – Medley produced in studio including some of the most popular pieces Surj Hua Maddham-Teri Ore- Teri Meri – Theme from
Mohabbatein
(Kal Ho na Ho) – Humok Humise – Bollywood (Shawn Lee Orhcestra) – Najam Sheeraz (a good friend) – Tera Hi Bas Hona Chaahoon from
Movie Haunted – Mitwa (Naveen Kumar). Mundian To Bach Ke- when performing with Dhol Players