BOLLYWOOD JAZZ FUSION BAND – TESTIMONIALS / REVIEWS
Thank you to your wonderful band for enabling us to have the perfect wedding!! You guys were fabulous. So many of our guests commented on how fantastic you all sounded and the wonderful atmosphere that your performance created. We also really appreciate your personal suggestions and guidance throughout the planning stages.
Amir H, Millenium Hotel, Kensington
They have been the subject of universal praise by all of our guests – everyone commented on how talented you were and what a pleasure it was to listen to you all play. We were very grateful to be entertained by such professionals on our special evening.
Sarah M – East Wintergarden
The music that you and your band provided at my daughter's wedding reception was truly fantastic. You played the requested entry song perfectly too. I'm also very grateful that you were organised enough to put all of it together at such short notice.
Great job and many thanks!'
Saber C, Sheraton Hotel, London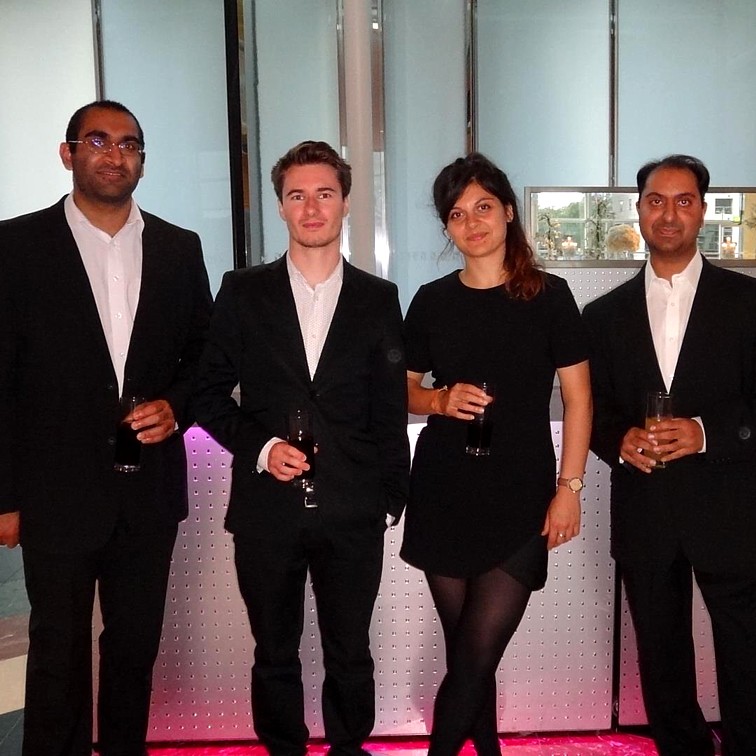 Bollywood Jazz Fusion Band for hire
This exciting Bollywood Jazz fusion band blends traditional melodies of North India with contemporary Jazz and Latin grooves.
The acoustic improvisation of sounds is a mix of guitar, saxophone, clarinet, flute and Indian harmonium which is rhythmically enhanced with subtle Tabla beats. It is a highly dynamic set-up which is guaranteed to bring flair and a touch of class to your occasion.
The musicians are talented and professional and perform a versatile repertoire that includes entirely unique Indian Jazz and popular Bollywood classics of up to 3 hours.
With corporate and private clients, excellent reviews and a wide range of music, this band is guaranteed to impress on any occasion.
Prices From £750.00
Area: Midlands – Nationwide – Internationally
Type of Act – Acoustic Jazz-Fusion
Trio Set-up – Guitar (1 person)
Flute / Saxophone / Clarinet (1 person)
Tabla (1 person) – from £750.00
Duo Set-up – Saxophone + Flute, Tabla – from £550.00
Set-Up Time 1.5 Hours
Pa System – fully PAT tested
Includes – 2 mounted speakers, 1 Mixer, 5 Mics, Leads and Stands
Space required – 12ft x 6ft
Performance Times – 2 x 60 min (total repertoire of 3 hours)
Repertoire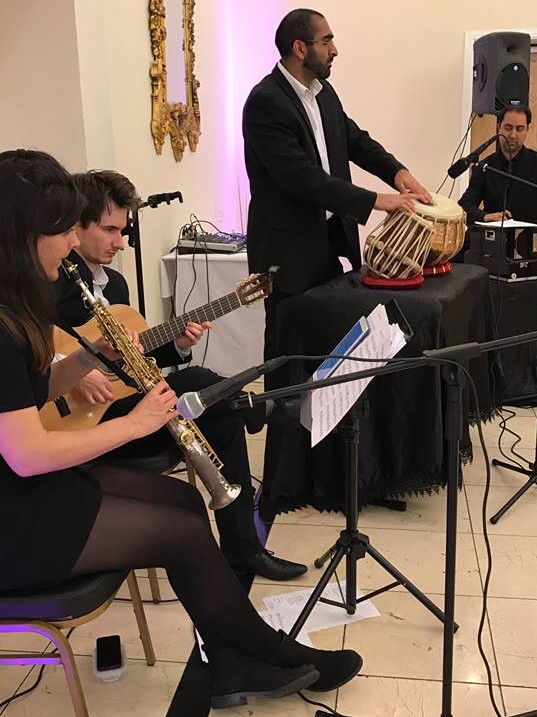 Bollywood Film Songs
Aaja Nachale
Ajeeb Dastaan
Babuji Dheere Chalna
Chalte Chalte
Chandan Sa Badan
Churaliya
Desi Girl
E Meri Zor Jabeen
Ehesaan Tera Hoga
Ek Ladki Ko Dekha
Gori Tera Goan
He Apana Dil
Hoton Se Choolon Tum
Jo Vada Keeya Vo
Kehene Ko Jashn e Baharaa
Kabhi Kabhi Mere Dil Me
Kajara Re
Kinha Sona
Kuch Kuch Hota Hai
Lage Tumse Manki Lagan
Leke Pehla Pehla Pyaar
Me Tenu Samaja
Munni Badnaam Hui
Mohe Aayi Na Jag Se Laaj
Neele Gaggan Ke Tale
Om Shanti Om
Paya Mene Paya
Pehli Nazar Mein
Roop Tera Mastana
Tere Bina
Tere Mast Mast Do Nain
Teri Ore
Tuje Dek Dek Sona
Tum Hi Ho
Qawwalli / Ghazal / Other
Akhiyaan Udeek Deeya
Chaap Tilak Sab Chini
Dhama Dum Mast Kalander
Keeya He Pyaar
Kinha Sona
Nit Khair Manga
Piya Re Piya Re
Sanu Ik Pal
Taay Din Na Javani
Tum Itna Na Jo Muskura
Tumko Dekha To Ye
Raag
Bageshri
Bahar
Bhimpalasi
Bhopali
Champakali
Charukeshi
Darbari
Hansdwani
Jog
Kalavati
Malkauns
Maru Behaag
Megh
Shahana
BOLLYWOOD SITARISTS : TABLA PLAYERS : BANSURI
Solo Sitarists for hire, Sitar & Tabla Duos, Sitar, Tabla and Flute trios
Transport your guests straight to the heart of India with the tranquil, exotic and authentic sounds of Sitar and Tabla.
Our Sitar and Tabla Duos will play an engaging and delightful mix of authentic Indian classical ragas and the most famous Bollywood tunes to give your event a truly Indian feel.
They also provide their own PA system, Cushions and Mat
Price From £300.00 Solo Sitar or £480 Sitar & Tabla Duo with PA system
Area: Nationwide – Internationally
More information >>> Sitar & Tabla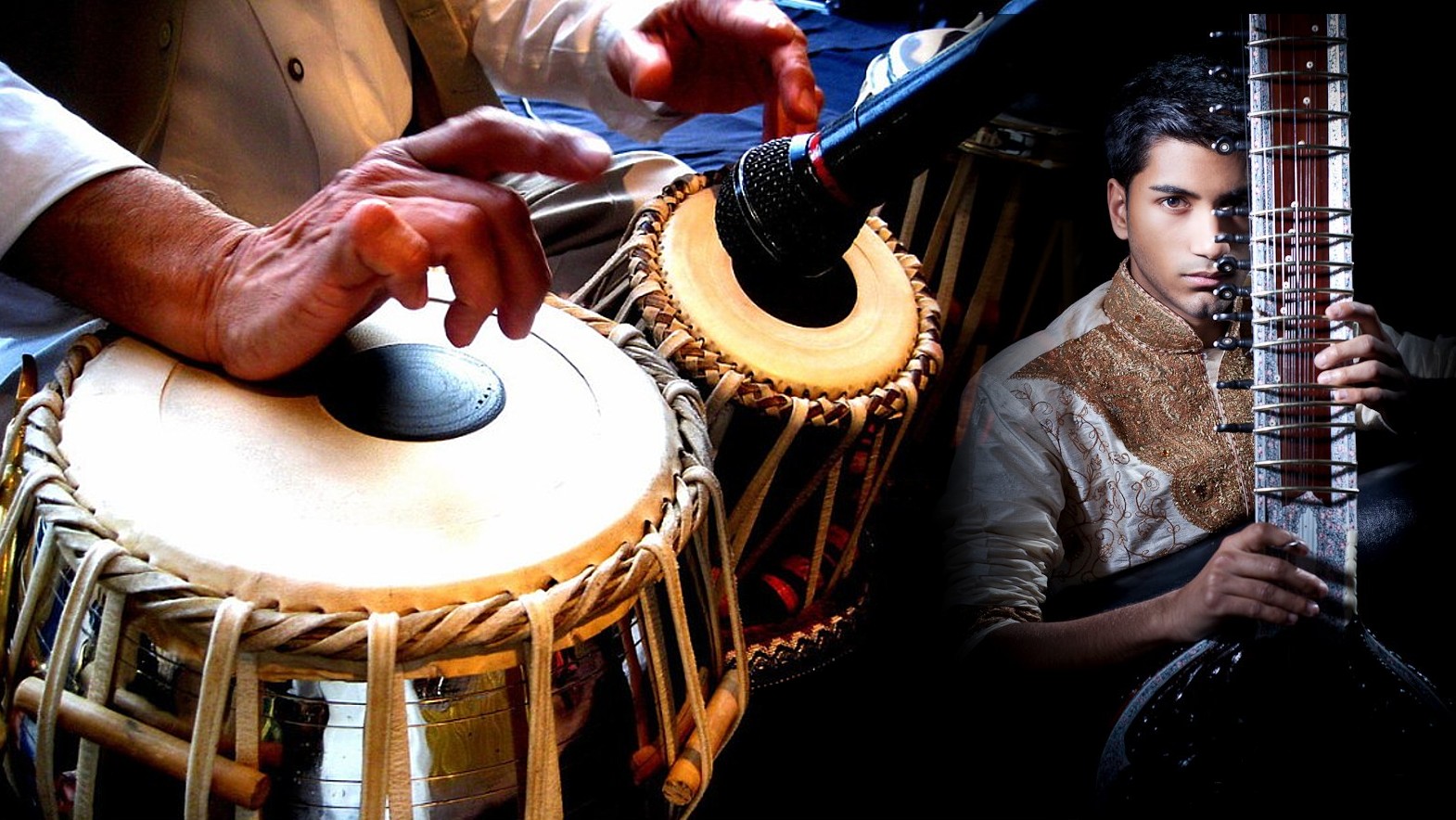 BOLLYWOOD EVENT COMPANY