Wedding Magicians for hire, Pickpocket Magician for hire, Close-up Magic performer, Book a Close-up Magician, Wedding Magicians for hire, Bollywood Magician for hire, Asian Wedding Magician for hire, Vegas themed Magician, Book a Wedding Magician, Hire a Magician for Parties, Children's Magician.
Our Magicians will amaze your guests with their jaw dropping magic and card tricks. "Coins, rings, watches phones they all seem to do very strange things in our Magician's hands?" Keep an eye on your belongings, one of our Pick Pocket Magicians may be mingling among your guests?
PICK POCKET MAGICIAN FOR HIRE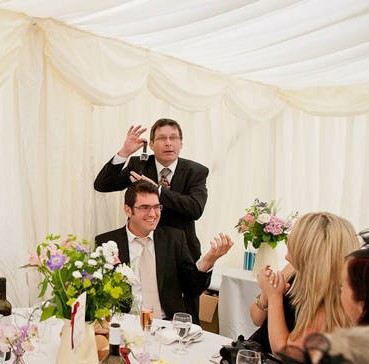 Pick Pocket and Close-up Magician for hire
This is one of the UK's busiest Wedding Magicians, as well as being booked directly, He is also the first choice Wedding Magician of many of the countries leading Wedding Entertainers. He is a highly amusing and talented Pick Pocket and Close-up Magician. The perfect entertainer for both private parties and corporate functions. He has promoted companies throughout the UK and Europe.

"amazing and amusing, once seen…never forgotten"
He will entertain your guests with Close up Magic involving intimate pieces of personal items designed to be enjoyable, mystifying and above all memorable.
He has the ability to identify individual needs and will provide unique entertainment to ensure your occasion is one to remember. He is a Magician who captures and directs his audiences attention leaving them surprised and baffled but always entertained.
With unexplained Coin Magic; Classic Card Magic; impossible Rope Magic; Mind reading and magic using everyday objects, his unique brand of Close-Up magic is so flexible and engaging that he can move freely amongst guests at their tables after or during dinner or at drink receptions.
He also offers a 40 min cabaret act with lots of audience participation, comedy and baffling Magic, perfect after dinner entertainment.
For small groups (1 table) he can perform his dinner party act whether it's a table in a restaurant or in your own home. After the meal sit back and be amazed as he performs a 35 minute Mind Boggling magic act.
Price From £550.00
CLOSE UP MAGICIAN & MIND READER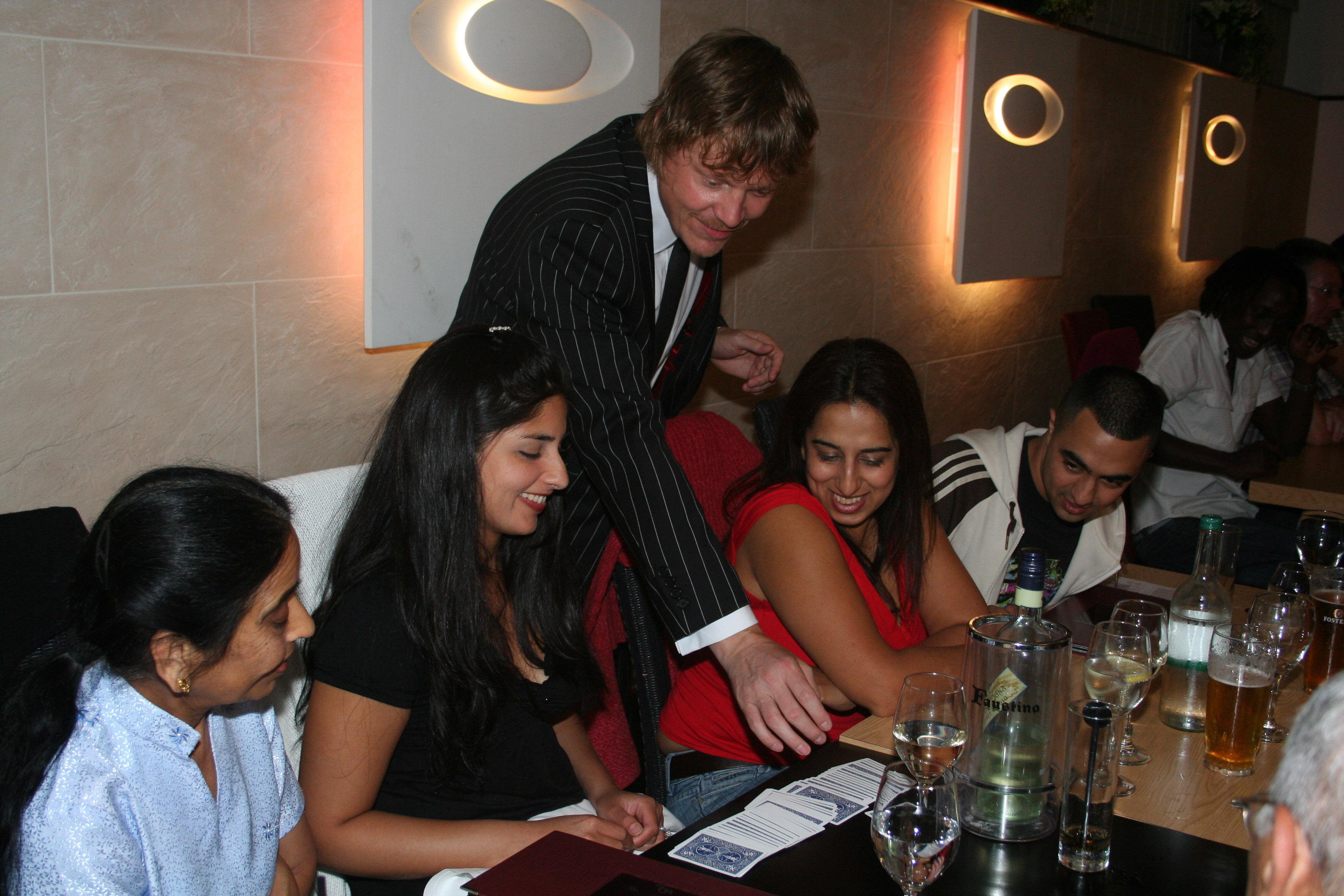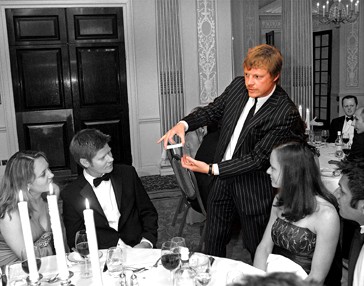 Magician and Mind Reader for hire
Having been invited to perform at Buckingham Palace, for Celebrities, Blue Chip companies and on Television, our Close-up Magician and Mind Reader is equally at home in either large corporate functions, wedding receptions or small private parties.
Close-Up Magic: "Coins, rings, watches phones they all seem to do very strange things in his hands!"
Mind Reader: He makes no claims to have any psychic powers. The truth is he actively 'claims' to have none.
Instead his talents include revealing the thoughts of other people, predicting and influencing their actions and creating conditions where your guests are able to read each others minds, all stem from combining psychological techniques, hypnotic language patterns, misdirection and magic to give the impression of an active sixth sense through the clever combination of the known five senses.
"Frightening, Absolutely frightening!" Boris Johnson
Price From £350.00
Areas Covered  South East – Nationwide
CELEBRITY CLOSE-UP MAGICIAN, PICK POCKET & HYPNOTIST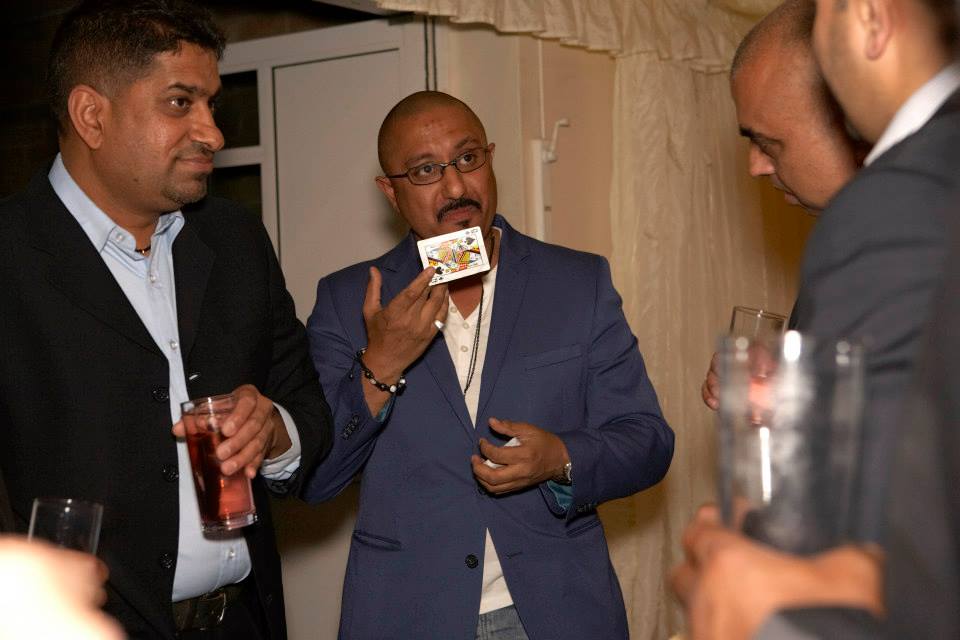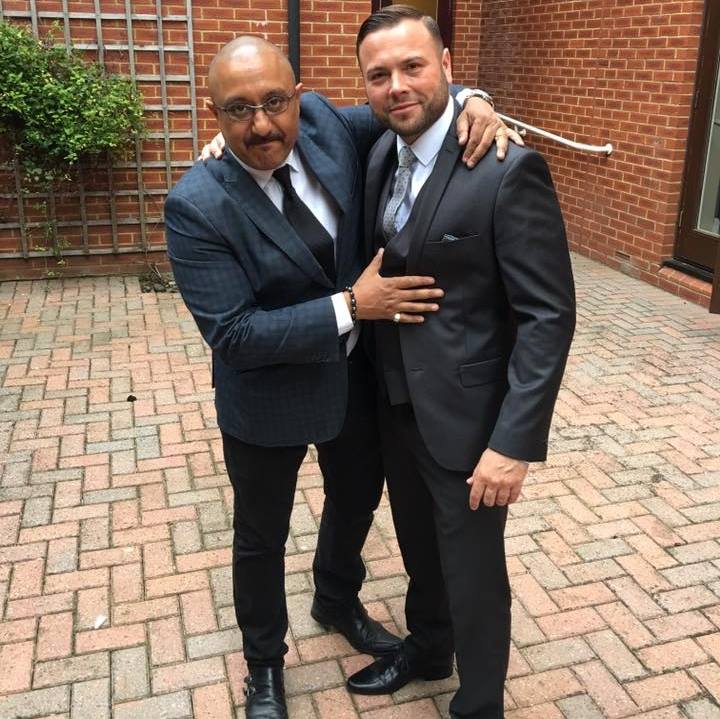 Celebrity Close-up Magician, Pickpocket and Hypnotist.
This is a professional close-up magician, pickpocket and hypnotist.
This celebrity magician has performed his talented skills with close-up magic, hypnotism and pickpocket trickery to an array of people across three different continents for over 45 nationalities. He is well-respected not only as a performer in the magic community, but also as a teacher and creator of magic. Words really can't describe his astounding magical performance, it is just one of those things you need to see to believe with your own eyes.
CONVERSATIONAL HYPNOTISM
What is Conversational Hypnosis? This is a question that can only be described as a display of influence and unconscious control that can be applied in any setting and be accomplished in a few seconds to a couple of minutes during the hypnotist's walk around performance.
His Magic has developed this astonishingly impressive talent to the point where he can direct a person's perception of reality by locking their mind around his proposals. He has curved his talent not to fall out of the confines of his professional integrity and is only ever used for the intention of fun, entertainment and laughter.
PICKPOCKET TRICKERY
Pickpocketing is a form of pilfering which is in fact illegal, but when performed for entertainment purposes with full ethical integrity, can be one of the most amazing things to watch, and even fall victim to. Pick pocketing requires a considerable amount of dexterity and the ability to misdirect, which his Magic is able do all too well. His Magic combines the art of hand magic with "dipping" the art of pickpocketing.
As one of a handful of professional entertainment pickpockets in this country, his extraordinary skills add a great amount of value to an already award winning performance.
You can only watch in admiration as you see your guests bewildered whist he works his Magic amongst these unsuspecting people, introducing himself as he slowly but surely removes their phones, wallets, watches and more!
Price From £550.00
Areas Covered  South East – Nationwide
WEDDING MAGICIAN FOR HIRE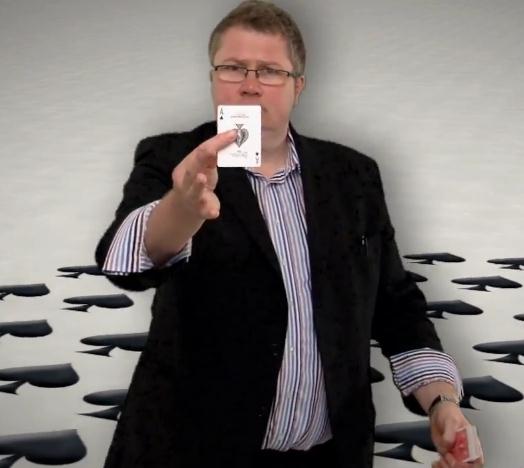 Wedding Magician for hire
This Professional Midlands based Magician is available for Wedding Receptions, Corporate Events Trade Shows, Product Launches and Private Parties. At Weddings he will mingle with your guests after the service and keep everyone thoroughly entertained before and during the reception. Throughout the meal his amazing magical skills can be a fantastic ice breaker, bringing together groups of guests who have never met before.
He is always happy to discuss your special requirements.
He specialises in close-up magic, a unique form of entertainment that is ideal for any corporate event. Mingling freely amongst guests during a drinks reception, or at tables during or after dinner, everyone will be entertained and fascinated by his sleight of hand magic – ensuring your event will be long remembered.
Price From £350.00
Areas Covered  Midlands – Nationwide
Still haven't found what you're looking for? Try our sister site Bollywood Magicians & Pickpockets