Party Hosts, Indian hosts for Asian Weddings, Bollywood hosts, Bollywood Toastmasters and Live-wire Stage Emcee's.
We have Bollywood Presenters across the UK available to book for your special Asian Wedding, Promotion or Bollywood event, perfect for Asian Weddings, Asian parties, Indian Weddings and Asian themed parties. You can book our Bollywood Hosts and a Bollywood Comedian too
Bollywood Toastmasters complete with red and black costumes or traditional Indian costumes. Their presence and wittiness performances will leave your guests astounded and amazed.
You can book our Hosts, presenters and Toastmasters for the following…
Asian/English Weddings
Celebrity Meet & Greet
Corporate Award Ceremonies
Corporate Shows: (Dealer/Retailer/Employee Meets)
Ladies Sangeet Parties
Launch: (Product & Service – Music album – Movies & Television)
Fashion Shows & Inaugurations & Cultural Events
Press Conferences & Releases & Seminars
Red Carpet & Gala Dinners
Star Nights , Musical Concerts & Tours
Team building activities & Training programs
FEMALE BOLLYWOOD HOST : PRESENTER : MC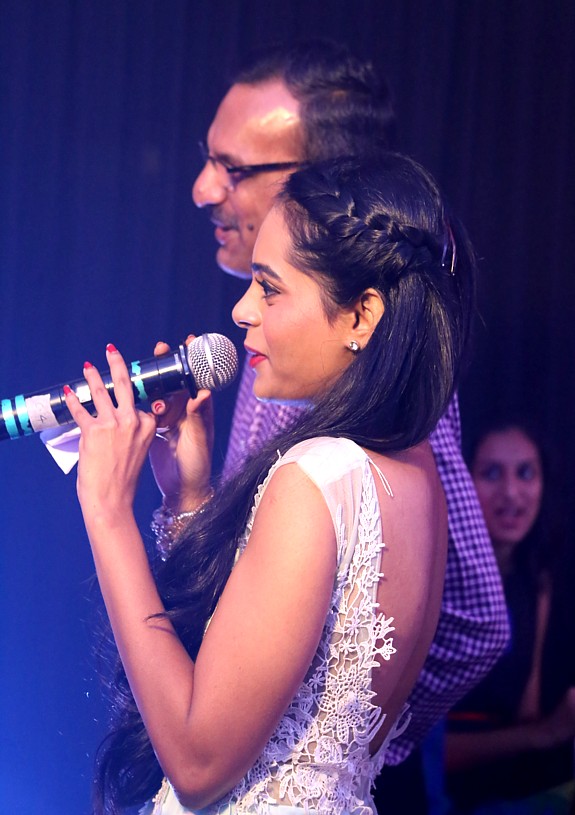 Asian Host : Indian Hostess : Bollywood Presenter : Hindi MC
Bollywood Host for hire, Asian Hostess available as an Asian Wedding Host and Presenter or After Dinner Speaker and Toastmaster, perfect for Asian Events, Indian Weddings, Presentations and Exhibitions.
Born in India, now residing in the UK, she is a Host, Presenter and live wire stage MC. Well-spoken in both English and Hindi languages. She started her hosting career as an event MC at the age of 18, she has been the voice of numerous TV and Radio events ever since. With over 10 years of experience in the entertainment event industry, she has amplified her voice to more than 1000+ shows for over 500+ corporate brands both nationwide & internationally and has catered to audiences of over 25000+
This extremely talented Mumbai girl adds yet another feather to her cap when she was chosen to be the face of 'The Winning Post' as a television anchor to host the "Pheonix Maiden Cup" for the Mauritius Promotion Tourism Association which was aired on NEO Sports. Additionally she was also the face for the True Premier League as Cricket Host on True Sports.
She is spreading her wings as a digital influencer and a brand consultant.
She has shared the stage with Bollywood superstars such as Amitabh Bachchan, Kareena Kapoor, Priyanka Chopra, Anil Kapoor, Arjun Kapoor, Ajay Devgan, Jacqueline, Akshay Kumar, Fernandez, John Abraham and many more.
Price From £450.00
Areas Covered Midlands – Nationwide and Internationally
BOLLYWOOD COMEDIAN & HOST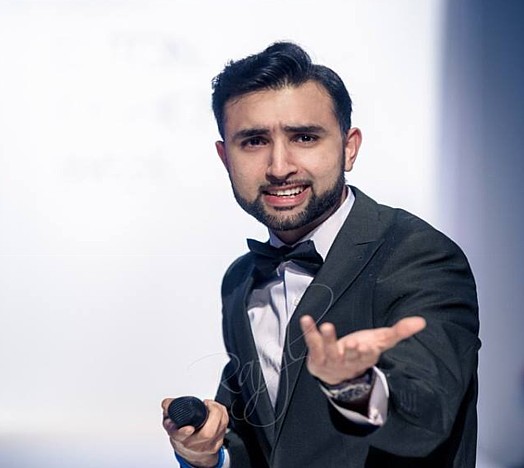 Bollywood Comedian for hire
This Asian Bollywood Comedian is available for Asian Weddings, Corporate Events and Private Parties.
Known for his unique approach, he is a host and a stand-up comedian combined who specialises in Asian Weddings, Indian events, Pakistani functions and Bollywood parties.
He performs in 5 languages and is suitable for audience of all ages and cultures also keeps it clean for family audience and is very well known for his Bollywood comedy.
His experiences as an Asian Stand up Comedian adds a touch of humour to his presenting style. Indeed, it is his quick whit and stage presence that keep the crowd buzzing and hungry for more. He has a completely different approach to comedy, mixing culture with humour to create something really special. Many can relate to his work , no matter what age, race or gender. As a natural performer alongside Pakistani Punjabi & Gujarati events he offers expertise in English events too.
His performance is normally for 45 minutes as a Bollywood Comedian but also has a great talent for hosting your event too.
He can offer the following options…
Asian/Bollywood Comedian
30-45 minutes
He is one of the funniest Asian comedian in the UK. Available to perform at both private and corporate events. He has a rare ability to connect with his audience that makes him a likeable character. He performs in 4 languages and all jokes are family friendly.
Price From £ 550.00 – For £200.00 extra based on distance we can offer clients the following options as well
Master of Ceremonies/Comedian
For the entire event –
He is also available to hire as a Master of ceremonies or comedy event host., Ideal for weddings where he can also work as a toastmaster. Whilst hosting he will also perform comedy and keep the guests entertained throughout. He is always well dressed and eloquently spoken. He can show the guests to seats, make announcements and more. Overall he will make sure everyone is having a good time
Areas Covered Nationwide
Testimonials
I just wanted to say that your comedian was great at entertaining my guests that evening. He made every single one of my guests laugh and I would recommend him to everyone if they're looking for different entertainment or evening hosting their event.
Thank you to all who were involved for making my wedding special.
Kind Regards
Ismerha
Your Comedian entered the event at the right time at a satisfactory manner. His acting skills were very engaging. It was nicely put together and he had the right tone, language and speed. He made some great jokes with all the audience. I hope to see him again in future events.
Sabbaht Masood