Rat Pack tribute bands for hire, Ratpack Tribute singers for Hire,  Book a Crooner singer, Ratpack Tribute bands for hire for Las Vegas themed parties, 60's themed nights, Promotions and Private Parties. Our Ratpack live bands will give you a real flavour of Sands. Book Frank Sinatra Tribute Singers, Our Dean Martin Tribute singer is also available for hire, as well as Mr Bojangles himself Sammy Davis Jnr. They're extremely professional and will look and sound like the real thing. Grab your Dinner Jacket and enjoy a fun packed Tribute Show of your choice.
RATPACK TRIBUTE DUO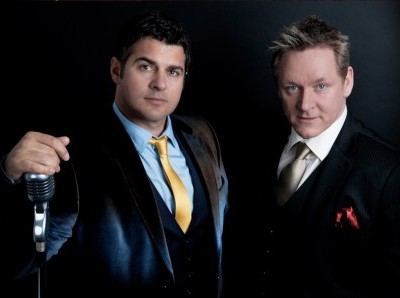 Ratpack duo for hire. Within their fees they take care of the technical aspects of the day, any sound and lighting requirements that may be needed, up to 400 people. The show is audience interactive with the humour and sophistication associated with the original Legends of Swing. Songs by Sinatra, Dean Martin, Sammy Davis, Nat King Cole and others delivered in a style they've made very much their own.
2 x 45 minute performances to professionally recorded playback.
Price From £1450.00
THE RATPACK DUO PERFORMING TO PROFESSIONALLY RECORDED BACKING TRACKS
The Rat Pack duo performing to professionally recorded backing tracks – A great option for any size of venue, They both can perform any of the original swing classics to fully orchestrated backing tracks. This option gives you the versatility of a huge selection of the big band classics if you haven't got room for our live swing band. Perfect for Wedding & Corporate Entertainment.
THE RATPACK DUO WITH PIANO
The Rat Pack duo performing with piano – The perfect choice for a laid back atmospheric experience over dinner or simply background music whilst sipping cocktails. A sophisticated way to warm your guests up for the evening, our pianist is also available to play background music as a solo performer, and has an endless repertoire to choose from.
THE RATPACK DUO PERFORMING WITH THEIR 3-PIECE BAND
Piano, bass and drums performed by three professional musicians who've worked with some of the worlds greatest recording artists, recreating a diverse mix of swing and rat pack classics in our own unique style. Perfect for Corporate & Wedding Entertainment.
THE RAT PACK DUO PERFORMING WITH THEIR 7-PIECE BAND
The Rat Pack duo performing with their 7-piece band. Piano, bass, keyboard, 1 trumpet, 1 trombone and 2 saxophones. Seven passionate, award-winning musicians with a long list of credits to their names, recreating the big band sound. More Details about our Swing Band We can also offer showgirls with any of our options they add a colourful and exciting twist to the show, they also available to meet and greet your guests on arrival.
THE RATPACK DUO AND THE 17-PIECE BAND
4 x Trumpets / 4 x Trombones / 5 x Saxophones / Piano / Bass / Drums / Guitar. The big band sound at it's best if you have the room to fit them all in!
THE RATPACK DUO AS SINGING WAITERS IF YOU LIKE SURPRISES THIS OPTION NEVER FAILS TO DELIVER! (see video above right)
The boys have performed as singing waiters throughout the world and it's a great option to get your event off to a swing. We do offer different surprise options to suit your event.
Area: South East – Nationwide
RATPACK SHOW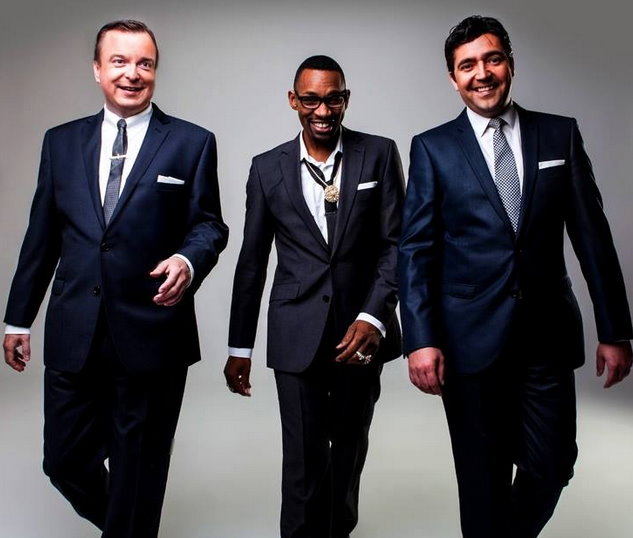 The huge hit tribute show 'THE RATPACK' perfectly captures the wonderful music and comedy of the original RAT PACK legends, it also portrays the remarkable personalities of the stars who truly ruled the entertainment world.
This show consists of the very best tribute artists for the roles of Frank Sinatra, Dean Martin and Sammy Davis Jnr.
These guys not only sound like their heroes, but they also physically resemble them and when on stage their stage presence make them stand out with their unique mannerisms and even talk as though they are at the Sands taking part in the summit.
A Corporate favourite, The Rat Pack regularly entertains clients including Ernst & Young, Hitachi, Birmingham City Football Club and The Royal Bank of Scotland.
They also cater for Private functions which also feature heavily in The Ratpack packed schedule, in fact there is no event that The Ratpack team can't tailor their show for. Besides their outstanding production values of the show, it is their sheer flexibility and unique choice of top class performers that makes The Rat Pack the number one choice when booking entertainment for every feature of the business.
So sit back, relax and enjoy the show!
The Rat Pack with a 6 piece Band and 2 Showgirls with Large PA and Engineer.
Price From £3400.00
To increase the band size it would be an £250.00 per musician.
Area: London – Nationwide
LAS VEGAS SHOWGIRLS FOR HIRE – SHOWGIRLS & SHOWBOYS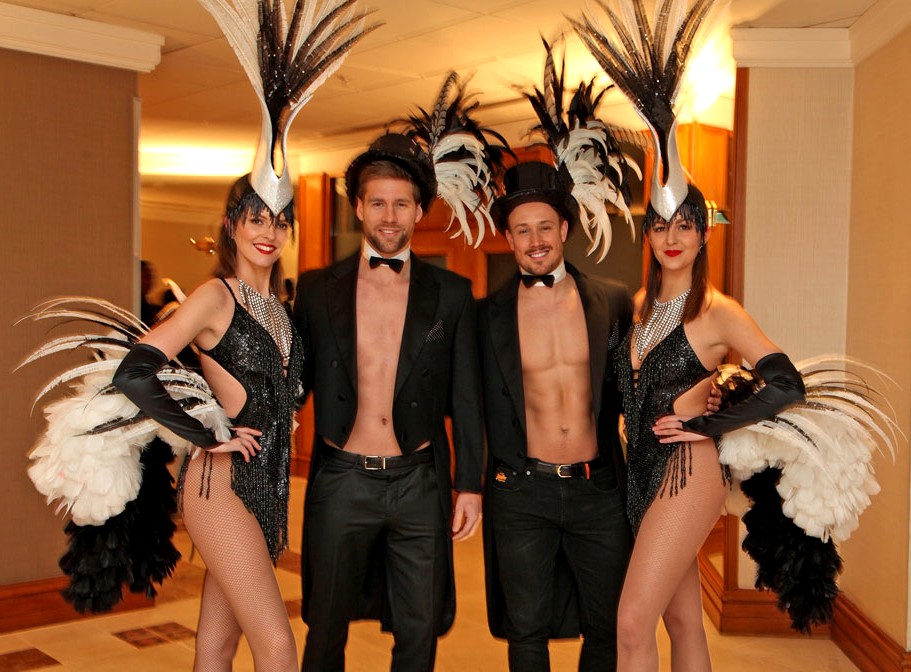 Las Vegas Showgirls for hire
Our Vegas Show Girls are available to meet and greet your guests on arrival, to pose for photographs with guests and to assist with welcome drinks on arrival all in the show stopping Las Vegas feathers.
Once the girls have shown your guests to their tables, they can perform up to 3 fully choreographed themed dance routines.
Each routine last approximately 4 minutes and performances can be standalone throughout the evening (perhaps in between courses of dinner if having a sit down meal) or as one longer 15 minute performance. Should you require a longer performance there would need to be a minimum booking of 4 or more show girls per evening or additionally the girls are able to back singers/Elvis tribute performers or Rat Pack/Swing singers throughout their performances complete with costume changes throughout. If you have a more unusual event requiring a more bespoke theme of outfits and choreography, please feel free to contact us for further information.
Other Showgirl themes include…
Bond Showgirls
Hollywood Showgirls
Masquerade Showgirls
Price From £230.00 per Showgirl
Areas Covered Midlands – Nationwide and Internationally