This Bollywood Saxophonist is happy to perform solo or with a Dhol drummer, he will also play alongside a DJ.
Entrances, Asian Weddings, Dance floor sets with a DJ or solo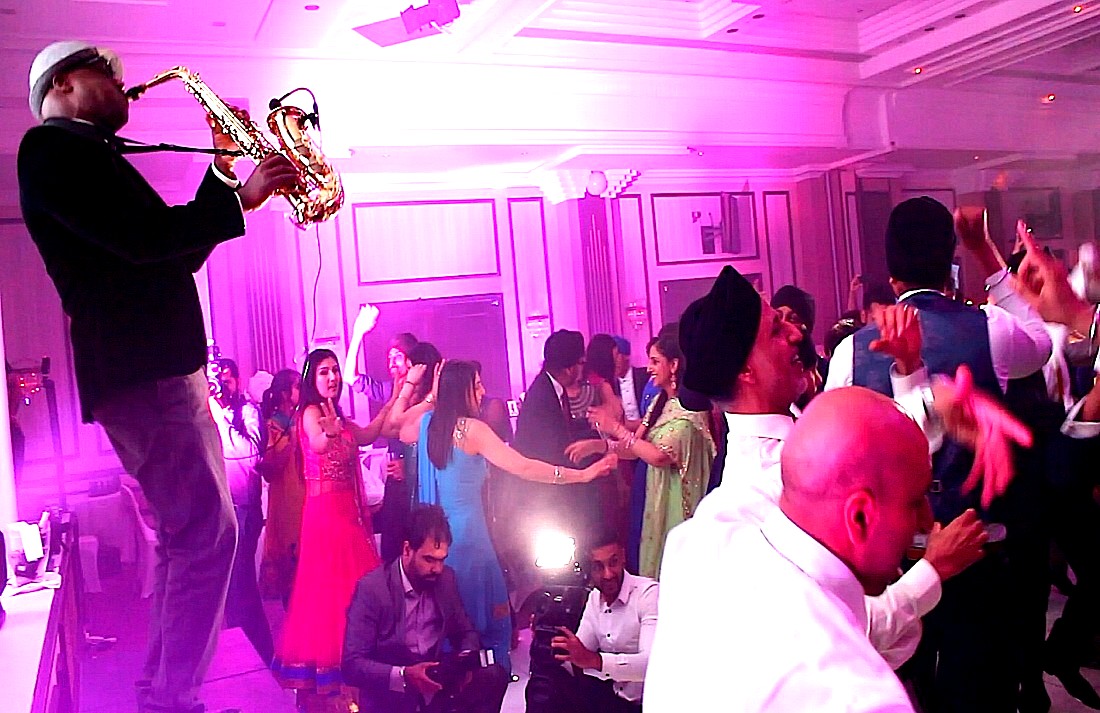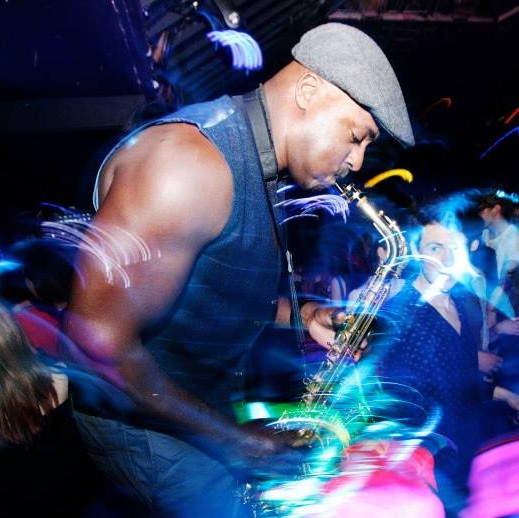 Hire this Saxophonist for your Wedding or Drinks Reception as a Solo Saxophonist or with a combination of Saxophone and DJ or Saxophone and Dhol Player/s. You can also hire him as a Bollywood Sax and Piano duo, Cocktail Saxophonist or for Entrances, Walk ins, Restaurants, Hotels and Private Parties
Sets: 3 x 40 minutes
Solo work includes specifically tailored sets such as wedding entrance, first dance, cake cutting DJ/Sax dance-floor set.
He also offers the following formats…
Duo/Trios/Quartets
Dhol and Sax set 15-20 minute set of Dhol and sax with DJ.
Price From £450.00
Area: London – Nationwide
This Bollywood Saxophonist started as a musician winning a scholarship
at the tender age of 13 playing classical trumpet ,he then went on to
study saxophone with British jazz Legends Bobby wellins, he has worked
as a session musician the past 15 years working with artists such as
Celine Dion, Art Garfunkel ,eternal, beautiful South ,Bebe and CeCe
,Winans Boney M, imagination ,Meatloaf, Britney Spears and many
more, he has also toured extensively with the London gospel Community
Choir .
TV credits include Top of the Pops and the National Lottery show.
He as a member of a family band won a national competition, and toured the Caribbean performing. Career highlights include performing for Nelson Mandela and Prince Charles.
He made his West End acting debut playing the Apollo main man in E & B stage production of the Buddy Holly story at The Strand Theatre ,he then also toured with the River Dance sequel ,Spirit of the Dance . He performs as a solo saxophonist also alongside DJs, in quartets, trios etc, he also sings and plays drums/percussion.
Repertoire
Bollywood
Panjabi MC- Morni
Tum Hi Ho – Arjjit Singh
Kal Ho Na Ho – Heartbeat – Beautiful Romantic piece
Mohabbatein Love themes
Heer – Jab takk Hai Jaan 2012
Humko Humise Chura Lo – Mohabbatein
Suraj Hua Maddham
Kuch Kuch hota Hai – ajay Sinha and Amar – Somu Seal
Pehli Nazar Mein Rishi Rich
PeeLoon – Rajesh Thaker
Indian Princess – Romantic
Tera Hi Bas Hona Chaahoon – Najam Sheeraz and Jo Jo
Bollywood funk – show piece
Teri Ore
Teri Meri from The Bodyguard
Jai Ho
Bollywood – Shawn Lee Orchestra
It Can only be love Streets of Bollywood
Jeeta Hoon Jiske Liye – Alka Yagnik and Kumar Sanu
Dheere Dheere – Alisha Chinai
Kahaani – Vidya Balan
Moko Kahaan – Bina and Pranav
Mitwa – Naveen Kumar – Love themes
Latika Theme – Slumdog
The love Legend theme
Do Pal – By My good friend singer Najam Sheeraz
Ore Piya Rahat Fateh Ali Khan
Aap Ki Khata
Silsile Mulaqton
Didi
Hadi Bakai
Karthik
Raza Theme
Fais Moi
Bebe theme
Chalte chalet
Ehsan Tera Hogan – Bollywood Sensation
Bombay Chill Out – Paris Bollywood
Chura Ke Dil Mera -Alka Yagnik & Kumar Sanu Love songs
Atif – Lamhe
Woh Humse Khafa Hain – Udit Narayan
Tujhe Dekha Tu Ye Jana Sanam
Chura Liya Hai Tumne – Romantic love song
Bollywood Medley – Medley produced in studio including some of the most popular pieces
Surj Hua Maddham-Teri Ore- Teri Meri – Theme from Mohabbatein
(Kal Ho na Ho) – Humok Humise – Bollywood (Shawn Lee Orhcestra) – Najam Sheeraz
(a good friend) – Tera Hi Bas Hona Chaahoon from Movie Haunted – Mitwa Naveen
Mundian To Bach Ke- when performing with Dhol Players
Showpieces
Catharis
Monti Czardes-Gypsy/classical
Children- Miles- Escala
Celtic Roc (as seen on DVD)
Countess Kathleen- Riverdance
Picante – Conga – Vanessa Mae
Classical Gas – Vanessa Mae
Palladio – Karl Jenkins
Fiddle Loca – Irish show piece
Washer Woman x 3 …getting faster
Dark Eyes
Countess Kathleen (Riverdance)
Jai Ho – Slumdog Millionaire
Hava Nagila
The Music of the Night – Phantom of the Opera
Zorba dance
The Devil went down to Georgia
Tico tico
La Cumparista
Medleys
Evocare
Tango from Moulin Rouge – Requiem of a dream – Insomina (optional) – Adagio – Pirates of the Caribbean.
Medley – Circus March of the Gladiators – Eve of the War (War of the worlds) – Bring me to Life Katherine Jenkins – Irish Showpiece – Battle
without Honour (Kill Bill) – Salt WaterMedley – Classical Crossover 5mins
Viva (Bond) – Picante (Vanessa Mae) – Explosive Bond- Clear Ice (V Mae) – Palladio (Escala) – Kashmir ( Escala)
Medley – Greek/Jewish – Featuring Hava naglila – Monti Czardes
Medley – Solo 6 minutes inc cadenza – Palladio – Achilles Heel – crazy- corrs – riverdance- washer woman -thriller – fiddle loca – Barbers adagio
Medley -10 minutes – Salsa- flamenco- Fever – Abba- Irish jigs- Zorba Dance – Somewhere over the rainbow – Brown eyed girl – Everybody needs
somebody (Blues Bro) – Palladio – Kashmir
Medley – Rock – 5 mins – Addicted to Love (Palmer) – Lets dance ( Bowie) – I love rock and roll – Explosive (Bond) -Beat it (MJ) – I like the way you
move (Body rockers)
Medley – Irish Drowsy Maggie – Devil Amongst The Tailors/Soldiers Joy
Medley – Hip-Hop Crazy-The next episode-Get Back
Hip-hop One More Chance
Medley – Latin I need to know (Marc Anthony) – Hero (E Iglesias)- She Bangs (R Martin)
Medley – Latin Showpiece Tico Tico / Taka Taka
Medley – Russian/Cossack Kalinka Medley (Incuding Midnight In Moscow)
Wedding Medley – Handels' water music Hornpipe- Ave Maria – Air on a G String
Other
Sunrise sunset
Greensleaves
Scarborough Fayre
Let me Fall – Josh Groban
Happy Birthday
New Year – Count Down
For his a Jolly Good Fellow
James Bond
Diamonds are Forever
From Russia with Love
The Name is Bond
Die Another Day
The World is not Enough
Another way to Die – Alicia Keys
Live and let Die
BOLLYWOOD VIOLINISTS FOR HIRE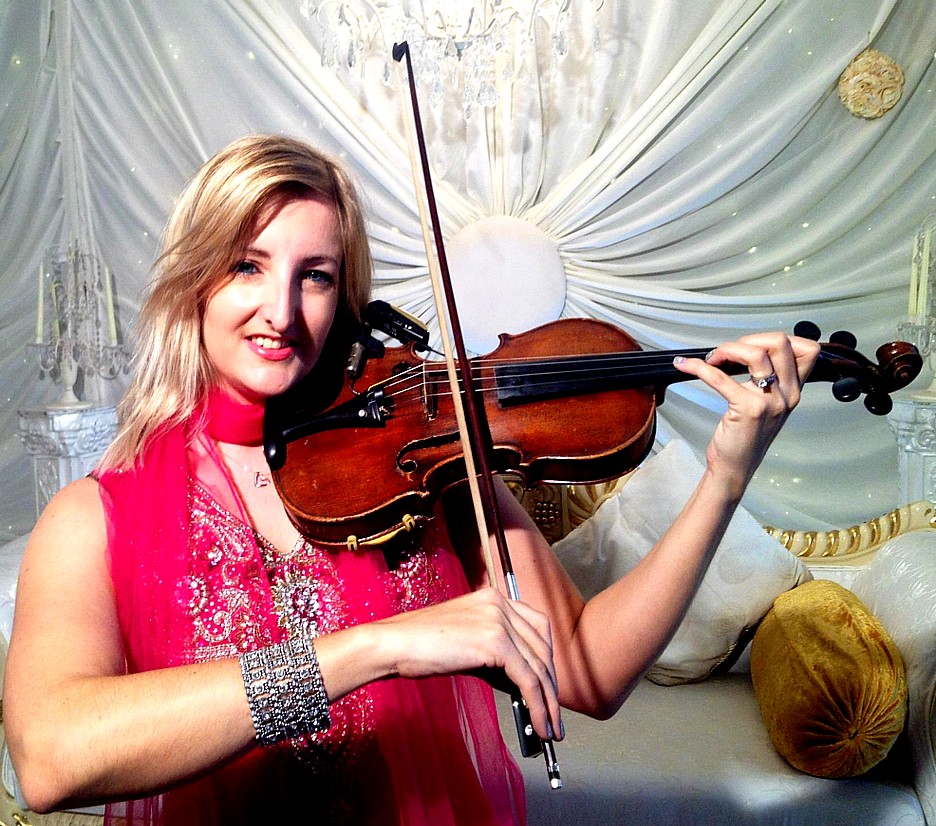 We have a wide range of Bollywood Violinists for hire.
Whatever your style of music, be it classical songs, romantic songs or Bollywood songs, our Bollywood Violinists can add a wonderful accompaniment to your special day. Beautifully played violin melodies will add a personal and very memorable touch to your wedding day.
For example: By creating an ideal atmosphere as guests arrive at your wedding reception. During the signing of the register and as photographs are taken. Accompanying the bride or couple as they walk into their wedding venue. By providing a pleasant ambiance during the drinks reception.
Prices From £350.00