Casino Tables for hire, complete with professional croupiers performing chip skills!

Casino Tables for hire with Croupiers. Our "Fun Casino" portrays all the atmosphere and appearance of any real live Casino in Las Vegas, Monte Carlo or anywhere else in the world, with actual full-sized Blackjack and Roulette tables, each run by fully trained Croupiers/Dealers, who's function it is not only to manage the games, but also to join in the evening's fun with the players, thereby ensuring that everyone is involved and having a good time.
Fun Casino Professional With Croupiers
Get down and party with our all new slick and funky "Club" Casino, the ultimate night time entertainment!
Experience the real live Casino action as you pit your wits against our specially trained Blackjack dealers, wait with anticipation the click of the ball on the Roulette wheel as it completes its dizzy spin, or simply play a cool hand of Texas Hold-Em Poker on our special Poker tables.
Mix, mingle and dabble, it's all there for you!
Accumulate scores on any one or all of the games, and be in with a chance to win an exciting prize.
All this to the sound of the latest music trends played by our DJ/Compere, and atmospheric mood lighting.
Be part of the "Club" scene
The only modification made is the structure of the betting so as to ensure that nobody looses their "fun money", rather everyone actually accumulates chips, and remains playing at the tables for the full duration of the show.
The element of competition, however, is still very much in evidence as each player is trying to win more than the others also playing, in this way, rampant inflation takes place with some players actually becoming "millionaires".
During the Casino, which can last for up to 2 ½ hours, the live music provided by our DJ/MC with a full P A sound system, is very much an integral part of the show, and creates a great atmosphere and interaction amongst the guests, and really puts the fun into the evening.
When the Casino finally comes to an exciting Grand Finale, the Croupiers then give each player a "fun cheque" for the amount of chips they have managed to win, and follow on with our presentation for whatever prizes the host has provided (these can be as valuable as you wish or can simply consist of token fun prizes, whichever suits the event in question).
One of the main attractions of our Casino night, is that it suits people of all ages, both male and female, everyone enjoys a great night's entertainment.
Wedding Casino
This Casino has been providing entertainment for the last 18 years and it's only been in the last three that they have noticed a growing demand for their services at weddings.
But how does it work and at what stage of the wedding does it suit best? There are two types of show they do for weddings. The first is a 'Mini Casino' and this suits just after the wedding ceremony back at the hotel when guests are waiting for the photos to end and the dinner to begin. It's a great filler and a way for all the guests to mingle and get to know each other.
The 'Complete Fun Casino' option is the most popular show.
Here they provide everything from the band to the dancing. The shows last over two hours and usually take place after the speeches. They provide enough gaming tables to look after all the guests, a live band, croupiers and a fully experienced MC to co-ordinate the show. For two hours there is non-stop singing, dancing and fun gambling. There is no real money involved and guests play for prizes.
This is the perfect answer for all those not looking for the traditional type of entertainment. It guarantees a great atmosphere and keeps all the wedding guests together.
Roulette Table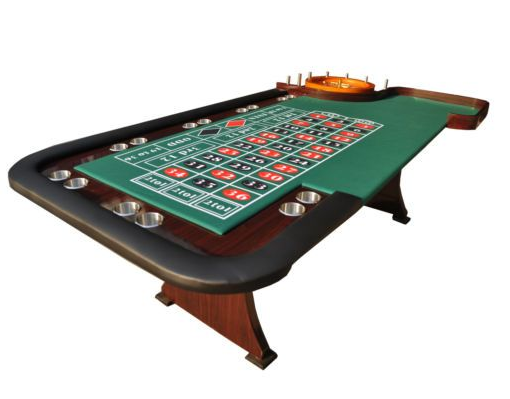 Roulette Table Hire
First you exchange your fun money for roulette colour chips , alternatively you may be handed out chips without fun money, you then place your chips on the table.
The dealer will spin the ball. When the ball stops the dealer will remove all losing bets and pay all winning bets.
Measures 8′ x 4′
Blackjack Table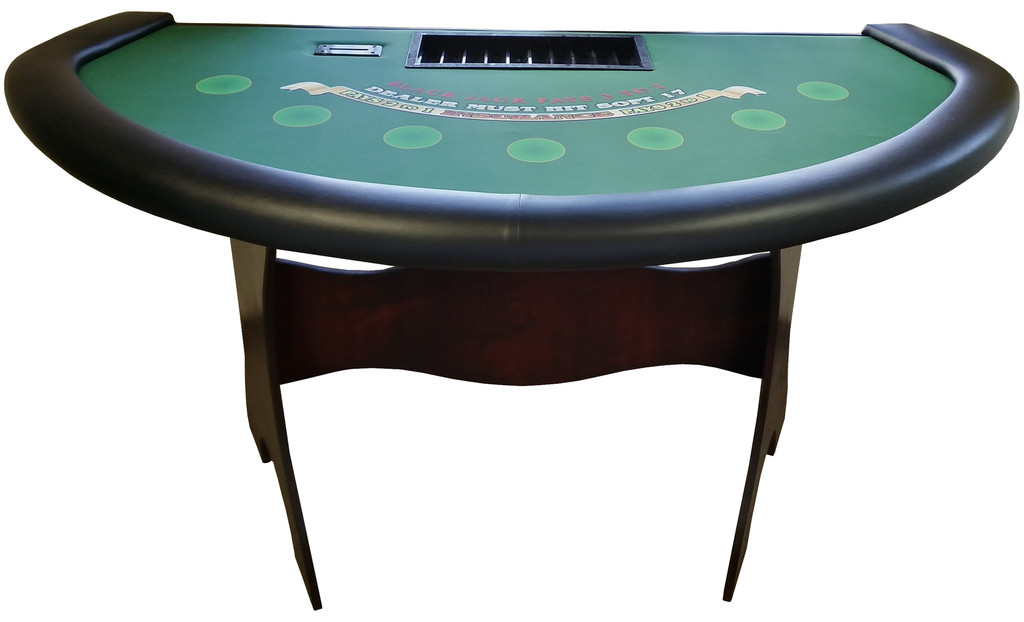 Blackjack Table Hire
Blackjack is a relatively simple game. (Similar to Pontoon)
Each player is dealt two cards face up, while the dealer has one card face up . Your aim is to beat the dealer by getting to 21 or nearest without going over.
The dealer must stand on 17 and take a card if he has 16 or lower. If your total matches the dealers total you neither win or lose.
If you beat the dealers total you win even money. If you obtain a blackjack (10 + Ace) you are paid one and a half times the stake. However if the dealer also has blackjack it is a standoff. An ace equals one or eleven and all the picture cards equal 10.
Measures 6′ x 4′
Texas Hold Em Poker Table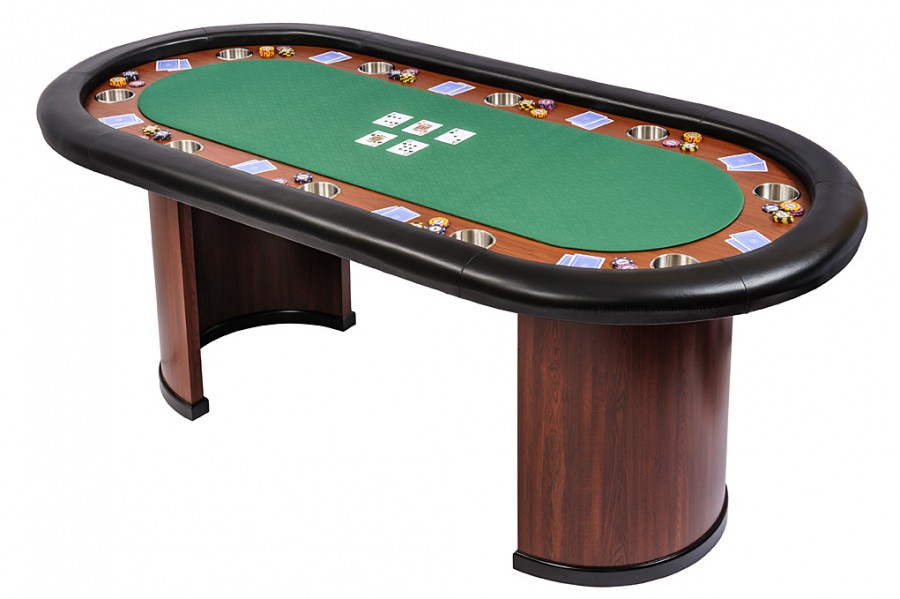 Texas Hold Em Poker Table Hire
The most popular form of poker played worldwide.
Players start with an equal amount of chips. The dealer deals two cards to each player and the betting commences after the blinds have been posted. The player to the left of the big blind either calls (bets the big blind) or raises, and each player in turn has the same option.
After the first round of betting is finished the flop is revealed, which are three cards called community cards. The betting commences again, where you have the option of checking, betting or raising.
Wheel of Fortune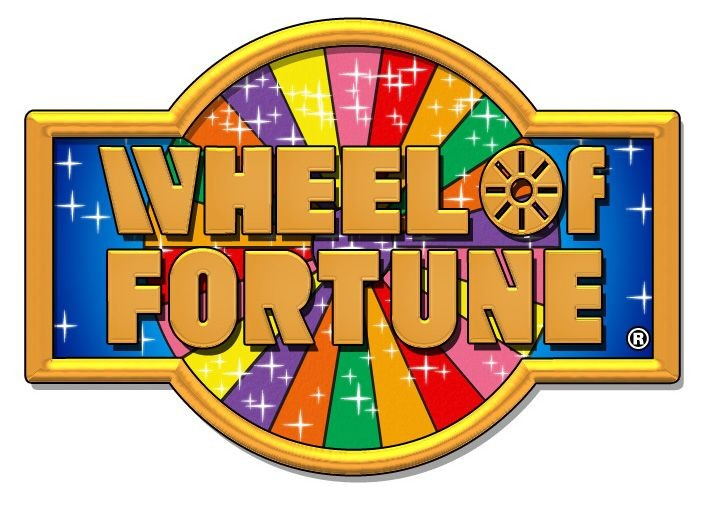 Wheel of Fortune
Las Vegas Classic, the Wheel of Fortune is a laugh a spin game for all your fun casino needs.
The wheel consists of segments, which you place a bet on.
Once your bet is placed the croupiers will spin the wheel, where the wheel stops no body knows.
This game makes every casino look the bees knees.
More tables available on request!
Fun Casinos are one of our most popular shows, as our hostess/dealers are trained not just to deal, but also to entertain, and very quickly create an atmosphere of good humour and easy interaction between the guests, as they discover their hidden talent !
Playing is easy, each person is given $1000 (fun money) worth of chips and they can play for as long or as little as they like, during the two and a half hour period, our girls will keep a record of the scores, and normally the host provides a token prize for the 1st, 2nd and 3rd highest scores of the evening. This show works perfectly as a side show, or as the main form of entertainment, depending on the requirements. Ideal for small or large parties.
NB: Tables may vary in style to the ones shown above depending on availability.
Price From POA Depending on location and package required
Areas Covered
UK – Ireland – International
Guide Prices – Measurements
Local rates – Central England (Staffordshire, Cheshire, Derbyshire, Birmingham, Manchester)
2 tables – 1 Roulette table & 1 Blackjack table (or Poker) @ £450.00
2 tables – 2 Roulette tables @ £500.00
3 tables – 1 Roulette table & 1 Blackjack & 1 Poker table @ £600.00
4 tables – 1 Roulette table & 2 Blackjack & 1 Poker table @ £850.00
4 tables – 2 Roulette table & 2 Blackjack table @ £900.00
Additional tables available at £225.00 each
LED tables available at £900.00 for Roulette and Blackjack.
Special offer – 2 tables and Photobooth at £900.00
Other tables and combinations are available to mix and match. 20 tables available, please ask for your themed choice.
Our Casino tables includes full size roulette wheels and tables with professional and friendly croupiers for up to a 3 hour period. Our Croupiers also offer a Bottle of Champagne and Chocolates for the winners, free custom fun money (photo, logo, message or theme), set-up / breakdown of tables and all equipment needed.
Table sizes are approximate: Roulette – 7' x 6', Blackjack and Poker – 6' x 4' (semi-circular), Craps (Dice) – 6' x 4'
Themed Packages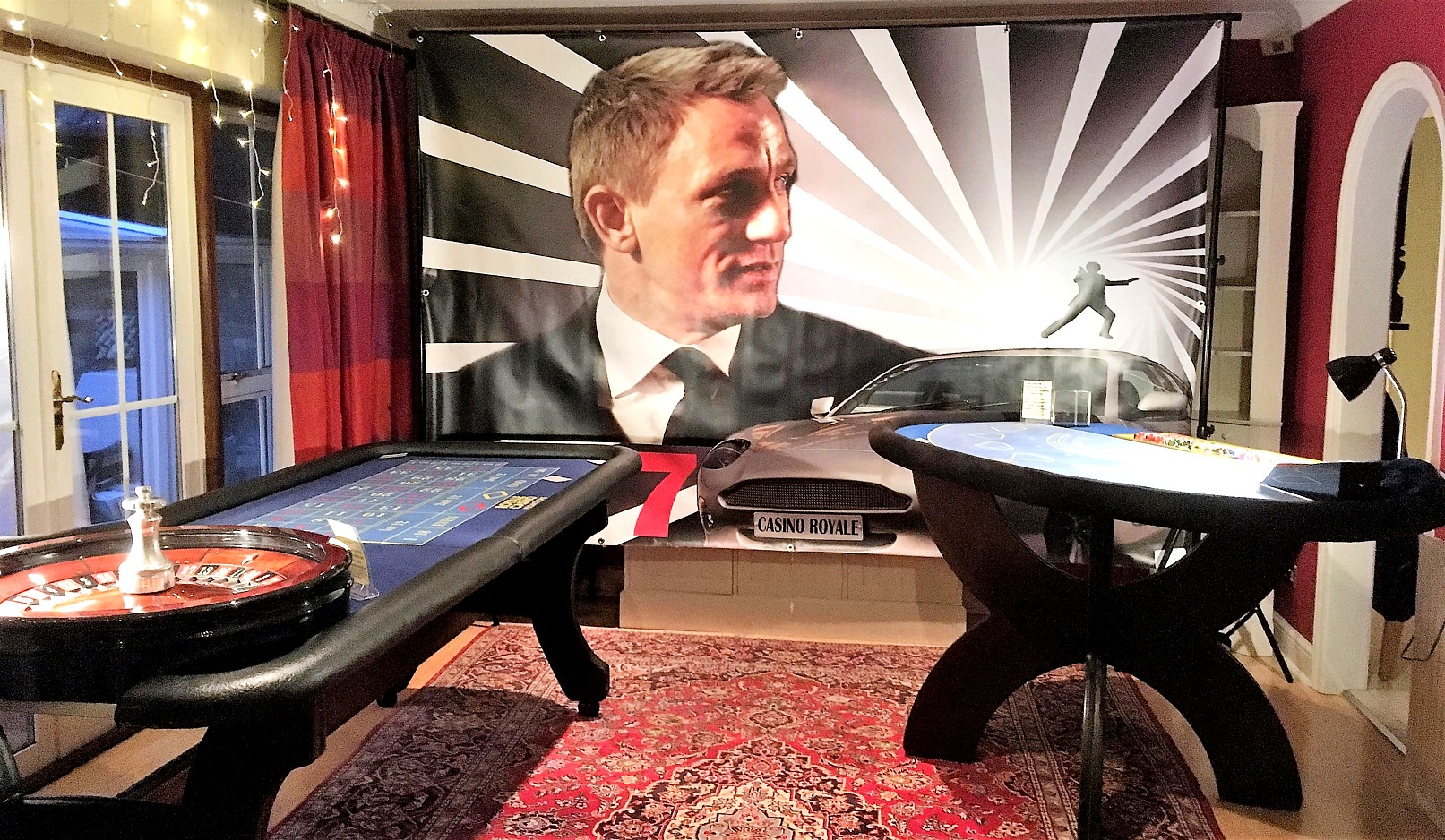 Why not enhance your event with one of our Themed packages?
James Bond theme
2 tables and 1.5m x 2m Bond Casino Royale Backdrop at £575.00
2 tables and 3m x 2m Bond Backdrop (Aston Marten or Skyfall) at £595.00
2 tables and 3m x 2m Bond Backdrop, 2 Bond banner filmstrips, 2 Bond silhouettes and 2 giant flame lights at £720.00
2 tables and 3m x 2m Bond Backdrop (Aston Marten or Skyfall), 2 Light up 2m panels (m/f) at £780.00
2 tables and 3m x 2m Bond Backdrop, 2 Bond banner filmstrips,
2 Bond silhouettes, 2 giant flame lights and 2 Light up 2m panels at £895.00
2 tables and Huge 007 light up letters, 3m x 2m Bond Backdrop, 2 Bond banner filmstrips, 2 Bond silhouettes and 2 giant flame lights at £930.00
2 tables and Huge 007 light up letters, 3m x 2m Bond Backdrop, 2 Bond banner filmstrips, 2 Bond silhouettes, 2 giant flame lights and 2 Light up 2m panels (m/f) at £1020.00
Additional backdrops – Spectrum, Quantum of Solace, Bond 50th, and more available from £125.00 each depending on size.
Huge Spectrum hanging backdrop available at £245.00 (would need to hang from a balcony or similar)
Bond lookalikes available – plenty of notice would be needed.
Additional tables at £225.00 each
Bond Showgirls available from £185.00 each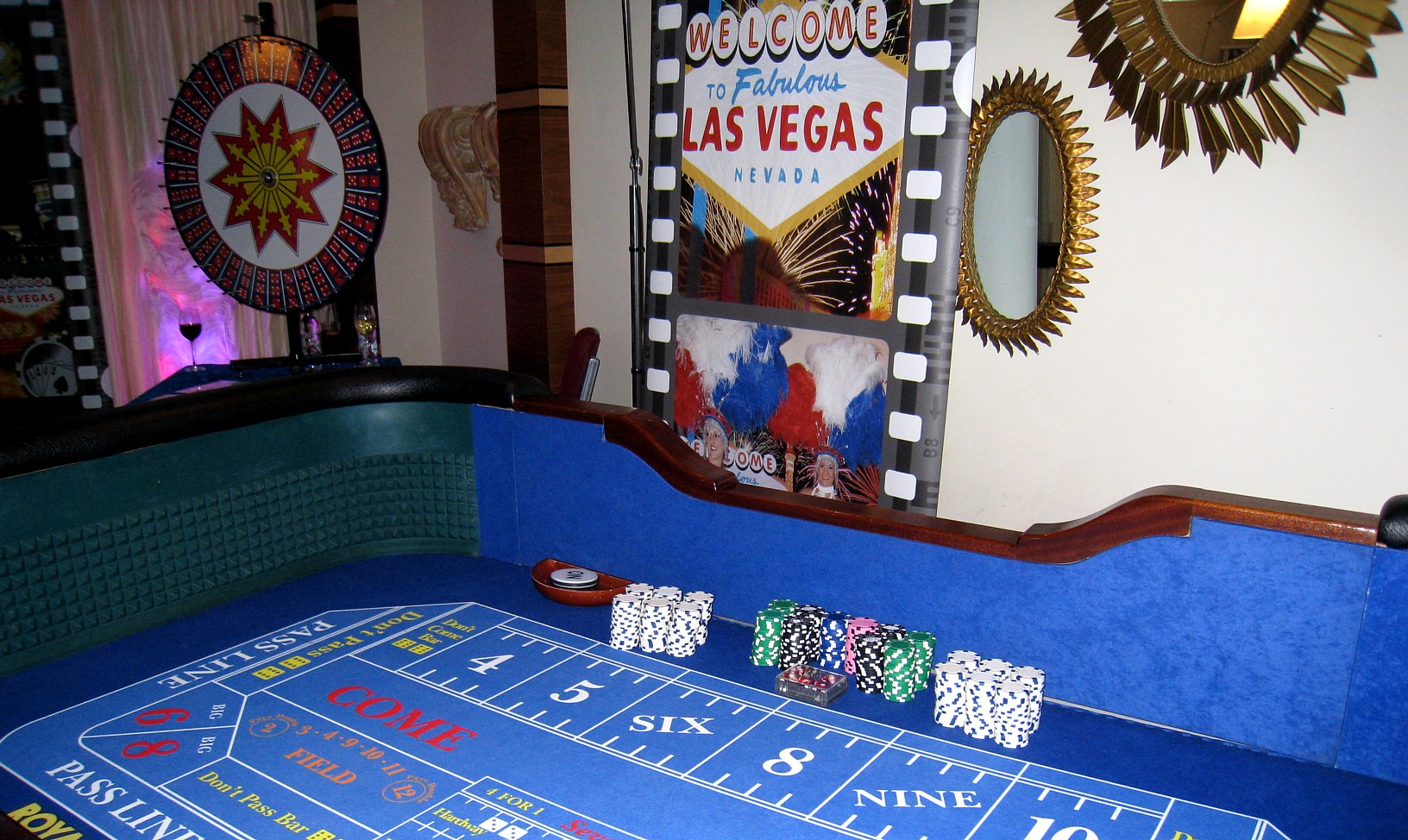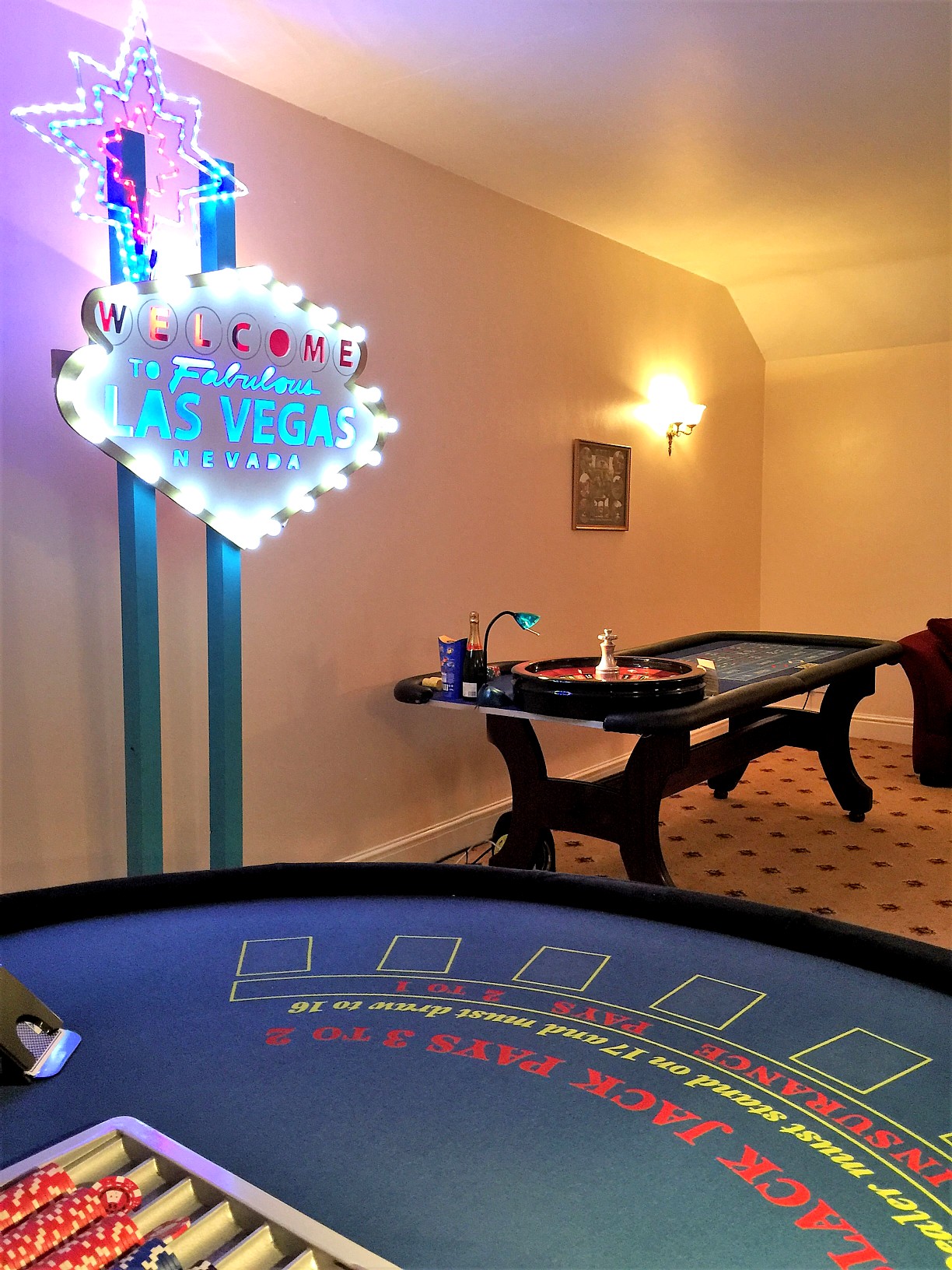 Las Vegas theme
2 tables and 2m high light up Las Vegas sign at £645.00
2 tables and 3m x 2m Las Vegas Backdrop at £595.00
2 tables and 2 Las Vegas banner filmstrips at £550.00
2 tables and 3m x 2m Vegas Backdrop, 2 Vegas banner filmstrips, 2 Vegas cut-outs and 2 giant flame lights at £715.00
2 tables and 2 m high light up Vegas sign, 3m x 2m
Vegas Backdrop, 2 Vegas banner filmstrips, 2 Vegas
cut-outs and 2 giant flame lights at £745.00
Vegas Showgirls from £185.00 each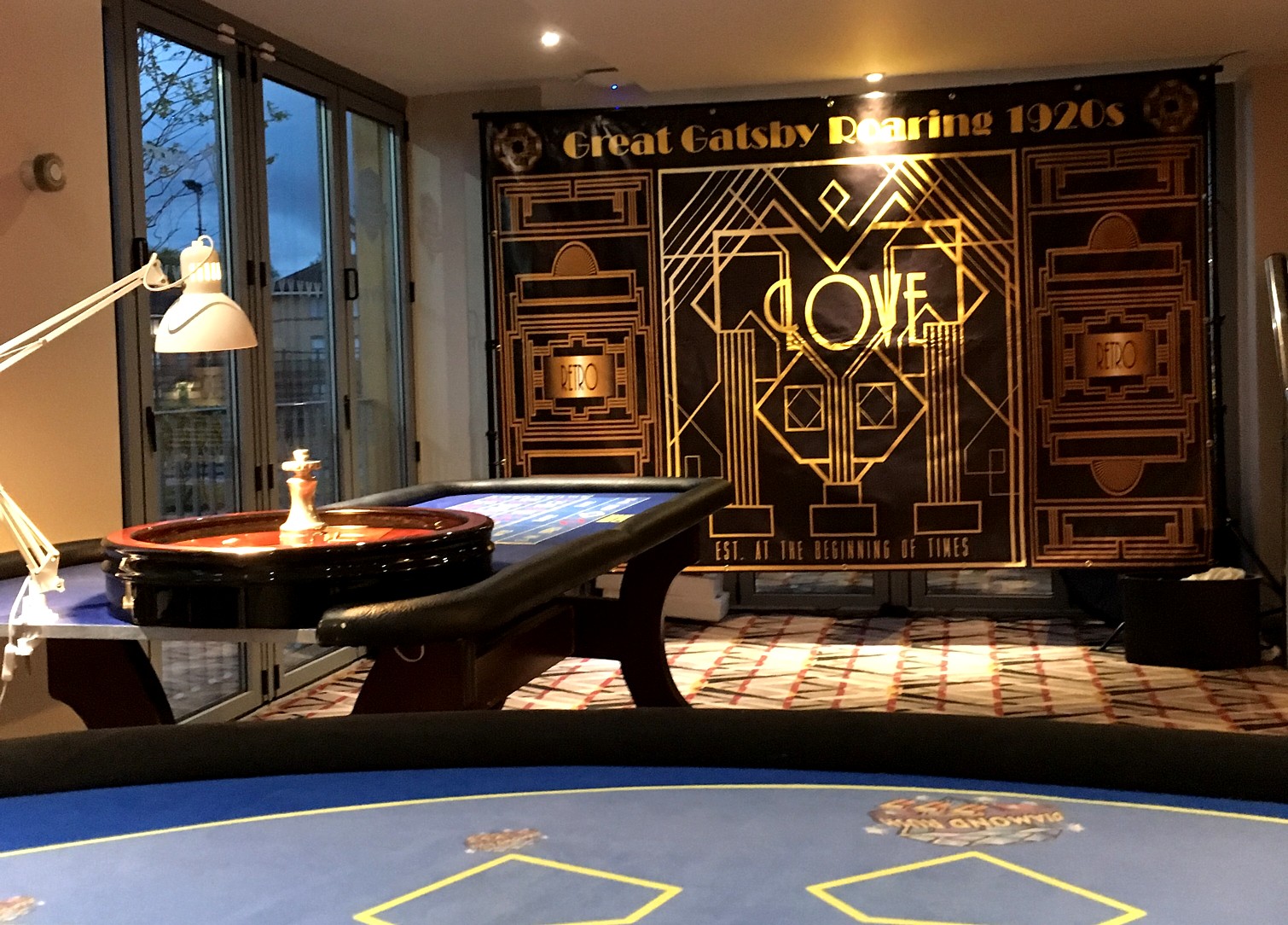 Great Gatsby theme
2 tables and 3m x 2m Great Gatsby Backdrop at £595.00
2 tables and 2 Great Gatsby banner filmstrips at £550.00
2 tables and 3m x 2m Great Gatsby Backdrop, 2 Great Gatsby banner filmstrips, 2 Great Gatsby cut-outs and 2 giant flame lights at £715.00
Also available – Hollywood and Wild West theming!
We also have the following add-ons:- Red Carpet & poles at £150.00
Our Casino operate a friendly service with handpicked professional croupiers and have full Public Liability Insurance to £5m.
We are happy to advise how to make the most of your event, with regard to timings, custom fun money (free), staff dress code,etc.
How does it work?
Our Croupiers set up the casino tables and are completely self-sufficient, they have everything needed. They will hand out "Fun
Money" which is exchanged for chips to play at the tables. (If you are fundraising, you could sell the fun money for your worthy
cause).
The croupiers will advise how to play the games and let the fun commence!
The tables will be open for a set time (agreed in advance) and the winners of the prize(s) will be the person(s) with the most fun
money at the end of the gaming period.
For further advice please contact us with any questions.
Las Vegas Show Girls | Gatsby Girls | Can Can Girls For Hire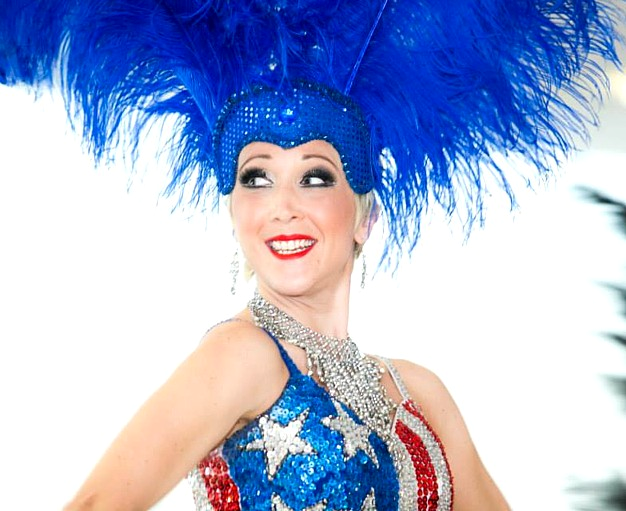 Las Vegas Show Girls are available to meet and greet your guests on arrival, to pose for photographs with guests and to assist with welcome drinks on arrival all in the show stopping Las Vegas feathers.
Once the girls have shown your guests to their tables, they can perform up to 3 fully choreographed Vegas themed dance routines such as Viva Las Vegas, Copacabana and Diamonds are a girl's best friend.
They're also happy to assist the Casino Croupiers in handing out fun money and prizes.
Each routine last approx 4 minutes and performances can be stand alone throughout the evening (perhaps in between courses of dinner if having a sit down meal) or as one longer 15 minute performance. Should you require a longer performance there would need to be a minimum booking of 4 or more show girls per evening or additionally the girls are able to back singers/Elvis tribute performers or Rat Pack/Swing singers throughout their performances complete with costume changes throughout.
Should you have a fun casino at your event the show girls can also assist in handing out fun money to your guests and mixing and mingling around the casino tables giving it the true, authentic Vegas feel!
Also available, Gatsby Girls, Flapper Girls, Shooter Girls, Can Can Girls and more!
Areas Covered
Ireland – International