Murder Mystery For hire – Murder Mystery Themed Events…
Dinner, drinks, and a murder or two… Our murder mystery themed events make an eventful night for your corporate or private party guests…
MURDER MYSTERY
We invite you to join us for an evening of the best classic comedy, mystery, suspense and intrigue currently available. The murder mystery formats and plots we offer are many and varied. We cater for corporate and private clients and we can bespoke any event on request.
Although we specialise in the Art Deco period, we can supply many other themes including 'Ello 'Ello,
James Bond, Hollywood Oscars, The Pink Panther and all the usual themes including exclusive Hen Parties, Christmas and Halloween. All plots are professionally written, performed by experienced and trained professional actors and we believe the quality we offer is unrivalled in the events industry.
"I have to say that the Murder Mystery was an outstanding evening and if you ever get asked what would be good for team morale and bringing people together in a relaxed and humorous environment then this is it. Without exception I've been contacted by every person who attended the evening to say how they thoroughly enjoyed it and was the best time they've spent with their colleagues. A huge thank-you to the actors who ran the evening perfectly for us. They were superb"
Alliance Boots
*For more information on our available formats and plots, please contact us for a brochure.
Steppin' Out Price List – All prices are + vat + 15 % Booking Fee Payable direct to Steppin' Out on booking
HEN NIGHT FORMAT – One actor
Up to 20 guests
From £545.00
HOSTED FORMAT – One actor
Up to 30 guests
From £745.00
HOSTED FORMAT  – Two actor
Up to 40 guests
From £945.00
PREMIER FORMAT – Four actor
Up to 125 guests
From £1,525.00
PREMIER PLUS FORMAT – Four actor with Event Manager
Up to 125 guests
From £1,855.00
Please note – if the event is to be held in December, Halloween or New Year and if the distance is further than Leeds in the North, and Oxford in the South or Central London extra costs apply, please call.
Hercule Poirot Lookalike
"Ideal promotional character to meet and greet at your railway open day or boat trip, to travel with your passengers, pose for photographs and entertain your guests on their journey"
Martin is the only officially endorsed Hercule Poirot look-alike in the UK and his work has taken him all over Europe entertaining various high profile companies and clients.
He has entertained and worked with many celebrities, including Gwyneth Paltrow, Anna Kournikova, Stella McCartney, Jenny Agutter, Charleen Spitteri and even the last man to walk on the moon, Eugene Cernan.  Martin will entertain your clients and associates at your event with his unique brand of humour and will give them a day to remember.
*Please note, Martin is not available to host murder mysteries as Hercule Poirot and is under licence to Agatha Christie Ltd whose permission is required for each appearance.
HERCULE POIROT
Total £710.00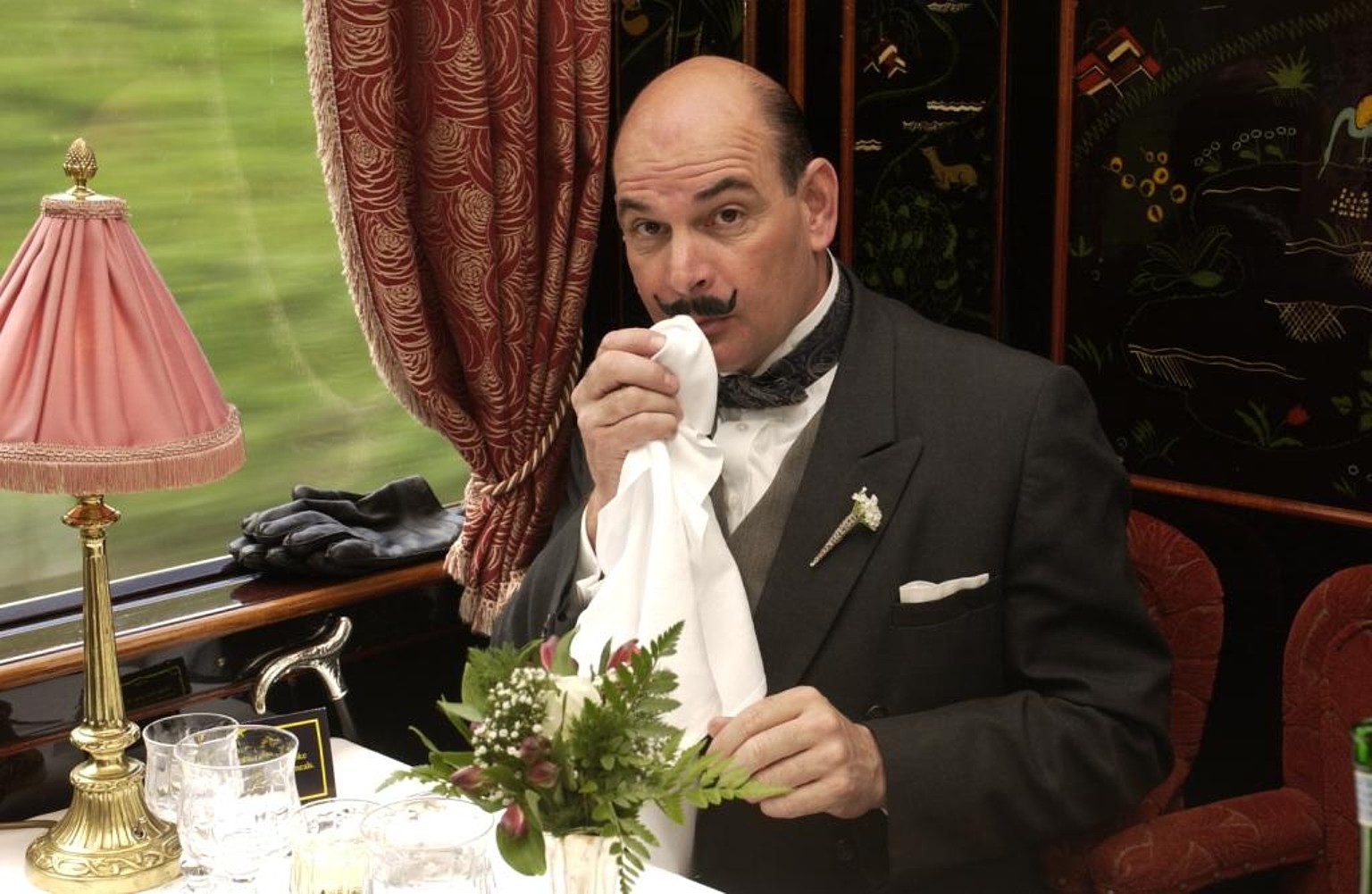 "We wanted to thank you for making our special days before our big day so much fun! We had a blast!"
Stella McCartney – Isle of Bute, Scotland
"It's like being mugged by Kenneth Williams."
The Guardian