Fire Performers for hire, Fire Eaters, Fire Breathers
Our Fire Performers also known as Fire Eaters and Fire Performers are available for Events, Fire Eating, Body Burning, Flame Licking, Arabian Themed Parties, Corporate Events, Birthday Parties, Weddings and Private parties. Why not try our Bollywood Dancing Fire Performers, ideal for Asian Weddings, Hotels, Restaurants and Private Parties.

FIRE PERFORMERS – FIRE BREATHERS – FIRE DANCERS – FIRE JUGGLERS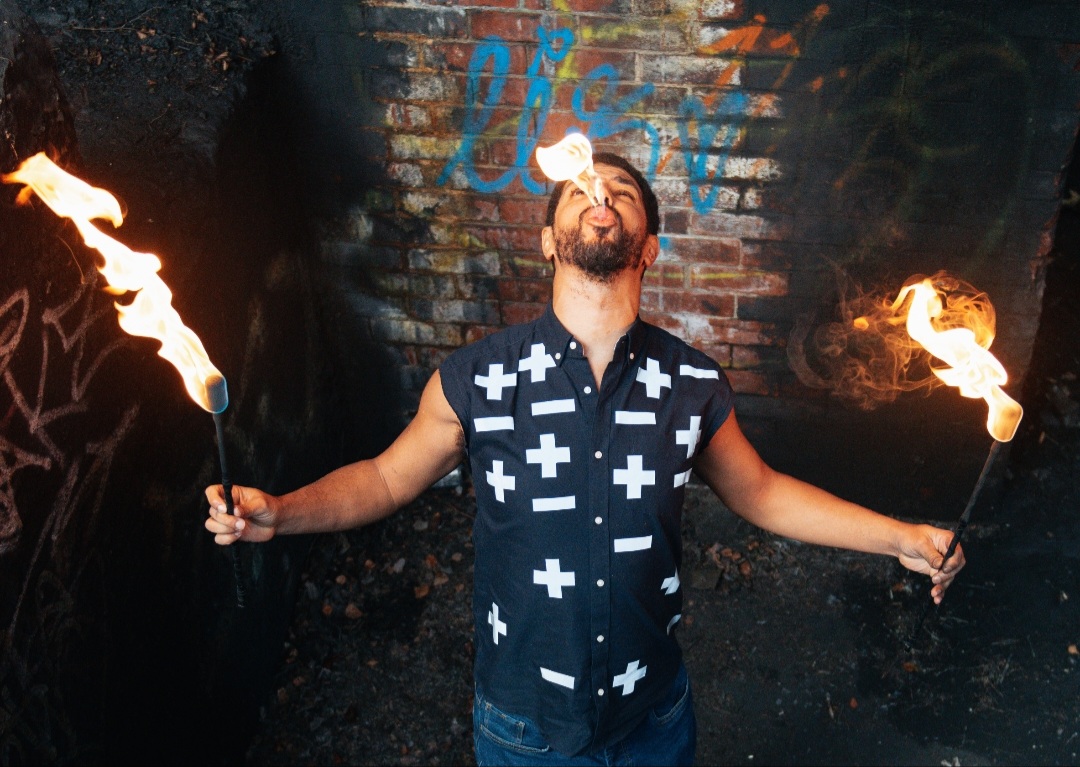 Fire performers – Fire Breathers – Fire Jugglers – Fire Dancers for hire
Fire performers for hire, perfect for Asian weddings, private parties, corporate events and promotions.
Whether you need BIG fire show to wow large audiences or magical fire show for more intimate settings my versatile fire style can suit any event size and needs.
Fire performing skills include:
Fire eating
Firestaff
Fire sword
Fire Rope dart
Fire nunchucks
Fire Poi
LED Poi
LED Staff
LED Rope Dart
EXAMPLES OF PERFORMANCES OFFERED
Ambient Fire Breakin
Fire eating with a headspinning difference! A combination of Popping, Locking and Breakdance seamlessly combined with the magical art form of Fire eating will leave audiences stunned and amazed, wondering "wtf did I just see". Fire eating is an impressive art form but never before has it been done while the performer is balancing upside down on one hand or spinning on his head. This unique performance is guaranteed to give the audience a once in a lifetime memorable experience……how do I know……because I am the only professional Fire Breaker in the world. So if you're looking to give your event a Unique Selling Point, Fire Breakin will give you to qudos you desire!
Fire Breakin
Witness gravity defying headspins combined with flaming swords and dynamic handspins whilst wielding a fire staff. Feel the danger and excitement as a Flaming rope dart is connected to a dancer as he performs powerful backspins! These are just a few examples of what your audiences will be witnessing as they scream for more whilst being blown away by this visually spectacular artform.
A dynamic combination of Fire Spinning with the exciting dance form of Breakdance is guaranteed to get your audience raring to party! Choose from a variety of Fire skills ranging from Fire Staff, Rope Dart and Fire Sword have your audiences amazed at the never seen before fire skills combined with jaw dropping artform of breakdance!
Themed Performances
Fire Eating Story telling – an interactive fire eating performance where the audiences gets to choose characters names and the outcome of the magical story with a breakdancing twist.
Lost and found – a magic fire staff is wielded to shed light on the whereabouts of a valuable spell that was lost many centuries ago.
Superhuman – a dynamic performance that utilises a flaming sword to demonstrate the superhero that lives in each of us through awe inspiring superhuman breakdance moves whilst masterfully wielding the legendary fire sword.
Freedom – A performance with a flaming rope dart which highlights the ways in which we are bound both physically and emotionally and how we can break free of those restrictions to realise our full potential. Be amazed as the flaming rope spins around the dancer as he performs gravity defying breakdance moves in this emotive piece of art.
Kung Fu Fire Fighting
Kung Fu meets fire in this dynamic act! Feel the energy of Bruce Lee as flaming nunchucks are masterfully wielded with power and precision. Be mesmerised by the hypnotic skills of the drunken fire sword technique and blown away by the speed and grace of the flaming rope dart. The artist has a lifetime of learning embedded in the martial arts ranging from kung fu, karate to tae kwon do and tang soo do. Witness a martial arts spectacular with added heat to provide a performance that packs a powerful punch!
He can also create bespoke performances so if there's anything specific you are requiring please let us know.
Price From £300.00 per performer
Areas Covered Midlands – Nationwide and Internationally
MORE OPTIONS
FIRE BREATHERS : FIRE PERFORMERS
Fire Performers for hire. Fire Breathers, Fire Eaters, Fire Dancers and Fire Jugglers are available for hire and are great for indoors or out, Whatever your requirements these Fire Performers will add that "BIG WOW" factor to any occasion.
These Fire Performers can offer sets to suit your occasion as freestyle Fire Dancers or even book them as promotion Fire Breathers.
They combine danger and glamour creating a super hot addition to your event. They offer a variety of jaw-dropping fire shows including Fire Breathing, Flame Licking and Body Burning.
Their wardrobe something of a spectacle itself with exotic stunning costumes.
They can tailor their act to any event from Arabian Themed Parties, Wedding Receptions and Barmitzvah Parties to Corporate Events and Night Club Promotions.
When it comes to their set/s duration, they work very hard and either 3 x 10 minute sets or a massive "full on" 25 minute set.
They are happy to be flexible and make your night work for you.
Their Fire Breathers can work indoors or outside although please check health and safety regulations if you require them to perform inside a venue.
FIRE BREATHERS : PERFORMERS : DANCERS : HOSTESSES

Bringing you the highest standard of professional entertainment through a variety of stunning and breath-taking Fire Acts.
Prepare for a full choreographed show set for any stage, venue or event, filled with mind blowing fire stunts and tantalizing tricks! Your audience will be witnessed to stunning dancers who fire eat, fire breath and perform the most breath taking performances! All acts are performed in hand made couture costumes. When these sexy sirens come together it is explosive. Expect originality, sex appeal and entertainment like you have never seen before.
From nightclubs to high class corporate events we have Fire Performers to suit all occasions. Choreographed sequences and one of a kind exquisite costume. For full impact, they can provide full choreographed dance routines with up to 5 performers.
Show girls
We provide stunning show girl hosts. Our hosts will greet your guests as they arrive, providing photo opportunities in our unique spectacular costumes. Or why not book our show girl dancers to perform choreographed routines.
Price From £ POA
Areas Covered UK
Gallery
Areas Covered
UK – Ireland – International