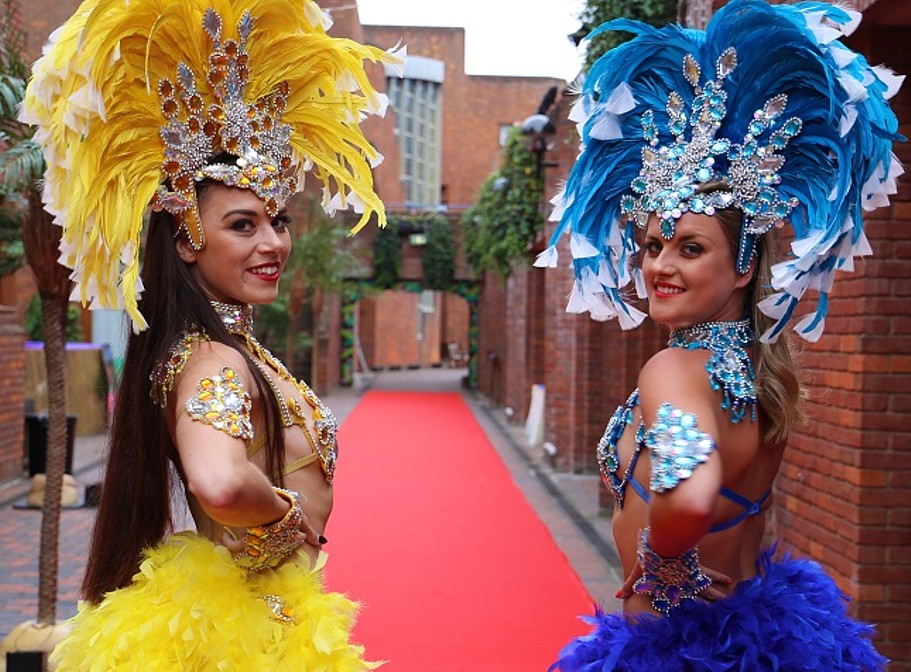 Samba Showgirls hire
Samba Showgirls for hire, Rio Carnival Showgirls and Mardi Gras dancers for hire, perfect for your Rio Carnival themed party to add some spice to your event.
From Samba style Showgirl stilt walkers to fire breathers, these Rio Carnival themed showgirls will certainly leave you feeling a little HOT under the collar!
Bringing a lively Rio carnival atmosphere to any venue, our vivacious Showgirl dancers are the perfect entertainment option for Rio carnival inspired or Brazilian themed events!
Wearing shockingly stunning bespoke costumes, these sexy Samba style Show Girls never fail to make an impression with their vibrant authentic costumes. With their inventive choreographed performances these dancers offer two style of sensational costumes. Authentic Brazilian style Samba costumes direct from Brazil, or more traditional Showgirl style bright coloured feathered costumes. These Showgirls are also available to meet and greet your guests upon arrival in addition performing fully choreographed Brazilian themed dance routines and sassy freestyle samba sets.
An example of what they offer is as follows…
1. Rio Carnival themed dancers to meet and greet guests on arrival, pose for photographs and assist in handing out welcome drinks if required.
2. Our Rio Carnival themed dancers have 2 x 6 minute choreographed performances which can be performed as separate routines through out the evening or together as one longer 6 minute performance.
3. Audience participation would be included in the second performance
4. Our Rio Carnival dancers can follow this with dancing with guests on the dance floor with your band/DJ
5. We also offer a tequila shot services if required inclusive in the fee (client to provide alcohol) Our Rio Carnival themed Showgirl dancers are able to provide a tequila shot service for corporate functions and private parties.
Price From £230.00 per Showgirl
Areas Covered Midlands – Nationwide and Internationally