Town Criers for Hire. Our Town Criers can be used to make public announcements in the streets or announce special promotions for shops, restaurants, businesses and events.
Town Criers for hire for your special promotion. In order to gain the attention of the crowd, our Town Criers will yell,
"Hear ye – "Oyez" It is at this point he will announce your special promotion.
Town Crier – South East – Nationwide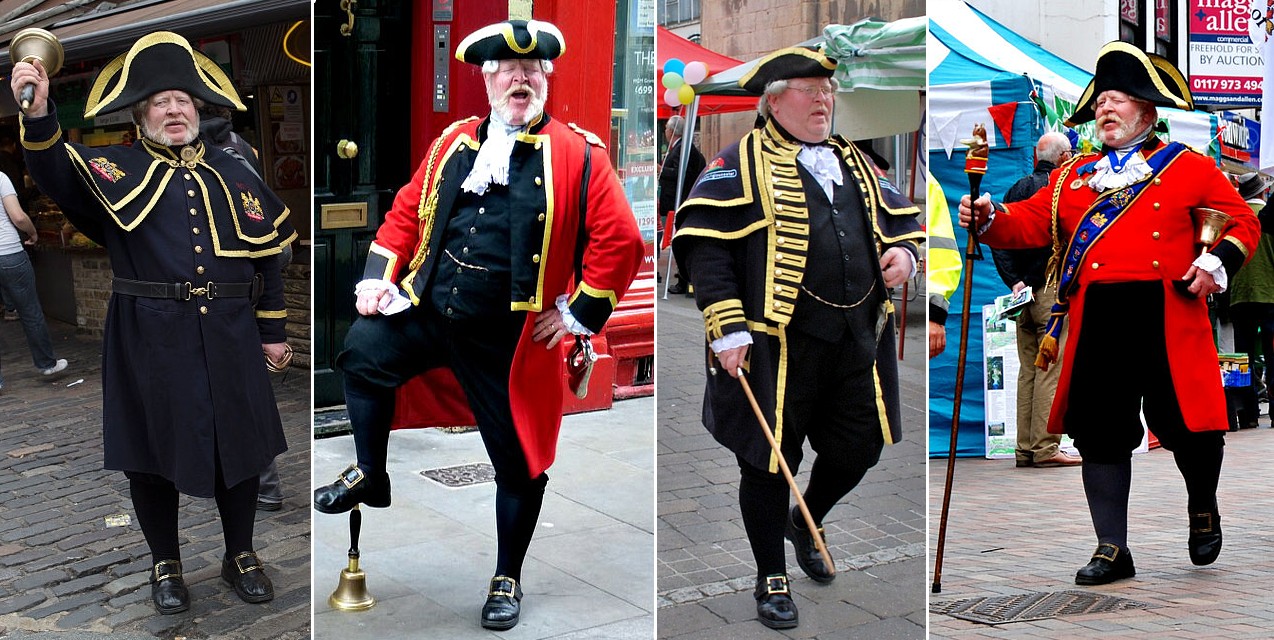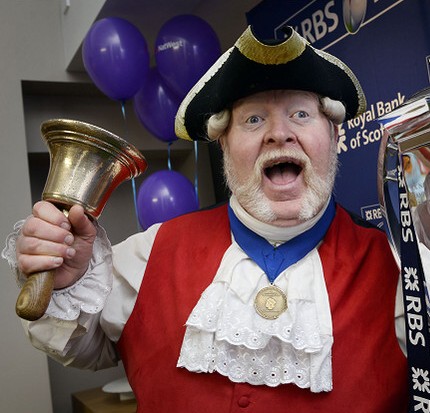 Town Crier hire for Street announcements, special promotions, events and festivals. Without doubt, three of this man's most popular characters are those of Town Crier, Toastmaster and Master of Ceremonies. Between them, they've attended a huge number of events, throughout the UK and internationally, from weddings and family parties, through to arts festivals, sporting tournaments, civic ceremonies, trade exhibitions and many more. As Town Crier and Toastmaster, he can easily take command of an event, if required, and help to ensure things run on time and without a hitch. If you're looking for someone who has wide-ranging experience of all types of events, with an excellent understanding of etiquette and protocol, and who won't let you down… then he is just the person you need.
Business, Corporate Events and Product Launches
His experience in the business world is extensive. He's been commissioned by companies throughout the UK and internationally, including many of the big names in retail such as Marks & Spencers, House of Fraser, Asda and TK Maxx.
Family Events and Celebrations
He has helped thousands of families celebrate special occasions, providing them memories that last a lifetime. He is consistently calm under pressure and can be discreet and tactful, ebullient and extrovert – whatever the occasion demands.
Diplomatic and Civic
He has a wealth of experience working at high profile and prestigious events, both civic and royal, so has an excellent understanding of the relevant etiquette and protocol needed to ensure everything runs smoothly and seamlessly.
Charity and Community
He's worked at some of the biggest extravaganzas… to some of the smallest community events. Whether your event is aimed at raising money for charity, increasing your profile, or simply having fun, he will help you to achieve your objectives.
Festivals, Fairs and Parades
He is a seasoned Parade Marshall, great at warming up the crowds before an event – with balloon modelling, mix and mingling amongst the crowd or handing out leaflets to drum up excitement.
Price From £450.00
Area: South East – Nationwide
Town Crier – Yorkshire – Nationwide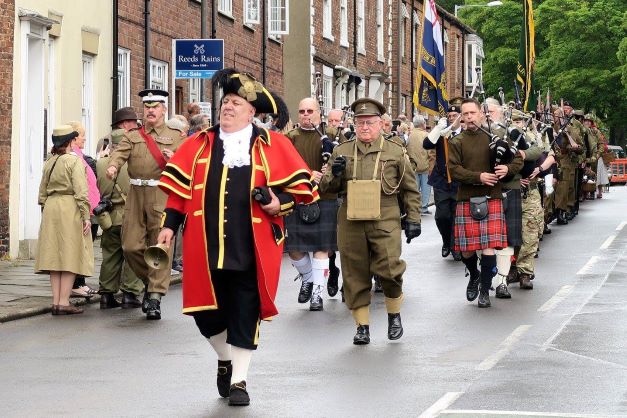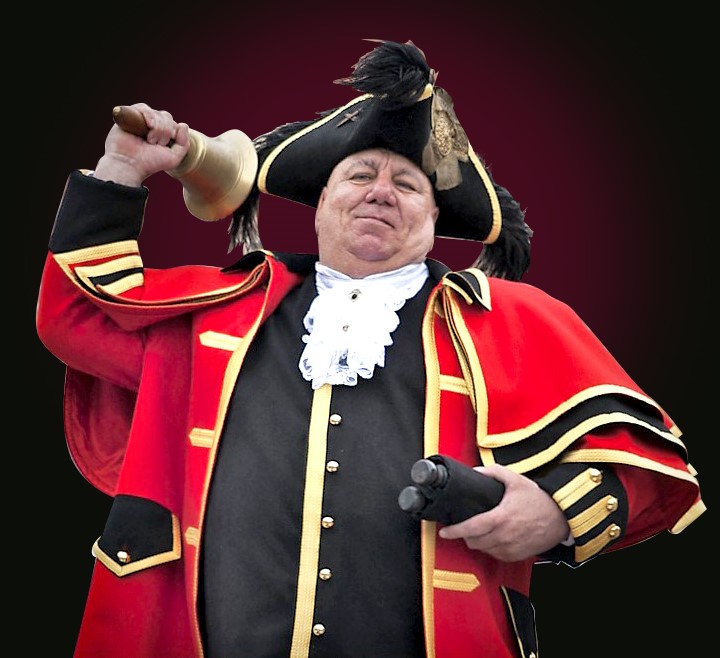 International Celebrity Town Crier
This Yorkshire based celebrity Town Crier has great experience regularly winning Ancient and Honourable Guild Of Town Criers Competitions throughout the Country. He is the official Town Crier at Helmsley Castle along with The Yorkshire Society where he was appointed a few years ago.
He was The Walmington On sea Town Crier in the Universal Pictures Dads Army Movie (2016) leading the Grand Parade of 'A' Listed Movie Stars and appearing in the opening seconds of the International Trailer and the TV advertising for the Movie. (He also appeared as Lodger Mr Treadgold in the 3 Part BBC Series shown at Christmas -Boxing Day & 2 following nights of Poirot ABC Murders appearing alongside Shirley Henderson Lodging House Keeper.
In August 2013 he was measured by Sound Measurement Specialists at 114.8 Decibels at Sewerby Park, Bridlington and although The Guiness Record set 21 years earlier by a rival Crier (at 112.8 decibels) had been frozen it was widely accepted as the World's Loudest Recorded Town Cry. A couple of months earlier at the 900 year celebrations for Bridlington Priory Church , He was introduced to Prince Charles who making an official visit to Bridlington asked him about his role and exclaimed "And a big voice too eh?!"
Fully Insured
He carries full Public Liability Insurance.
Achievements
He is an award winning member of Ancient & Honourable Guild of Town Criers
Official Town Crier for Yorkshire Society
Now appointed as official Town Crier for the Yorkshire Society.
Price From £350.00
Area: Yorkshire – Nationwide
Town Crier – South West – Nationwide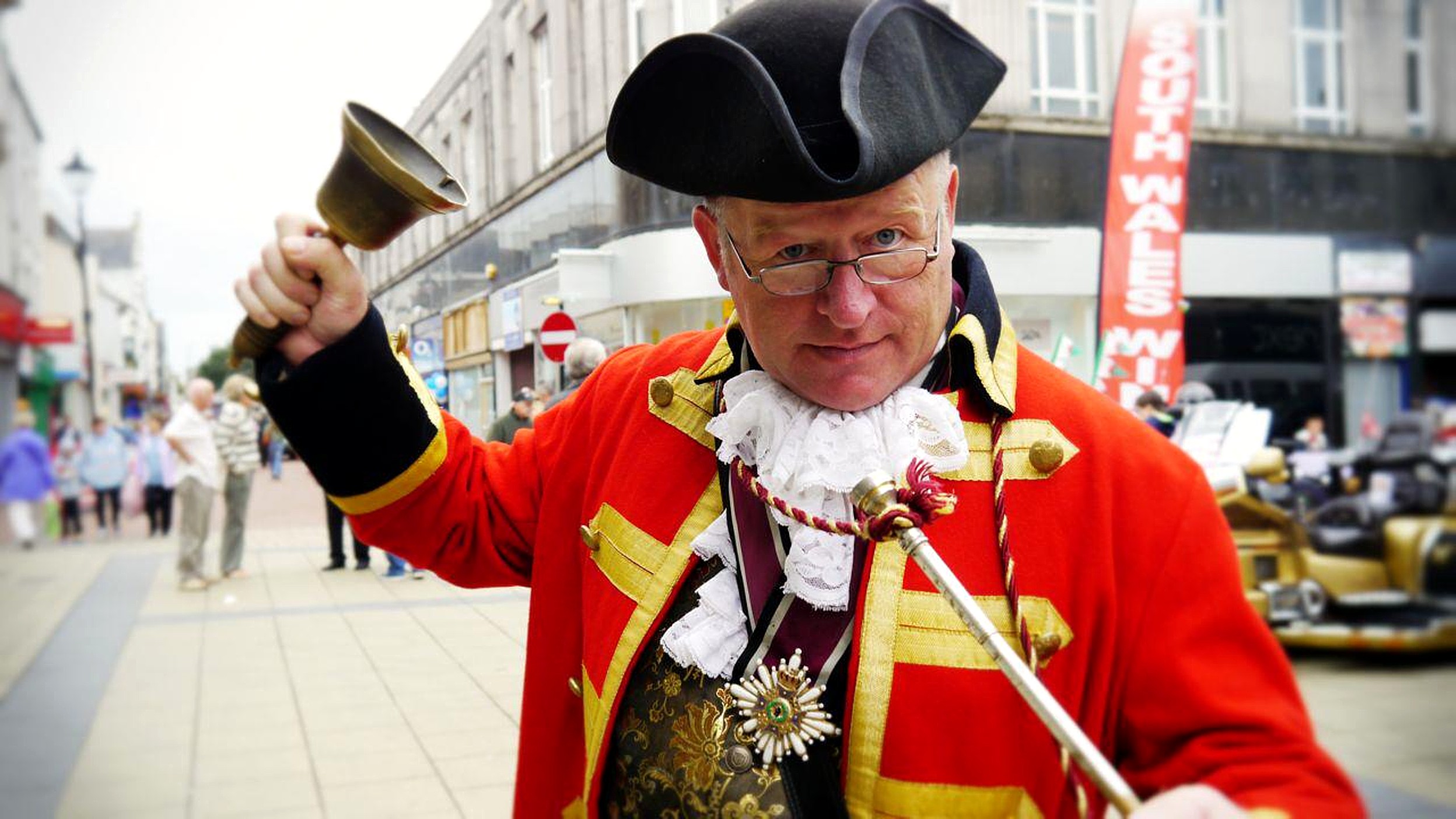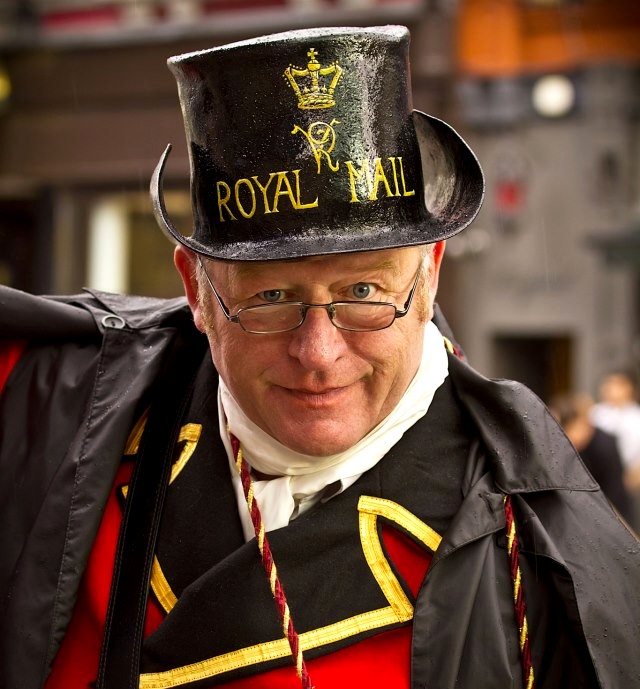 South West Town Crier for hire He's been a professional Town Crier for 15 years.
He does a wide range of functions and stores including…
HOF, Debenhams, Pertemps, Festival of the Sea, Recruitment, Local Authorities. He will carry client's message volubly, clearly and entertainingly.
Price From £350.00
Area: South West – Nationwide
Gallery
THEMED SIDE STALLS
Funfair Side Stalls for hire. Good for adults and children alike, book Fun fair Side Stall games, they will provide hours of fun at any private party, street event, team building event, college ball or corporate function. We supply a great selection of top quality themed side stalls including, Hook a Duck, Shooting Gallery, Tin Can Alley, Coconut Shy, Hoopla, Cactus Lasoo, Cork Shoot, Quickdraw, Candy Floss and Popcorn all available for hire with or without an operator at affordable rates, we deliver nationally and internationally. All stalls have been especially manufactured to own design using high quality materials. Being the first company to make our stalls 2.5 square meters, this allows us to install in 95% of all indoor venues. £5million public liability insurance and a full risk assessment, copies available on request. All electrical equipment supplied has a current PAT test certificate.
Prices From £390.00 per Side Stall plus £40.00 of prizes Toy prizes to be won with every stall
Area: Nationwide
More information Link > Side Stalls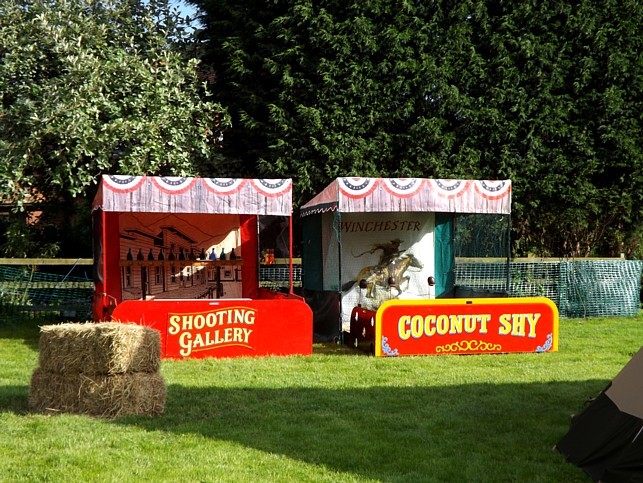 FIRE PERFORMERS – FIRE BREATHERS
Fire Performers for hire – Fire Breathers.
These Fire Breather Performers also known as Fire Dancers and Fire Jugglers are available for hire and are great for indoors or out, Whatever your requirements these Fire Performers will add that "BIG WOW" factor to any occasion.
They combine danger and glamour creating a super hot addition to your event. They offer a variety of shows from snake dancing to jaw-dropping fire shows.
Their wardrobe something of a spectacle itself with exotic stunning costumes.
They can tailor their act to any event from Arabian themed parties, Weddings and Barmitzvah's to Corporate Events and Club Night promotions.When it comes to their set/s duration, they work very hard and either 3 x 10 minute sets or a massive "full on" 25 minute set.They are happy to be flexible and make your night work for you.
Prices From £350.00
Area: Nationwide
More information Link > Fire Performers